Pilgrims Hospices Cycle Challenge
Sunday 5 May 2019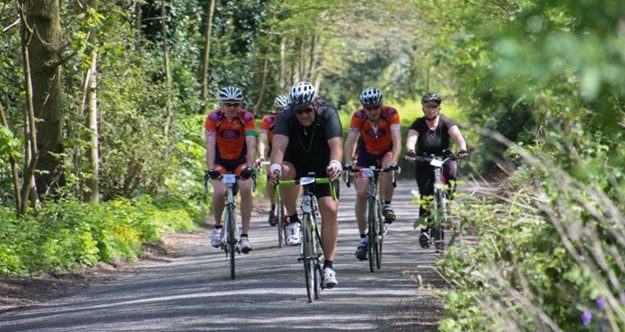 Pilgrims Hospices Cycle Challenge will return on Sunday 3 May 2020.
2019 Rider photos are available now and can be viewed here. You will need to input your rider number (plastic card that you fixed to your bike) so that you can see yourself in print and buy the image if you'd like to. Thank you to SportivePhoto for capturing more than 11,000 amazing photos on the day! 
We also have an album of photos taken by our team of volunteer photographers that can be viewed on our Facebook page here.
Kent's biggest charity ride will return on Sunday 3rd May 2020! Get on your bike and join more than 1,200 cyclists of all abilities as you explore the beautiful Kent countryside with friends, family and colleagues. With over 725,000 miles cycled since 2010, the Cycle Challenge is a firm favourite and it's set to be even bigger than ever!
Click here to be among the first to hear when entries open and the latest event news
Help us reach £1 million in our 10th year
Since the very first Pilgrims Cycle Challenge in 2010, our wonderful community of cyclists have raised more than £825,000 to support the care of thousands of people living with incurable illness in east Kent. Now, as the event celebrates its 10th anniversary, we need your help to make this year's Cycle Challenge our biggest yet and reach our £1 million goal.
Cycle Challenge 10th Anniversary Prize Raffle
Buy your tickets for the Cycle Challenge 10th Anniversary prize raffle for a chance to win fantastic prizes including:
Alpha Plus Surge Men's 26″ Cruiser Bike
A BMW X2 for the weekend (kindly donated by Barretts of Canterbury)
3 pairs of tickets to London Bike Show 2020
As well as many more great prizes. Tickets are just £1, or £5 for a book of tickets. Get yours today from your nearest Pilgrims Hospice reception or contact Lydia Todd on 01227 812621 / lydia.todd@pilgrimshospices.org.
The raffle will be drawn on Sunday 5 May 2019 at 17:00. All proceeds going to Pilgrims Hospices.
---
Event information
Click here to view the Pilgrims Hospices Cycle Challenge event information sheet
You must be at least 14 years of age to participate in the Cycle Challenge and riders under the age of 18 must be accompanied by a participating adult.
Early Bird entry (closed 17/3/19)
Standard entry (closed 28/4/19)
On the day: £45
This year's routes
Ride it your way by choosing one of four ride distances and routes:
NOTE: Important route changes have been updated as of 24/04/19. Those using GPX files for the ride are advised to re-download the file from the updated online maps below
All riders must have completed the ride and checked back in by 6:30pm.
All routes will start from, and finish at, our event village at the University of Kent near Canterbury. It's more than just a registration area – with trade stands, our renowned Dr Bike mechanics, sports massage, local cycling interest groups, hot food and drinks and much more, you'll enjoy all the excitement of a cycling festival. Ample free parking is available across the campus as shown here.
We've tweaked our popular ride routes to make them even more enjoyable. And for those looking to take their ride up a gear, we see the return of the notorious Stowting Hill. Explore the landscape of east Kent like never before, all the while knowing that, with every pedal, you're making a huge difference to the lives of local people who are living with life limiting illness.
Celebrating 10 years of the Pilgrims Cycle Challenge
Here are just some of the ways we're making 2019 the best year to ride the Pilgrims Cycle Challenge:
Pilgrims Hospices cycling jersey and neck scarf available for purchase
The Epic – new 125 mile route
10th anniversary finisher's medal
Show your support with the official Pilgrims Hospices cycle jersey and neck scarf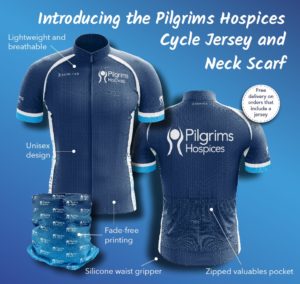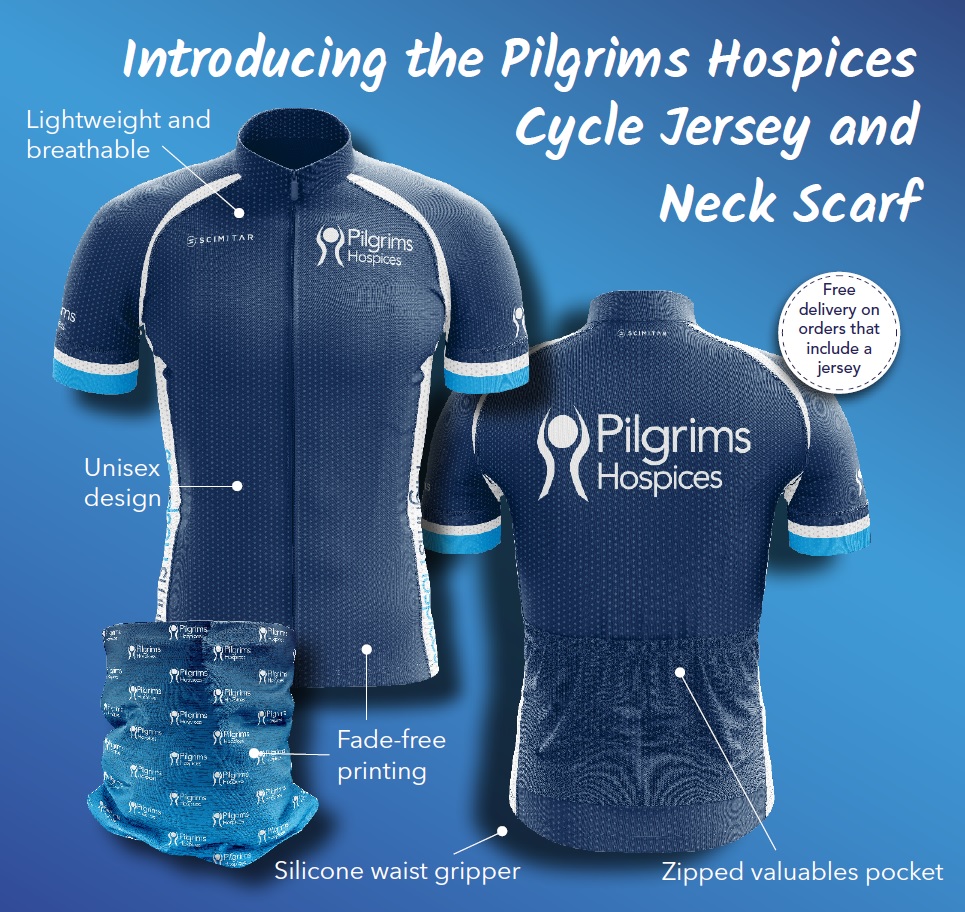 We're excited to bring you the official Pilgrims Hospices cycle jersey and neck scarf. Show your support out on the road with these stylish, quality garments, packed with great features such as a zipped valuables pocket, full length zip and silicone waist gripper. We also have Pilgrims neck scarfs, ideal for keeping you warm on cold or windy days, and providing shade from the sun on hot days. Grab yours today and help us be there for thousands of people coping with incurable illness in east Kent.
Cycle Jersey: £35, Neck Scarf: £5
Sizes available: S, M, L, XL, XXL
Order yours today by contacting 01227 812609 (weekdays 9am-5pm) or anytime at robert.grew@pilgrimshospices.org, or buy yours at the Cycle Challenge event on 5th May!
Introducing the Pilgrims Hospices Event App
We're proud to introduce the brand new Pilgrims Hospices Event App, available for iOS and Android devices). It's free to download from the App Store and Google Play and is the perfect companion to enhance your Pilgrims event experience. Keep your training on track by recording your training activities and liking and commenting on your teammates. Receive up to date event information, view detailed route maps so you can see if you go off route, and link your JustGiving page to see how your fundraising is going, all in one place.
Training rides
Our popular series of training rides will begin on 3rd March to get you cycling fit and to build up your confidence, especially if you're a novice cyclist. Our training rides are led by experinced volunteer cyclists.
Please click here for information on our TRAINING RIDES for 2019 or view via the Pilgrims Hospices event app (iOS and Android).
We cater for all abilities on these rides. We want you to feel good about your cycling and have the best possible experience on the day. The rides are free and perfect for those who have already signed up for the Pilgrims Hospices Cycle Challenge and are looking to train, as well as for those wanting to gain some cycling confidence before registering for the main ride. Guests are welcome (those not undertaking the main Cycle Challenge) to attend the training rides too, although in this instance we do ask that you consider making a donation to Pilgrims Hospices in appreciation for our ride volunteers' time.
A £10 donation could pay for a patient's meals for the day. Thank you to everyone who has generously supported the sociable cycling group in 2018.
If you're on Facebook, you can also join the Pedal for Pilgrims group, which is led by a team of fantastic volunteers who organise regular rides throughout the year while raising money for Pilgrims at the same time.
Resources
The Cycle Challenge couldn't raise the fantastic amount it does for Pilgrims Hospices without the kind sponsorship of the following organisations: Kent Sport – University of Kent, Biketart, Barretts, Leydon Lettings and London Array.

Address information
Venue:
University of Kent
City: Canterbury
Postcode: CT2 7NZ
Contact information
Email: robert.grew@pilgrimshospices.org
Contact name: Robert Grew