Pilgrims Hospices Cycle Challenge 2020 (Cancelled)
Sunday 23 August 2020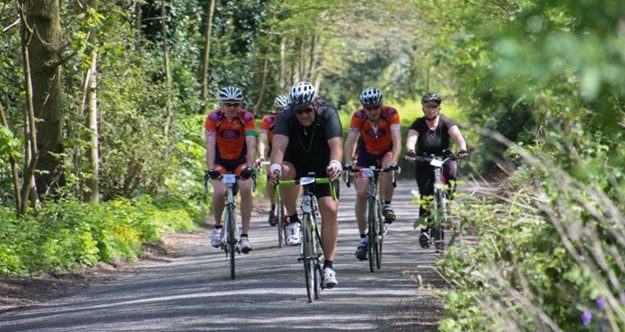 The Pilgrims Hospices Cycle Challenge cancelled until Sunday 2 May 2021.
Official Statement (22/07/2020)
We would like to begin by thanking you for your patience with receiving this official update on the Pilgrims Hospices Cycle Challenge. We understand that this period of time has brought about a great deal of uncertainty to many aspects of people's lives, not simply their attendance of an event, and we appreciate that you have been awaiting clarity with regard to the cycle ride taking place. We thank you for your flexibility, understanding and most of all your unwavering support for the hospice during this time.
Since confirming the postponed date of the Cycle Challenge as 23rd August back in March, we have been closely following the situation, speaking with our venues and monitoring the guidance from other event organisers and national bodies such a British Cycling. We have been busy preparing revised socially-distant, Covid-secure plans for the event in the hope that, should the government announce the return of large-scale events, we would be ready to enact these plans immediately and still hold a safe and enjoyable event for our valued supporters.
Though the national lockdown is slowly easing, Covid-19 continues to spread through the population with localised case spikes in various places across the country. As such, the government have yet to make any announcement regarding the return of large-scale events. With the postponed Cycle Challenge date now only one month away, we have reached a mutual decision, together with our venues, that we can no longer wait for such an announcement to come and wish to provide clarity for all of our participants on the way forward. 
We have therefore made the sad decision to formally cancel the Pilgrims Hospices Cycle Challenge 2020. Though we understand that this decision may come as a disappointment to many, keen to ride the event after so many months in lockdown, we hope that you will appreciate the position that we, and many other charities are in. Our number one priority is the safety and enjoyment of everyone who attends a Pilgrims event and, while we feel that our revised plans significantly mitigated the risks of virus transmission, it would be inappropriate to go ahead with the event without the endorsement from official bodies and the government.
With Best wishes,
Sue Sharp, Director of Income Generation and Marketing, and The Pilgrims Hospices  Fundraising Team
For further details on the deferral, refund or donation of entry fees, please read our FAQs.
---
Our future plans
The 2021 edition of the Pilgrims Hospices Cycle Challenge will return to its usual early May Bank holiday weekend of Sunday 2nd May 2021 and will be appearing on the Pilgrims website very soon.
In the meantime, we are proud to introduce our brand-new virtual cycling challenge for September 2020: Tour de Castles.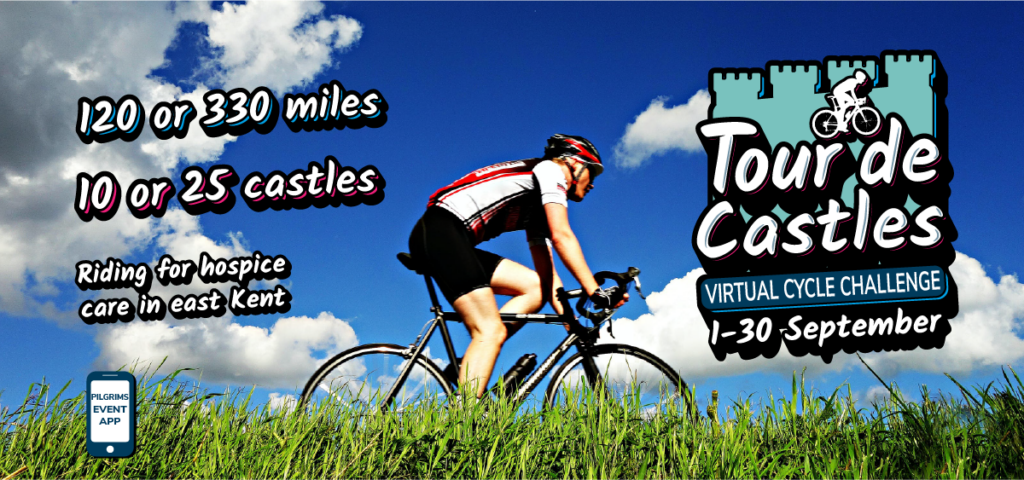 Ride it your way by choosing between a 120-mile or 330-mile challenge that represent the equivalent distance of riding between 10 or 25 historic English castles before the end of September. The 25 Castles virtual route begins at the impressive Arundel Castle in West Sussex, and showcases the beautiful landscape of the south coast and Kent countryside in an epic tour through the region's rich history, dating back as far as the Roman conquest. Rolling hills, ancient forests, chalk cliffs and quiet country lanes all await exploration from your own doorstep.
Or, opt for the 10 Castles challenge and ride 120 miles from Dover Castle, England's largest, to the finish beside the Tower of London.
You'll be able to track your progress along the interactive route map using the award-winning Pilgrims Event App, earn 14 in-app achievements and share 9 key milestone badges with friends and family. Simply ride when and how often you can throughout September to see if you can reach the Tower of London before the month is up.
Find out more about the Tour de Castles here
---
Event information
This event has been cancelled and entry is no longer possible.
The 2021 routes
Ride it your way by choosing one of five ride distances and routes:
All riders must have completed the ride and checked back in by 6:30pm.
All routes will start from, and finish at, our event village at the University of Kent near Canterbury. It's more than just a registration area – with trade stands, our renowned Dr Bike mechanics, sports massage, local cycling interest groups, hot food and drinks and much more, you'll enjoy all the excitement of a cycling festival. Ample free parking is available across the campus as shown here.
We've tweaked our popular ride routes to make them even more enjoyable. And for those looking to take their ride up a gear, we see the return of the notorious Stowting Hill feature in all routes except the 30 mile. Explore the landscape of east Kent like never before, all the while knowing that, with every pedal, you're making a huge difference to the lives of local people who are living with a life-limiting illness.
Celebrating 11 years of Kent's biggest charity ride
Here are just some of the ways we're making 2021 the best year to ride the Pilgrims Cycle Challenge:
Pilgrims Hospices cycling jersey and neck scarf available for purchase
Five route options including a new 30-mile route – The Circuit
Bespoke finisher's medal
Show your support with the official Pilgrims Hospices cycle jersey and neck scarf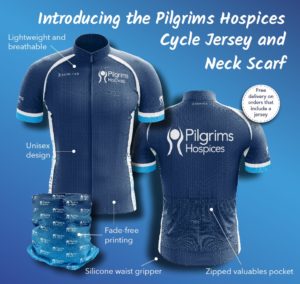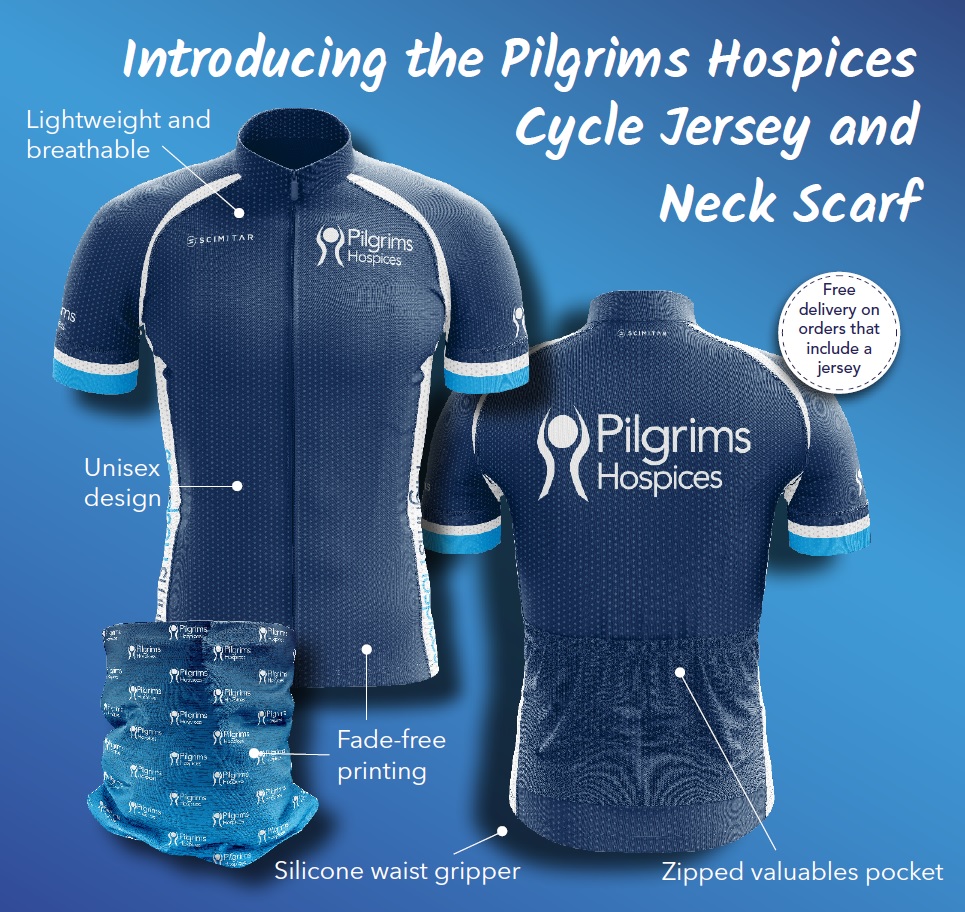 We're excited to bring you the official Pilgrims Hospices cycle jersey and neck scarf. Show your support out on the road with these stylish, quality garments, packed with great features such as a zipped valuables pocket, full-length zip and silicone waist gripper. We also have Pilgrims neck scarfs, ideal for keeping you warm on cold or windy days and providing shade from the sun on hot days. Grab yours today and help us be there for thousands of people coping with incurable illness in east Kent.
Cycle Jersey: £35, Neck Scarf: £5
Sizes available: S, M, L, XL, XXL
Order yours today by contacting 01227 812609 (weekdays 9am-5pm) or anytime at robert.grew@pilgrimshospices.org, or buy yours at the Cycle Challenge event on 23rd August!
Get the award-winning Pilgrims Hospices Event App
We're proud to offer the bespoke Pilgrims Hospices Event App, available for iOS and Android devices). It's free to download from the App Store and Google Play and is the perfect companion to enhance your Pilgrims event experience. Keep your training on track by recording your training activities and liking and commenting on your teammates. Receive up to date event information, view detailed route maps so you can see if you go off route, and link your JustGiving page to see how your fundraising is going, all in one place.
Resources
Pilgrims Hospices wish to thank the following local businesses for donating their time and expertise to support the Cycle Challenge:
Herberts Cycles (Whitstable), Romney Cycles (New Romney), Locks of Sandwich Cycles (Sandwich), SP Cycles (Broadstairs), Team Buckley (Canterbury).
Address information
Venue:
University of Kent
City: Canterbury
Postcode: CT2 7NZ
Contact information
Email: robert.grew@pilgrimshospices.org
Contact name: Robert Grew