Pilgrims Way Challenge 2022 (SOLD OUT)
Saturday 11 June 2022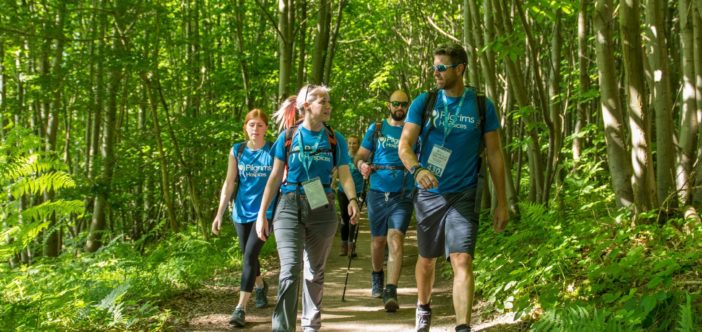 The Pilgrims Way Challenge is back on Saturday 11 June 2022!
Lace up your walking boots, or running shoes, and enjoy the rural beauty of one of England's oldest and least-trodden national trails. Starting from the picturesque village of Wye, nestled in the Kent Downs Area of Outstanding Natural Beauty, follow the Pilgrims Way, through the scenic Stour Valley, to the historic cathedral city of Canterbury.
Then, onward via the North Downs Way to a coastal finish inside the impressive inner bailey of Dover Castle. Along the way, you'll pass through ancient woodland, rolling fields and charming villages, as well as a few challenging climbs through the undulating geography of the Garden of England.
Photos from the award-winning Pilgrims Way Challenge 2019 can be viewed in our Facebook gallery here.
Please note: This event is now SOLD OUT and entry is no longer possible. It will not be possible to enter on the day.
Please note: Images were taken at pre-COVID-19 events
The routes
With three distances to choose from, the Pilgrims Way Challenge is perfect for people of all fitness levels.
Stroll through a charming village of oast houses and period cottages, and soak in an immense sky while surrounded by endless green fields. Rolling hillside views, quiet country lanes, historic buildings and ancient woodland all await you. Walking, or running, the Pilgrims Way between Wye and Dover really has it all.
Wye – Canterbury: 25km (sign in between 8.30am-9.30am) – View map
From the picturesque village of Wye near Ashford, pass through rolling farmland before climbing up onto the Soakham Downs. From here, the next few miles are dominated by King's Wood, where pilgrims banded together as protection against robbers. Then, a long gradual descent takes you past ancient, timber-framed houses into the pretty hilltop village of Chilham. A short climb to the intriguingly named Old Wives Lees is followed by pushing through extensive orchards and a nature reserve before enjoying views of Canterbury's magnificent Cathedral and reaching the finish line.

Canterbury – Dover: 35km (sign in between 10am-11am) – View map
The route leads through the historic heart of Canterbury and out into vast fields, passing the farming villages of Hode, Patrixbourne and Womenswold, with a view of the magnificent Georgian mansion at Higham Park before a steady ascent towards Shepherdswell. Soon after, you pass the grand Waldershare House and its impressive mews before following the path of an old Roman road that ran between Richborough and Dover. Finally, descend towards Dover as you catch your first glimpse of the sea before reaching the finish line inside the impressive inner bailey of Dover Castle.
Wye – Canterbury – Dover: 55km (sign in between 7.30am-8.30am) – View map
Take on the ultimate test of endurance and enjoy both sections of the Pilgrims Way described above in one day! After leaving Wye village in the morning and experiencing all the natural beauty east Kent has to offer through the day, arriving at Dover Castle, your final destination, will be a welcome sight.
What's on offer?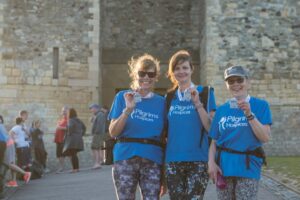 This fully supported event includes:
Posted pre-event pack
Event technical T-shirt
Regular rest stops with drinks and snacks
Fully signed route
Free event app with live position tracking
Event medical support
Recovery vehicles
Finisher medal
Entry also includes a hot meal at the Canterbury hospice (25km finish and the halfway point for 55km hikers) and at the Dover Castle finish (35km and 55km hikers)
It's tough but achievable; with some training and determination, anyone can conquer the Pilgrims Way Challenge. Take on the hike with family, friends or colleagues, and make more friends along the way! When the welcome sight of the finish line comes into view, you'll be rewarded with a finisher's medal and a huge sense of achievement.
---
Entry
A maximum of 800 participants are able to take part in the Pilgrims Way Challenge 2022, and last year's event sold out, so early registration is advised to avoid disappointment.
If capacity is reached before the event, on the day entry will not be available.
You must be at least 16 years of age to participate in the Pilgrims Way Challenge and walkers under the age of 18 must be accompanied by a participating adult.
View the Pilgrims Way Challenge Pre-event Information Pack
Download the award-winning Pilgrims Event App for free
We're proud to offer the Pilgrims Event App, available for iOS and Android devices. It's free to download from the App Store and Google Play and is the perfect companion to enhance your Pilgrims event experience. Keep your training on track by recording your training activities and liking and commenting on your teammates. Receive up-to-date event information, view detailed route maps, earn in-app achievements and link your JustGiving page to see how your fundraising is going, all in one place.

Kit list and essential items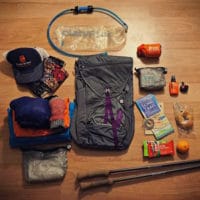 We've put together a full list of recommended equipment to make your hike a comfortable and safe experience. From clothing and footwear, to some items that are essential, particularly for 35km and 55km walkers.
View the Pilgrims Way Challenge Equipment List
Get hiking fit with our training plans
We've put together 6/7 week training plans for each challenge distance to help get you hiking fit. The more you prepare yourself ahead of your challenge, the more you'll enjoy the experience on the big day. Check out the Pilgrims Way Challenge training plans here.
COVID-related information
Since our hiatus in 2020 due to the global pandemic, we have introduced some significant revisions to the 2022 Pilgrims Way Challenge to ensure that the event is as COVID-safe as possible. Key measures include:
Fully open-air event (social distancing encouraged at all event venues)
Fully touch-free, electronic check-in process
Specified check-in windows and start times to maintain social distancing at start venue
Participants are encouraged to take a lateral flow test before attending the event
A maximum of 800 participants will be able to take part in the 2022 event
Transport links
We recommend that you're dropped off or met by family or friends who can take you home after such a tiring challenge. However, if you're relying on public transport to get to and/or from the event, these transport links may be useful:
Wye: Serviced by trains running approx. every 30 minutes from the directions of Ashford and Canterbury; the station is a 2-minute walk from the start venue at Wye Village Hall
Canterbury: Trains run from Canterbury West Station back to Wye departing every 30 minutes
Dover: Trains run from Dover Priory Station back to Wye (via Ashford) departing every hour; the last train of the night is 23:56.
Remember to follow guidance on the use of face coverings at all times while on public transport.
Resources