Skydive Day – September
Sunday 10 September 2023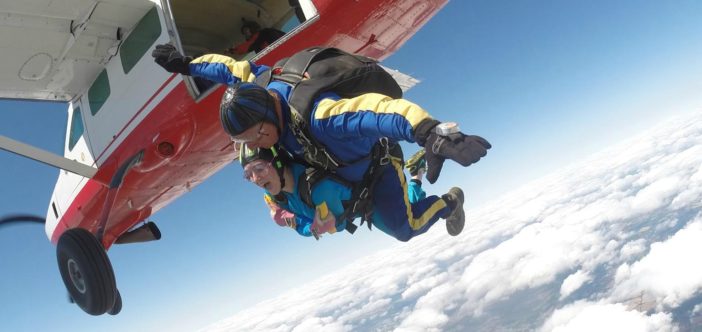 Experience an adrenaline-fuelled adventure of a lifetime and take on a tandem skydive for Pilgrims Hospices this September!
The sky's the limit! Join like-minded Pilgrims supporters all soaring through the sky, ticking something off their bucket list or taking extreme measures to conquer a fear of heights. Free fall from 12,000 ft and experience breathtaking views of the Kent countryside far below as you raise vital funds for hospice care across east Kent.
Apply now to skydive for Pilgrims
---
Dates
Sunday 16 July – Fully booked
Sunday 10 September – Limited places available
It was the most amazing experience. It was both exhilarating and terrifying in equal measures, but I absolutely loved it. I would do it all again tomorrow if I had the opportunity!

Pilgrims Tandem Skydiver, 2021
What do I need to do?
Taking on a skydive for Pilgrims is as simple as applying via our online form. Then, we'll get in touch to confirm availability and arrange payment of your £40 deposit to secure your spot. If you raise our £395 minimum sponsorship target, your skydive will be free!
Deposits are non-refundable but will count towards your sponsorship target.
Can anyone take part?
Yes, anyone over 16 years old can do a tandem skydive. No previous experience is necessary. You'll receive all the training you need on the day and be safely strapped to a professional instructor throughout the jump.
For safety reasons, a few restrictions do apply:
If you're between 16 and 18 years old you'll need written consent from a parent or guardian.
Those with existing health conditions, and anyone over 40 years old, must sign a declaration of fitness in order to participate.
Weight restrictions apply which depend on your height. Please check the table of weight limits shown here before applying. You may be weighed during registration.
Resources