Snowdogs Discover Ashford: Gala Auction
Monday 3 December 2018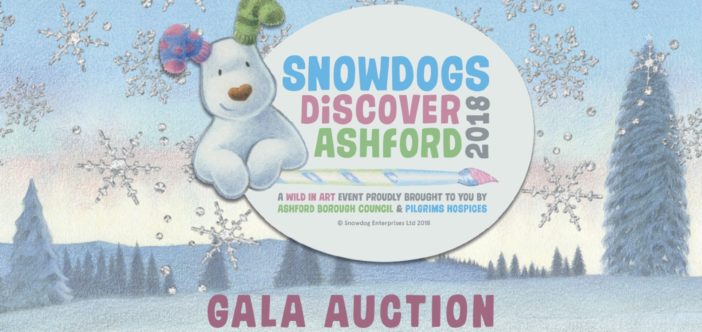 Pilgrims Hospices invites auction-lovers to bid for beautifully crafted and individually designed Snowdogs, as the paw-some pooches go under the hammer.
---
The Gala Auction will be a glamorous evening of fine wine, entertainment and bidding, where the beautiful pieces of art will be auctioned off to their 'furever' homes.
Our auctioneer is the TV personality Michael Hogben, known to many as 'Hoggy'. Michael is an expert auctioneer and art dealer who has featured on Bargain Hunt and his own series Auction Man. Michael will be supported by our host, TV personality and antiques dealer, Alison Chapman. Alison has featured in programmes such as Real Deal and Secret Dealers. Both Michael and Alison have fallen in love with the Snowdogs and all that this project has brought to the Ashford community.
---
How to bid at the Gala Auction
If you'd like to bid at auction for one or many of our Snowdogs, and more importantly help raise vital funds to enable us to continue offering end of life support to our community, there are two ways to take part:
In the room (recommended and in high demand) – Online tickets have now closed. Contact fundraising@pilgrimshospices.org for more information.
Get ready 

to raise your paddles and generate the buzz at Ashford International Hotel, as our celebrity auctioneers lead you through a thrilling night of entertainment and bidding. 

Tickets are £30 per person.
Online
You can also bid live online against our guests in the room. Please click here to visit our Snowdogs online bidding platform, provided by our auctioneer Michael Hogben of Westenhanger Auctioneers who will be hosting our Gala Auction. You can bid online with the Sales Room by registering, adding your details and watching the lots. You can enter your maximum bid now and this will be taken into the auction process on the night along with all bids in the room and other absentee or commission bids received. We encourage you to read the Sale Room Westhanger Auctioneers Terms and Conditions regarding online bidding and also the Snowdogs Conditions of Business and Guide for Bidders.
To register as an online bidder, please email fundraising@pilgrimshospices.org.
Click here to download the Snowdogs Auction Lots Catalogue
Click here for tickets to the Snowdogs Gala Auction
Please note:
All auction attendees and bidders must be over 18.  You must be registered to bid, in advance of the auction, by completing a Registration Form, which will be emailed to you. Bidders from further afield than east Kent, UK will need to pay for delivery and the charity will liaise with you regarding delivery dates. If you have any questions regarding online bidding please email fundraising@pilgrimshospices.org.
Price guide
The Ashford pack of 35 Snowdogs are incredibly popular; while it is difficult to assess the amount that any sculpture will sell for, we believe bids will be in the region of £2,000 – £5,000, with some less and some in excess of this. These are beautiful works of art decorated by our dedicated professional artists and we hope the sculptures will raise lots of money for your local hospice charity.
---
It wouldn't be possible to deliver the Snowdogs Auction without the valuable ongoing support of Motorline, a business that prides itself on supporting its local communities. Motorline has been incredibly generous to Pilgrims Hospices for many years and has partnered with us to sponsor this special evening.

---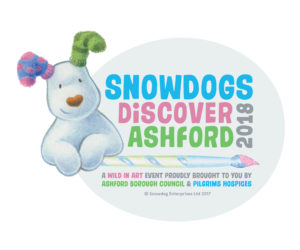 Read more about Snowdogs Discover Ashford 2018 and keep an eye on pilgrimshospices.org/snowdogs for updates.
Follow the Snowdogs online via Facebook, Twitter, Instagram, LinkedIn and at ashfordsnowdogs.co.uk.
---
Thank you so much for your support
Every generous donation from our amazing community of supporters helps to make sure we can be there for the next family who needs us.
If you or someone you love has been diagnosed with a life limiting illness, find out about the full range of services Pilgrims can offer.
Address information
Venue:
Ashford International Hotel
Simone Weil Avenue
City: Ashford
Postcode: TN24 8UX
Contact information