TCS London Marathon 2023
Sunday 23 April 2023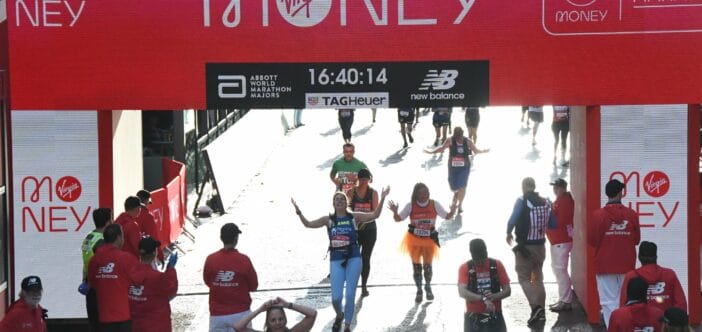 TCS London Marathon returns in April!
Put a spring in your step and challenge yourself to the iconic TCS London Marathon in support of Pilgrims Hospices.
In 2023, TCS London Marathon will return to its traditional slot in the running calendar on Sunday 23 April. Pilgrims Hospices are giving you the opportunity to experience this once in a lifetime atmosphere, whilst supporting local hospice care. Join #TeamPilgrims and be part of the biggest marathon in the world.
Beginning in Greenwich park, you'll look over the beautiful city of London before it's filled with like-minded runners taking on their own London Marathon. As you head for Westminster you'll pass Charlton House, the Royal Artillery Barracks and the historic Cutty Sark. At 12.5 miles you'll experience the famous Tower Bridge atmosphere, full of crowds cheering and applauding your efforts.
After running through Canary Wharf you'll cross the Blackwall Basin with a glimpse of the 02 arena. As you emerge from the Blackwell Tunnel at mile 24 you'll be celebrated by supporters as you complete your final miles. You'll get famous views of the London Eye and Big Ben across the River Thames as you run along the Victoria Embankment. In the final miles you'll run parallel to St James Park the crowds begin to grown as you round the Victoria Memorial onto the Mall as you set your sights on the memorable finish line.
---
Apply to run in 2023
Join Team Pilgrims at the TCS London Marathon 2023, and we'll support you all the way to the famous finish line!
Help Pilgrims Hospices to continue providing specialist end-of-life care across east Kent by pledging to raise at least £1,800 for local hospice care.
Pilgrims Hospices have a limited number of charity places in the TCS London Marathon 2023. We will be receiving applications until Monday 24 October 2022, after this time, we will be in touch with all that applied to let them know the outcome of their application.
Please note: we only accept applications from UK residents.
---
Ballot entry to London Marathon
The TCS London Marathon ballot will be opening later this year.
If you are lucky enough to receive a ballot place in London Marathon 2023, and would like to raise much-needed funds for local hospice care, we would love to hear from you!
By using your place to run in support of Pilgrims Hospices you will be helping us to be there for the next family who need us. Raising just £100 will enable us to provide 4 hours of specialist end-of-life at one of our inpatient units in Canterbury, Thanet or Ashford.
---
Show your support with the official Pilgrims Hospices running vest and technical t-shirt

Show your support for Pilgrims Hospices with every step you take with our branded running vest and/or technical t-shirt made of lightweight, breathable, sweat-wicking material that makes them comfortable to wear whilst running.
Running vest: £10 (S, M, L, XL or XXL)
Technical t-shirt: £7 (S, M, L, XL, XXL or XXXL)
(Please note: Runners with a Pilgrims Hospices Gold Bond place in London Marathon will receive a branded running vest)
---
Resources