UK End to End Virtual Cycle
Monday 1 February 2021 - Tuesday 30 November 2021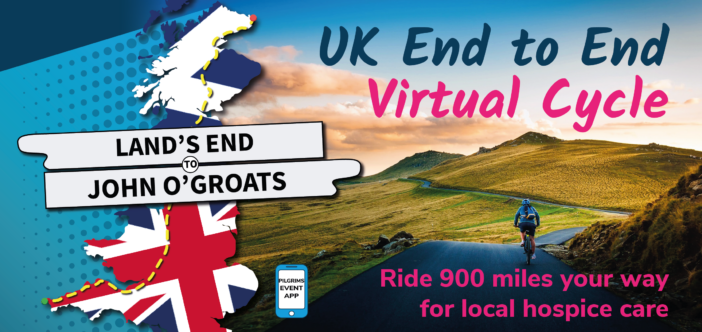 Ride the length of the UK virtually in your chosen challenge time!
Jump in the saddle and rack up some miles in 2021 by joining Pilgrims Hospices brand-new UK End to End Virtual Cycle.
This epic challenge is open throughout 2021 for supporters to challenge themselves to the 900-mile virtual route and see how quickly they can complete the distance. Whether setting yourself the challenge of finishing within the year, 3 months or even 1 month, you'll find encouragement and motivation aplenty with in-app achievements and digital milestone badges to earn as well as our active community of virtual cyclists over in the Pilgrims Hospices Cycling Facebook group.
The UK End to End virtual route begins at the famous Land's End signpost and showcases some of the most breath-taking landscapes in the UK. On your grand tour of Great Britain you'll pass places such as the Malvern Hills, Lake District, Gretna Green and the Cairngorms before reaching journey's end at the most North-Easterly point on the UK mainland.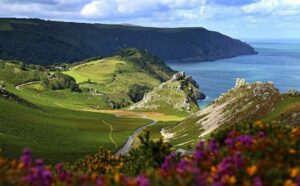 Starting from, or near to, your own home, you'll be able to track your progress, and everyone else's, along a virtual route map using the award-winning Pilgrims event App. Simply ride when and how often you can throughout 2021 and see if you can complete the ride in your personally chosen challenge time. You can even include the miles you do on an indoor training bike.
During this unprecedented time, it is more important than ever to make sure to stay active, exercise and feel connected to one another. Cycling is good for us, both for our physical fitness and mental well-being, and you can join our friendly community of Pilgrims Hospice cyclists in our new Pilgrims Hospices Cycling Facebook group.
It's tough but achievable; with some training and determination you can conquer the UK End to End Virtual Cycle. Why not complete parts of the ride with others from your household, support 'bubble' or socially-distanced friends to make the journey even more enjoyable.
The interactive route map
How it works
To take part in the UK End to End Virtual Cycle, simply enter via the 'Register Now' button at the top of this page. Once signed up, you'll receive instructions on how to record your cycling activities and track your progress along the virtual route map using the award-winning Pilgrims Event App for iOS and Android devices.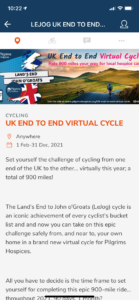 It's free to download from the App Store and Google Play and, along with the free companion app MapMyTracks, will track your cycling activities throughout 2021 and update your position along the interactive route map above; so you can see exactly how far you've come and how far you have left until you reach John o'Groats. You can also like and comment on your teammate's activities, earn Achievements, receive up-to-date event information and link your JustGiving page to see how your fundraising is going, all in one place.
The challenge runs continually until 31st December 2021 and all of your cycling activities recorded via the Pilgrims Event App during this time will count towards your overall progress along the UK End to End route.
You can use any route you like in order to reach your mileage goal. Under the current conditions, we strongly suggest you follow government advice and plan to cycle routes that start and finish at your home to avoid any unnecessary travel. We would also ask that you do not use the virtual ride to stop at any of our hospice sites, even if you are passing by. The safety of patients and staff is paramount, and your participation in the event is the best means of showing your support.
So if you have some favourite routes around your local area, then please use those to do your virtual ride. You can break the mileage down into as many days as you need to throughout year. All that matters is you cover the distance.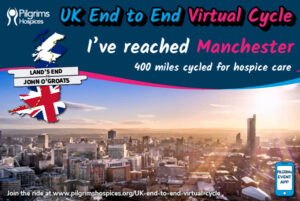 Every participant will receive exclusive digital milestone 'badges' that can be shared as you complete milestones in your journey on social media and elsewhere to show your support for Pilgrims Hospices.
Please note: Only activities recorded using the Pilgrims Event App (MapMyTracks) AND with the activity type of 'Cycling' and set as 'Public' will be included in your progress along the virtual map below. If you wish to use Strava or another fitness app to record your rides, that's fine, but remember to add those miles to the Pilgrims Event App so they count.
---
Event information
UK End to End Virtual Cycle entry: £5
Entry includes free event app tracking, digital milestone badges, cycling achievements, fundraising support, access to active cycling community group.
Virtual event tracking requires a free MapMyTracks account.
Choose your challenge time frame
Most people who ride between Land's End and John o'Groats for real do so in around 10-14 full days of cycling, but the UK End to End Virtual Cycle gives you the freedom to ride as and when it fits your daily schedule. If you are a casual cyclist, you might decide to complete the challenge before the end of the year, while a regular cyclist might set themselves the test of riding the 900 miles in 1, 2 or 3 months… the beauty of this virtual event is that you decide your target. Simply tell us your chosen time frame in the entry form and we'll support you in reaching your goal!
Show your support with the official Pilgrims Hospices cycle jersey and neck scarf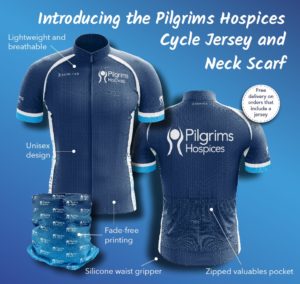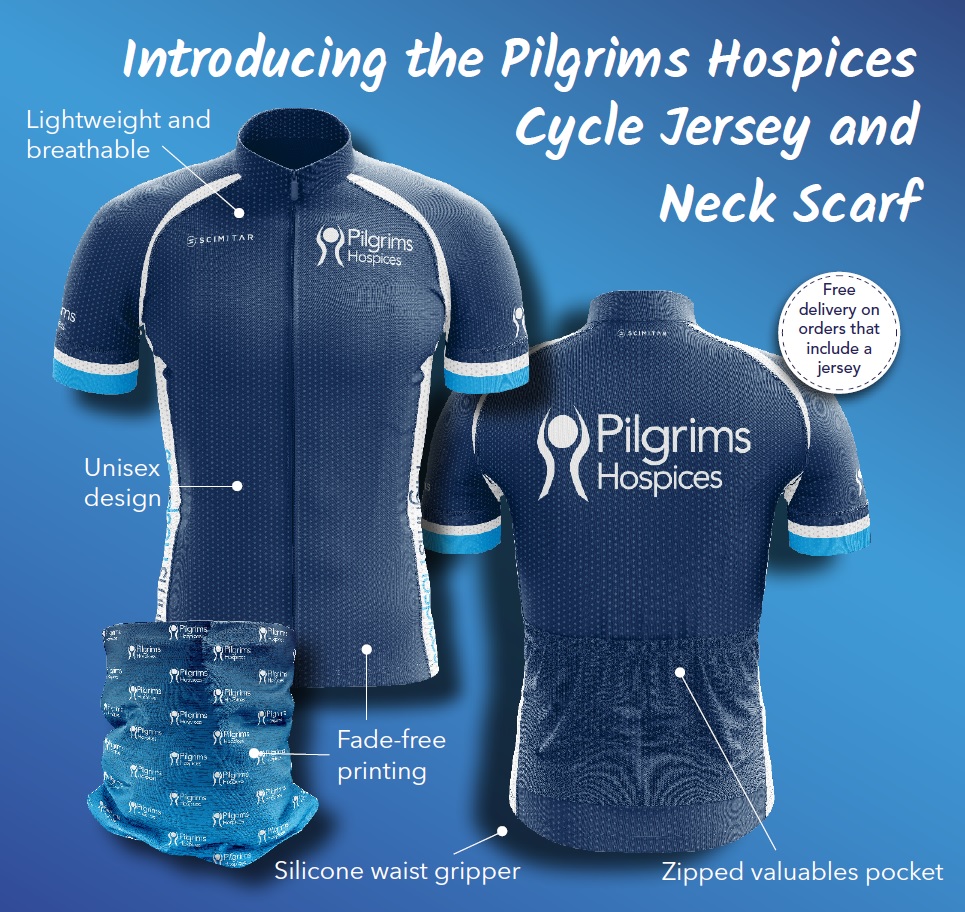 We're excited to bring you the official Pilgrims Hospices cycle jersey and neck scarf. Show your support out on the road with these stylish, quality garments, packed with great features such as a zipped valuables pocket, full-length zip and silicone waist gripper. We also have Pilgrims neck scarfs, ideal for keeping you warm on cold or windy days and providing shade from the sun on hot days. Grab yours today and help us be there for thousands of people coping with incurable illness in east Kent.
Cycle Jersey: £35, Neck Scarf: £5
Sizes available: S, M, L, XL, XXL
Add yours via the event registration form or order yours today by contacting Supporter Relations on 01227 782062 (weekdays 9am-5pm) or anytime at robert.grew@pilgrimshospices.org.
Raising sponsorship
We need your help to be there for people living with an incurable illness and encourage you to raise as much sponsorship as you can for your challenge!
While for many of us 'doing our part' during the current health crisis means social distancing, Pilgrims Hospices nurses and support staff are Still Here; Still Caring and are continuing to provide skilled and compassionate end-of-life care for people living with life-limiting illness across east Kent.
By doing your part for Pilgrims Hospices, you'll truly be making a difference to the lives of our patients. Here's how:
£10 could pay for a patient's meals for the day
£25 could pay for an hour of specialist nursing care
£30 could pay for our Community Team to hold a video consultation with a patient in their own home
£45 could pay for a virtual counselling session for an individual coping with the loss of a loved one
£90 could pay for all the medicine needed at one of our inpatient units over 24 hours
App Achievements

Achievements are an exciting new feature within the Pilgrims Event App. During the UK End to End, as well as the digital milestone badges along the way, you can now earn badges within the app for completing all kinds of Achievements.
The app will automatically recognise when you have achieved the criteria for any of the badges and add it to the 'Achievements' page within the 'Profile' area of the Pilgrims Event App, together with the date that you earned it!
Eg. Once you have recorded your first ride during an event, either by MapMyTracks recording or by a manual upload, you will earn the Back in the Saddle badge.
Full list of cycling badges to achieve
Back in the Saddle: Complete your first ride during this event.
Grand Tour: Complete ten rides during this event.
Leg Spinner: Complete a ride of at least 25 miles during this event.
Extra Mile: Complete a ride of at least 50 miles during this event.
Gran Fondo: Complete a ride of at least 75 miles during this event.
Century: Complete a ride of at least 100 miles during this event.
Breakaway: Cover at least 25% of the event distance.
On the Rivet: Cover at least 50% of the event distance.
Flamme Rouge: Cover at least 75% of the event distance.
Finisher: Complete the full event distance and cross the finish line.
Tour de Force: Log over 10 hours of Cycling during this event.
Cycle Tourist: Upload at least one photo during this event.
Super Saturday: Log an activity on the first Saturday of this event.
Everester: Climb the height of Mt Everest (8848 m) during this event.
Resources