Ultra Challenge – Halloween Walk
Saturday 30 October 2021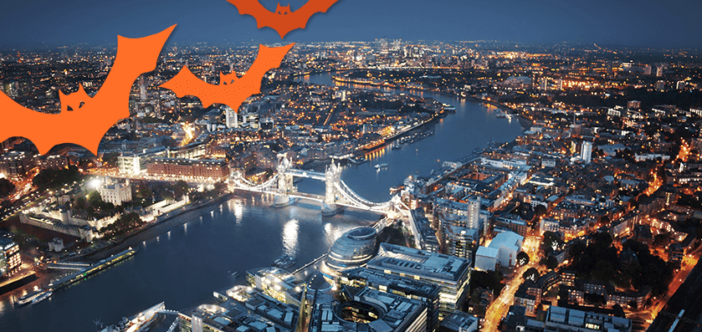 Take on the London Halloween Walk for Pilgrims on 30 October 2021!
Halloween Walk
The London Halloween Walk is back for 2021 – why not treat yourself to a hair-raising hike around some of the City's scariest streets and historic haunts?
Choose your distance, gather your bravest guys and ghouls to make up a team – or go it alone if you dare and meet up with other chilling challengers on route.  Be sure to dress to distress, and the creepy dungeon keepers at The Oval will meet, greet and shock you! Once you escape the dungeons, you'll tackle the ghostly looped route around the historic haunts of London.
There are 3 distance options: a wicked 10k walk, a horrific half marathon hike and a terrifying full marathon trek with an eerie overnight option. All routes start and finish at the Dungeon, deep in the Oval Cricket Ground.
Fundraising for Pilgrims Hospices by walking the London Halloween Walk this October will support us in continuing to care for over 2,500 patients each year, both in the patients home and in our three inpatient units in Ashford, Canterbury and Margate.
Ultra Challenge are working all of their events to a proven Covid-secure format, with plenty of outdoors space and staggered timings between 10am – 1pm, to ensure social distancing measures can be implemented.
What's included?
Halfway rest stops with snacks and drinks
Pace walkers, marshals, medics and massage
Special Halloween medal and certificate
Neck buff and bobble hat
Pre-event training support & event app
Covid-secure event structure
Fundraising options:
With 80% of our funding coming through voluntary contributions from our local community, the difference your support makes cannot be overstated. Every £25 that you raise could pay for one hour of specialist nursing care in one of our inpatient units.
Charity sponsorship – you pay a small registration fee, fundraise as much as you can and we cover the cost of your event place
Mixed funding – pay half of the event place cost yourself, fundraise as much as you can and we pay the balance of the event place cost
Self-funding – you pay the full cost of the event place and fundraise as much as you can
Please note: when taking part in Ultra Challenge events you are asked to pledge to raise a sponsorship target when registering for 'charity sponsorship' and 'mixed funding' options which are dependent on the distance of your challenge – full challenge, half challenge or quarter challenge.
The Ultra Challenge Series
The Ultra Challenge series offers inspiring endurance events that you can walk, jog or run to raise vital funds for Pilgrims. Whether it's a 25km walk, a testing 50km jog or a 100km marathon, there's something for all abilities. These challenges are perfect for people of any fitness level, with softer options for beginners and 'ultra' options for those really going for it – along with all those in between!
Ultra Challenge events are all-inclusive with an extremely high level of hospitality. They include regular rest stops approximately every 12.5km, with drinks and snacks, a fully signed route (so you won't get lost) and hot meals to keep you going.
Passing by stunning scenery, meeting new friends and discovering hidden resilience and spirit, few can describe their elation at crossing the finish line.
Resources