Ultra Challenge – London 2 Brighton Challenge
Saturday 27 May 2023 - Sunday 28 May 2023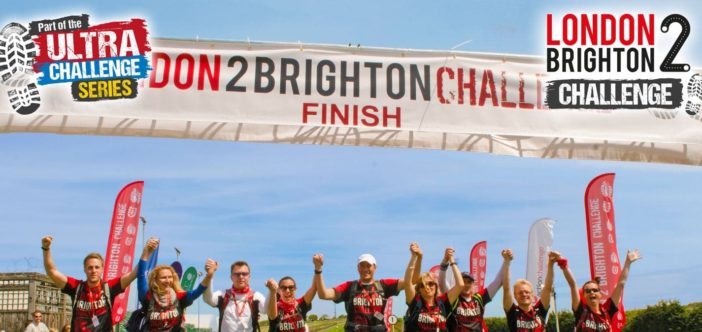 Walk, jog or run the London 2 Brighton Challenge for Pilgrims!
25km / ~50km / 100km Challenge
Richmond, West London, Saturday morning and 2,000 excited challengers eagerly await the start of this unique Capital to Coast route. There's 100km of paths and trails, the North Downs, South Downs and some wonderful Sussex countryside to explore before the coastline comes into view and the welcome finish line awaits down the home straight of Brighton Racecourse. The journey is amazing, and with some training and determination anyone can conquer London 2 Brighton. Will you do it for Pilgrims?
Choosing to fundraise for Pilgrims Hospices with your walk, jog or run from London 2 Brighton will support us in continuing to care for over 2,500 people each year who are facing an incurable illness across east Kent.

What's included?
Hot meals, drinks and snacks en-route
Pace walkers, marshals, medics and massage
Finisher's medal, t-shirt and a glass of bubbly
Fully signed route
Shuttle buses and transfers
Optional training walks & event app
Relay option and corporate packages available – round up your colleagues!
Fundraising options:
With 80% of our hospice funding coming through voluntary donations from our local community, the difference your support makes cannot be overstated. Every £25 that you raise could pay for another hour of specialist nursing care in one of our inpatient units.
Once you've decided on your challenge distance, there are three ways to fund your entry:
Self-funding – you pay the full cost of the event place with no minimum fundraising commitment – just raise as much as you can!
Charity sponsorship – you pay a reduced registration fee and, providing you reach the fundraising goal, Pilgrims will cover the cost of your event place
Mixed funding – you pay half of the event place cost yourself and, providing you reach the fundraising goal, Pilgrims will pay the balance of the event place cost
Please note: when taking part in Ultra Challenge events you are asked to pledge to raise a sponsorship target when registering for 'charity sponsorship' and 'mixed funding' options. The sponsorship target depends on the distance of your challenge – full challenge, half challenge or quarter challenge.
For full details of prices and to sign up: www.ultrachallenge.com/london-2-brighton-challenge
The Ultra Challenge Series
The Ultra Challenge series offers twelve inspiring endurance events that you can walk, jog or run to raise vital funds for Pilgrims. Whether it's a 25km walk, a testing 50km jog or a 100km marathon, there's something for all fitness levels and ages.
Ultra Challenge events are all-inclusive with an extremely high level of hospitality. They include regular rest stops with drinks and snacks, fully signed routes (so you won't get lost) and hot meals to keep you going.
Passing by stunning scenery, meeting new friends and discovering hidden resilience and spirit, few can describe their elation at crossing the finish line.
 Resources