Virgin Money London Marathon The 40th Race 2020
Sunday 4 October 2020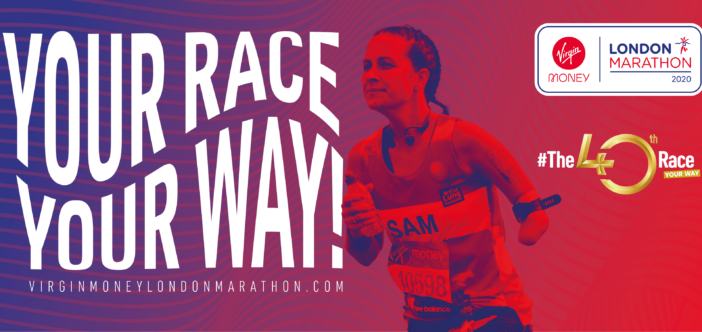 Run the London Marathon, your way, for Pilgrims Hospices!
This October, you can run the world's greatest marathon, from wherever you are. It's your chance to do The 40th Race your way!
The Virgin Money London Marathon is the largest annual one-day fundraising event on the planet – participants have raised more than £1 billion for good causes since the race began in 1981, and today charities, like Pilgrims, need this money more than ever.
For the first time ever, you're invited to run the London Marathon, your way, joining up to 45,000 runners up and down the UK – and across the world.
The virtual 2020 Virgin Money London Marathon will take place on Sunday 4 October and you'll have 23 hours, 59 minutes and 59 seconds to complete the 26.2 miles, which you can run, walk or jog – making it the most inclusive London Marathon ever!
Although The 40th Race will be run your way, in your location of choice, you will continue to receive support and advice, both on the day and in the run up to the event. You will also receive a well-deserved London Marathon medal and New Balance finisher's t-shirt.
As well as being able to track and log your 26.2 miles, the Virgin Money London Marathon app will bring the virtual experience to life with an exclusive audio commentary featuring famous voices providing a memorable soundtrack to your challenge.
Taking part in the Virgin Money London Marathon, your way, means you can be creative with your challenge! You could be dropped 26.2 miles from home and run back to a hero's welcome, complete each mile with a different socially-distanced running buddy or create a unique course that visits the homes of friends and family so they can cheer you on and set up a refueling station for you.
---
Be part of The 40th Race, your way!
Up for the challenge? Pilgrims Hospices are inviting you to register for London Marathon The 40th Race 2020!
We have a limited number of places available in The 40th Race and places will therefore be offered on a first come, first served basis. Don't miss out, and register today!
Please note: We ask for our runners in the London Marathon The 40th Race to raise £100 for Pilgrims; this is enough to cover the cost of all the medicine needed in one of our inpatient units for 24 hours!
General entry to The 40th Race!
If you have received a place in The 40th Race through general entry, we would love for you to run in support of Pilgrims Hospices. Every step you take, and every mile you run, walk or jog, will be helping Pilgrims to be there for the next family who need us.
If you choose to support local hospice in east Kent with your place in London Marathon's The 40th Race, we would love to hear from you.
Please get in touch with Lydia Todd so that we can support you in the run up and on the day of your 26.2 virtual marathon!
Resources