Vitality London 10,000
Monday 27 May 2019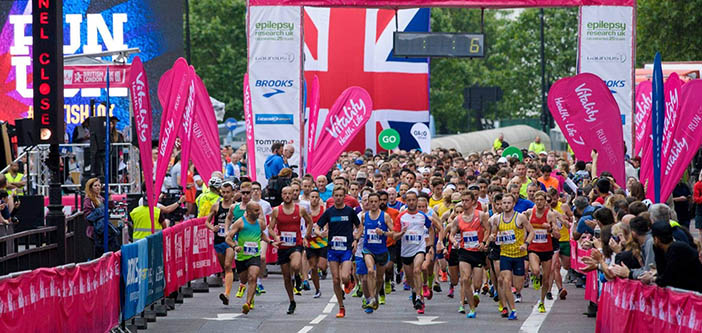 Run the Vitality London 10,000 in aid of Pilgrims on Monday 27 May 2019.
Looking to soak up the vibrant atmosphere of a big London city centre race? The Vitality London 10,000 passes many of the capital's most famous landmarks, including an unforgettable finish outside Buckingham Palace. With charity places available, there's never been a better time to take your running to the next level.
Join #TeamPilgrims and more than 12,000 runners of all abilities, all chasing their personal best.
---
Sign up to run in 2019
Pilgrims Hospices have 2 guaranteed charity places in the Vitality London 10,000 2019. These places are offered to supporters for a No registration fee, just a pledge to raise at least £250 sponsorship in support of hospice care.
Click here to complete the application form
Got your own place?
If you have your own place in the London 10,000, we'd love you to join #TeamPilgrims and run in support of thousands of people across east Kent who are living with a life-limiting illness. Simply email Robert Grew (Events Fundraiser) on lydia.todd@pilgrimshospices.org and we'll get in touch with ways we can support your fundraising.
Resources