None of us know when we might need hospice care, but with your support we can continue to be here at the most difficult time in people's lives.
Being faced with an illness that cannot be cured is something none of us want to think about, but we do all want to know that there will be someone to help us should we need them.
Working within the hospice environment and meeting patients opens your eyes to what passion, empathy, dignity and respect truly mean. Working at Pilgrims gives us all time to appreciate what we have in our own lives, and puts the preciousness of life into perspective.

Beverley Allen, Community Registered General Nurse, Pilgrims Hospice Ashford
£10 could pay for essential nursing supplies.
£25 could pay for an hour of specialist nursing care.
We take the time to listen
When a patient is referred to Pilgrims, we take the time to listen to and talk with them to find out what worries them most. We know that every patient is unique and we tailor all our care to what works best for them.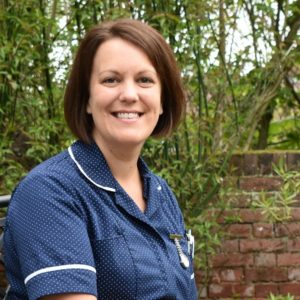 "I consider myself very privileged to support patients and their families at end of life; it underpins all that nursing is for me. We know that we can't change the destination but we can change the journey.

Time, patience, specialist knowledge and humour keep us connected to our patients. We respect them as individuals and are able to connect on a human level, we give the care we would want and expect our loved ones to receive if they needed it and that is nearly all funded by the amazing general public."

Sarah Martins, Senior Ward Sister,
Pilgrims Hospice Canterbury
Bringing nurses to the bedside
Because we believe that everyone has the right to care, comfort, compassion and dignity in their final days, weeks, months or years, we provide all of our care free of charge.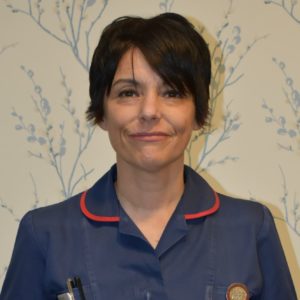 We need your help to be there when we're needed the most, and you can do this by sponsoring one of our nurses. A gift of just £25 could pay for one hour of specialist nursing care. Whatever you give, whether this is a single gift or a monthly donation, you'll be helping our patients and their loved ones to make every moment matter.
"I have been at Pilgrims for two and a half years. It is a wonderful organisation to work for and I feel very privileged to come to work here every day. My role is so varied involving community, clinic and home visits and I never know what each day will bring. It is humbling spending time with patients who open their hearts to you and allow us to accompany them on their journeys."

Mandy Timms, Advanced Nurse Practitioner
Giving the gift of care
Pilgrims is here so that patients do not come to their end-of-life journeys in pain or distress.
By sponsoring a nurse, you will help to ease pain, offer comfort, provide reassurance and help someone live their life to the full in the time that they have.
We support the whole person's wellbeing to help them really live their last days. We treat people as individuals by offering them a choice.
More than ever, Pilgrims needs your help. Each year, we provide free hospice care to more than 2,300 patients and that figure is set to rise in the coming years. We rely on kind donations from the general public for 75% of our running costs; sponsoring a nurse is one way you can provide direct support to those who make a different every day of the year.
Thank you so much for your support
Every generous donation from our amazing community of supporters helps to make sure we can be there for the next family who needs us.
If you or someone you love has been diagnosed with a life limiting illness, find out about the full range of services Pilgrims can offer.