Charlotte and Leanne are ready to take on marathon challenges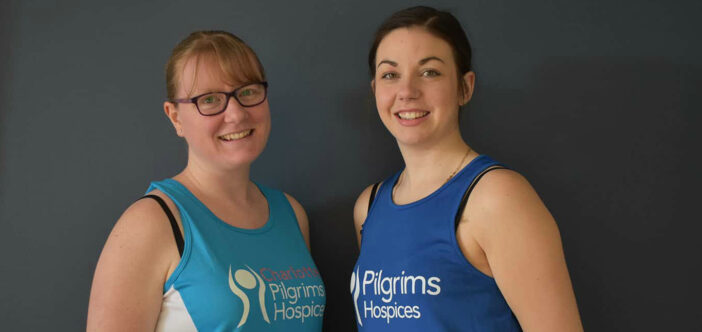 Working for Pilgrims Hospices care team is demanding, rewarding and fulfilling, finding time to step away from care at the end of life is important and, vital to the wellbeing of those who work in such challenging environments. Running is becoming increasingly popular amongst the staff at the Ashford hospice as part of a regular healthy lifestyle and encouraging energy boosting for personal health and fitness.
---
Charlotte and Leanne are both in training for marathon challenges next month and share some of their experiences in getting ready to run.
With busy careers within the care team for Pilgrims Hospices; both have a burning ambition to complete a marathon challenge. They are finding time in their busy schedules to train; Charlotte for the Brighton Marathon and Leanne, for the Virgin London Marathon.
It gives me such a boost to know that I'm running and raising funds for people who need Pilgrims care the most in my local community.

Charlotte Davies, Pilgrims Hospices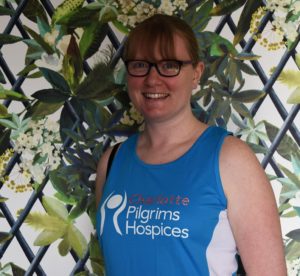 Charlotte Davies (34) from Ashford is a palliative specialist nurse at the hospice, her role takes her into the community to see patients and families in their own homes. She's excited to being taking part in her first ever Brighton Marathon on 19 April.
Charlotte said: "I hope this will be the first of many; it's all a bit crazy, juggling work, studying for a master's degree and, training with two children of four and two years of age; it's keeping me very busy.
"Training is going well! I'm enjoying it, even when it's cold, dark and raining. It gives me such a boost to know that I'm running and raising funds for people who need Pilgrims care the most in my local community.
"I'm often seen on training runs around Ashford wearing my Pilgrims vest. Please give me a wave if you see me."
Charlotte wanted to work in a hospice ever since she was a young girl. Her grandfather was cared for in a hospice leaving a lasting impression of love and care that has been her inspiration to join the nursing profession as a legacy to her much-loved grandfather.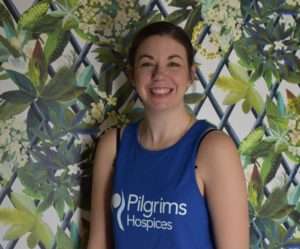 Leanne Clark (29) from Ashford is a wellbeing practitioner in Pilgrims Therapy Centre at the Ashford hospice. Her role provides support and therapy for patients, helping to manage symptoms and build self-confidence so they can live well at home for much longer.
She said: "I have always wanted to run the London Marathon ever since watching it on TV as a young girl and, I wanted to run for a cause that is so close to my heart.
"Pilgrims looked after my nan in 2016-17; Nan attended the Therapy Centre for symptom management and received regular visits from the community nursing team at home.
My role in the Therapy Centre allows me to see first-hand what brilliant work everyone does at Pilgrims.

Leanne Clark, Pilgrims Hospices
"Nan always received care with the utmost dignity and respect right up until the end. It was from the beautiful care that I decided to pay back the hospice in the very best way I can. Nan was 87 years old when she died and the hospice made it easy for her to be at home where she wanted to be and, provided support to all of us as a family.
"My role in the Therapy Centre allows me to see first-hand what brilliant work everyone does at Pilgrims; helping to make patients' and their loved ones' lives that little bit easier. The compassion my nan received from doctors, nurses, physios and so many others at the hospice was lovely and, I will forever be grateful to all the staff that cared for her.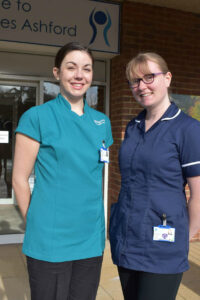 "Everyone is so kind, so thoughtful and it's brilliant that not only is the patient cared for as an individual but also the family's welling is a priority as well."
When speaking about Pilgrims, they shared how it is a beautiful place to come with no judgement. They provide a safe space for families too, at a time when they really need us. Organisations such as Pilgrims are invaluable to the local community.
Leanne said: "My training is going well so far. The miles are slowly increasing and, it's getting serious as the event is really close now.
"I came through the really tough stages and feel I'm ready to take on the challenge.
"I just think of all the people I am running for and, about my nan and it spurs me along."
Top tips from Charlotte and Leanne
Anyone looking to run a marathon should consider it carefully before taking up the challenge. You need to devote time every week to the training, in order to complete the challenge reasonably. Be aware it will take a toll on your body but with gradual training, you'll gain such brilliant health benefits.
Give yourself plenty of time to train and be aware that life does tend to get in the way.
Prepare, join a running club if you need to, the support, friendship and tips you learn from others are brilliant.
Join a local parkrun, it's 5km, free and they're held all over. From there, build up to a 10km, then a half marathon and before you know it, you are at your first marathon.
Charlotte said: "I took up running after my son was born, he's two years old now; it was one of the best things I've done."
Every penny raised by our supporters in Brighton and London marathons will be helping to provide end-of-life care in Pilgrims Hospices near you.
---
If you or someone you know is coping with a life limiting illness and you think you may benefit from Pilgrims support, talk to your GP or Healthcare Professional about the options or click here to read about our Wellbeing Programme.