Day shines at night for Grandad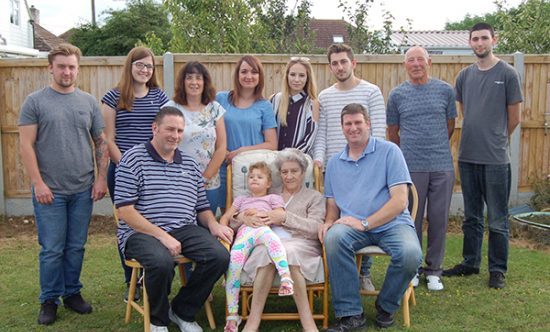 Care worker Kathryn Day, 25, from Westgate-on-Sea will take part in Pilgrims Hospices A Night to Shine walk on 30 September at Broadstairs Pavilion. She will walk to remember her grandad, Victor Day.
Birchington local Victor, who worked at Steelcase PLC in Margate for more than 40 years, was cared for by the team at Pilgrims Hospice Margate.
Kathryn explains: "Grandad was cared for on the ward for a while, then Pilgrims staff did everything they could to help him return home at the end of his life, as he had wanted. They supported us as a family, as well as Grandad, with visits from the nurses several times a day. We cannot thank them enough and wanted to raise as much money as we can to help others who might need their care."
Kathryn will be joined by family and friends on the 8k route. To sponsor Kathryn in Victors' memory, visit her JustGiving page.
A Night to Shine is Pilgrims brand new sponsored 5k, 8k or 10k walk in Ashford, Broadstairs and Canterbury. It will take place on Saturday 30 September 2017:
In each town walkers will enjoy music, a party atmosphere, an energetic warm up and lots more, before setting off simultaneously into the evening at 7pm amid a sea of lantern light.
There will also be a quiet pause during which supporters can remember loved ones. Everyone who takes part will receive a memory lantern with their registration pack. Whether you walk in memory of someone special or simply to show your support, lanterns can be personalised to bring along on the evening.
Standard entry is £15 (£12 under 18s) and includes a t-shirt, lantern, medal and more. Pre-event registration will close at midnight on 26 September. After that, you can register in person on the night for £20 for Adults and £15 under 18s. Under 3s go free no matter when you sign up. Register now or call 01227 782 062 to find out more.
The Day family photo: Back row – Reece Kallmeier, Alexandra Day, Donna Day, Kathryn Day, Charlotte Day, Travis Tarrant, Barry Elks and Stuart Day. Front row – Trevor Day, Willow Day, Frances Day and Kevin Day.
Every day in east Kent 19 people receive the news that they have an incurable illness and have less than a year to live; a number that is set to rise. We believe each one of them deserves quality care so that they, and their family, can live each and every moment they have well. If you or your family are experiencing Pilgrims care, find out about the support Pilgrims can offer through our Wellbeing and Social Programme.