A Night to Shine – Canterbury
Saturday 22 September 2018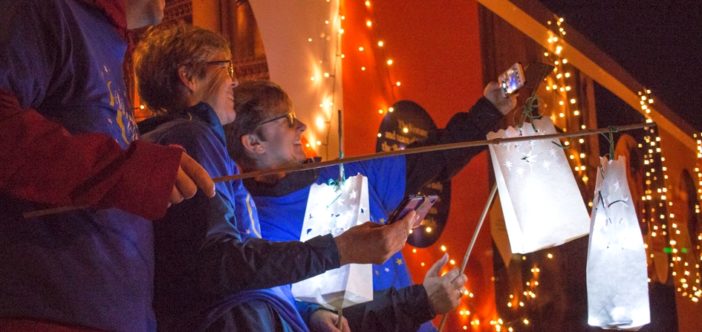 Shine for Pilgrims in Canterbury and experience the historic city sights by night.
Advanced registrations for A Night to Shine have now closed. But don't worry, you can still enter on the night at the event. On the night entry is available between 5.30pm until 6.45pm at £20 adults, £15 under 18s. Simply head to the registration desk area at the venue when you arrive.
Join us for A Night to Shine Canterbury on Saturday 22nd September. Our popular night-time 3 or 6 mile sponsored walk raising vital funds for local hospice care.
This year it's set to be bigger and brighter than ever! Get everyone together for a special night of fun, fitness and memory-making and see the historic city from an entirely new perspective.
Entry includes T-shirt, medal and memory lantern for you to personalise with your own message or design. You'll enjoy music, a friendly party atmosphere, an energetic warm-up and lots more, before setting off into the evening at 7pm amid a sea of glowing lights. On route, place your lantern among hundreds of others in our beautiful display at Canterbury Cathedral and take a moment to reflect on treasured memories with loved ones before continuing under the stars.
All of your favourite glowing merchandise will be available to help you shine even brighter!
Remember, the best thing about memories is making them!

---
Event information
The route
Our Canterbury event offers a 3-mile or 6-mile route starting at:
Westgate Hall, Westgate Hall Road,  Canterbury CT1 2BT.
Entry
Advanced entry (closes 16/9/18)
On the day
Under 3s go free no matter when you sign up.
Resources
A Night to Shine is proudly sponsored by Furley Page Solicitors, Boon Edam Ltd, Givaudan and Team Tactics Ltd. Pilgrims Hospices would like to say a big thank you for their incredible support, helping us to raise as much money as possible for the care of our patients.

Address information
Venue:
Westgate Hall
Westgate Hall Road
City: Canterbury
Postcode: CT1 2BT
Contact information
Email: shine@pilgrimshospices.org