Donate an Hour of Pay this Christmas in support of local hospice care : You can truly make a difference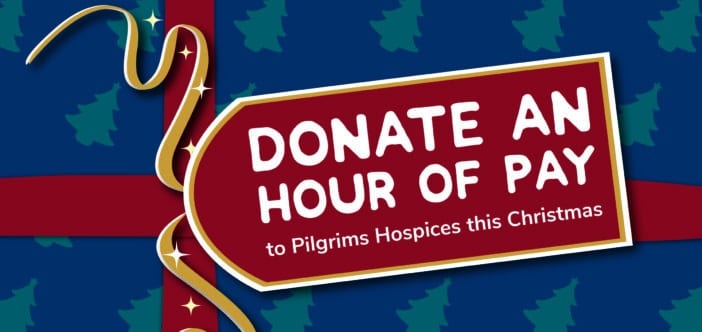 As we approach the end of 2023, it's the perfect time to reflect on our lives, our blessings, and our opportunities to make a positive impact on the world. One meaningful way to end the year on a high note is by donating an hour of pay  to Pilgrims Hospices charity. This act of generosity not only supports an important cause, but also embodies the spirit of giving that defines the festive season.
Pilgrims Hospices is a local charity dedicated to providing hospice care, and support to individuals facing life-limiting illnesses and their families. Their mission is to ensure that every patient's journey is as comfortable and dignified as possible, and they rely on the support of generous donors to continue their vital work.
By donating an hour of pay before your out of office is switched on for the festive break, you will be making the most of your last working hour of the year. It's a simple yet impactful way to engage your workforce in philanthropy and create a sense of shared purpose within your organisation.
There are several compelling reasons why this "Donate an Hour of Pay " campaign  is a fantastic idea, especially for those who may be unable to participate in other charity events or challenges:
Inclusivity: Not everyone can spare the time or energy for physical challenges or fundraising events. Donating a portion of your pay is a practical and inclusive way for all employees to contribute, regardless of their circumstances.
Collective Impact: When a business encourages its employees to participate, it multiplies the impact. Imagine the collective power of an entire organization donating the last hour of their pay!
Local Engagement: Supporting a local charity like Pilgrims Hospices is an excellent way for businesses to connect with their communities and demonstrate their commitment to the well-being of those in their vicinity.
Building a Culture of Giving: Incorporating philanthropy into your corporate culture can foster a sense of fulfilment, unity, and pride among employees. It not only benefits the charity but also strengthens employee morale.
To get involved, businesses can register their pledge to support Pilgrims this Christmas on our website: Donate an Hour of Pay
They will then receive a digital fundraising toolkit which has everything you need to encourage your workforce to support the campaign too.
As we close the chapter on 2023 and look forward to a new year filled with hope and possibilities, let us also remember the power of giving. Donating an  hour of your pay to Pilgrims Hospices charity is a meaningful and inclusive way to make a positive impact and set the tone for a more compassionate and caring 2024.
So, this New Year's Eve, let us come together, individuals and businesses alike, and make a difference in the lives of those who need it most. Your support for Pilgrims Hospices will not only be a gift to those in their care but a testament to the spirit of unity, compassion, and generosity that defines our community.
---
Each year, Pilgrims Hospices give care and comfort to thousands of people in east Kent who are coming to terms with an illness that sadly cannot be cured. The charity support patients to live life as well as possible until the very end, free from pain and distress.