Harrison's Night to Shine for Pilgrims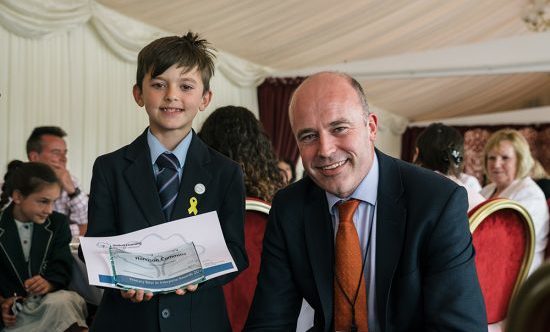 On Saturday 30 September, 8 year-old Harrison Cummins will bring all his family along to take part in A Night to Shine, Pilgrims Hospices new signature walk. Harrison's mum Holly Loudon, then aged 28, was cared for by Pilgrims Hospice Ashford in 2015.
Elaine Williams, Holly's mum, explained how Harrison began to fundraise: "When Holly became very ill, pre-school and after school care became increasingly difficult. The headteacher at Ashford Prep School, where I worked, suggested Harrison move to our school as this would help enormously.
"Pupils in his new class held a cake sale for charity. He was so impressed by the amount of money raised that he asked if he could do the same for Pilgrims, so the idea for Harrison's first ever Super Café was born."
Harrison's first Super Café was held at the Riverside Inn in Ashford. Holly worked there part time for many years, so Teresa Lewis, the owner, was keen to lend her support for the event. The first year they raised more than £13,000 and the following year more than £11,000.
Richard Yeates, Ashford Prep School Headteacher, nominated Harrison for an award as a Young Hero, which he won. Following this, he was invited to the Houses of Parliament on 23 June to meet and have afternoon tea with Lord Carey, former Archbishop of Canterbury. Harrison was presented his award for being a Young Hero by Jon Coles, CEO of United Learning.
To continue with his fundraising, Harrison wants to bring all his family together: his dad, Pete, his grandmothers, Elaine and Tricia, his grandfathers, Bill and Graham and his aunt Laura to take part in A Night to Shine, the new Pilgrims walk. With the opportunity to walk either 5k or 10k in Ashford, he is convinced everyone can join in.
During the walk, Harrison and his family will be able to lay a lantern in memory of Holly and spend the evening remembering her in a really positive way.
Victoria Friar, Community Fundraising Manager at Pilgrims, said: "We are so excited by our new walk. With all three hospices taking part in a walk on the same night, we hope to make this one of the biggest walks in Kent."
But Harrison being Harrison will doubtless use the opportunity, with so many people being there, to promote his third Super Café. This will be held at Ashford Prep School in Great Chart on Saturday 9 December, again in aid of Pilgrims.
A Night to Shine is Pilgrims Hospices brand new sponsored walk that takes place on Saturday 30 September 2017 in Ashford, Broadstairs and Canterbury. You can choose from a range of distances including 5k, 8k or 10k. Register now and join Harrison for a walk to remember.
If you or your family are experiencing Pilgrims care, find out about the support we can offer through our Wellbeing and Social Programme.