Help make Pilgrims A Night to Shine 'Kent's Biggest Charity Walk'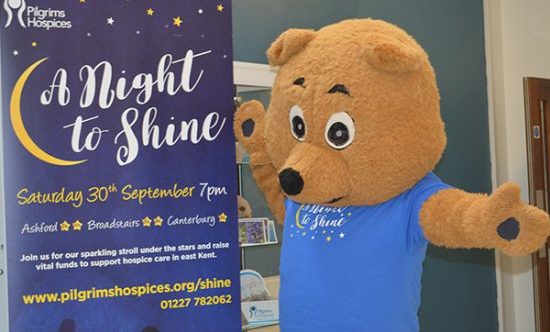 Volunteers, staff, supporters and Pilgrims mascot Raffles are getting ready for a brand new family event: A Night To Shine is a new sponsored walk which will take place on 30 September.
For the first time, it will bring people together from all across our east Kent community for one very special night, shining for Pilgrims in Ashford, Broadstairs and Canterbury.
There will be something for everyone and a friendly party atmosphere.
The charity hopes this very special night will bring the community together to raise funds and awareness for hospice care in east Kent.
The excitement is growing as sign ups pour in for this family friendly event that welcomes people of all ages – be they friends, family and colleagues.
Family fun that makes a difference
Robert Grew, Events Organiser for Pilgrims Hospices said: "In each town you'll enjoy music, a friendly party atmosphere, energetic warm up and lots more, before setting off simultaneously into the evening at 7pm; amid a sea of lantern light. All your favourite glowing merchandise will be available for purchase – it's your night to shine!
He says the registrations and fundraising packs are flying out of the door: "Who could fail to have fun with the carnival atmosphere we have planned? We can't wait to see you there!"
Choose from either 5k or 10 k routes with all three night time walks setting off at 7pm on the night. In true Pilgrims Hospices style, supporters can enjoy music; a friendly party atmosphere and an energetic warm up.
Flashing and glowing merchandise will be available on the night, with fancy dress optional.
Individuals and teams can register here.
Pause with beautiful memory lanterns
There will also be a quiet pause in the evening when supporters can remember loved ones. "Everyone who takes part will receive a memory lantern with his or her registration pack. Whether walking in memory of someone special or simply showing your support, lanterns can be personalised to bring along on the evening."
"Pilgrims Hospices are renowned for their creative and innovative fundraising activities and hope A Night To Shine walk will bring families and friends together. You can walk as a group or just join in, you are sure of a warm welcome with lots of fun whilst raising funds to support your local hospice.
Step out and shine to support the next family that needs us
Every day in east Kent 19 people receive the news that they have a terminal illness and have less than a year to live. A number that is set to rise.
Wendy Hills, Pilgrims Hospices Director of Nursing and Care, explains: "We believe each one of them deserves quality care so they, and their family, can live each and every moment they have well. If you talk to us earlier we can do so much more."
As the high quality end of life care Pilgrims gives on its wards and in the community – the charity also offers a free programme of wellbeing activities to support people living with a terminal illness and their families earlier in their journey.
Your support means everything to Pilgrims Hospices and the people we care for," adds Wendy. "Around ¾ of our funding comes from our generous local community, we could not exist without you. Join our extended hospice family of over a thousand volunteers and fundraisers across east Kent who are giving today, so together we can be there for the next person who needs us."
Individuals and teams can register here. For more information email shine@pilgrimshospices.org or call Pilgrims fundraising team on 01227 812609. Sponsorship for the event is welcomed and for super fundraisers who raise over £250 we will also enter them into our Pilgrims prize draw.
Each year Pilgrims supports hundreds of local people coping with a life limiting illness and their families. The charity offers a range of services: from end of life care given on its wards, to its new wellbeing and social programme supporting people after they are diagnosed to live well and stay independent.