Hospice team: "Let's make A Night to Shine Kent's biggest charity walk"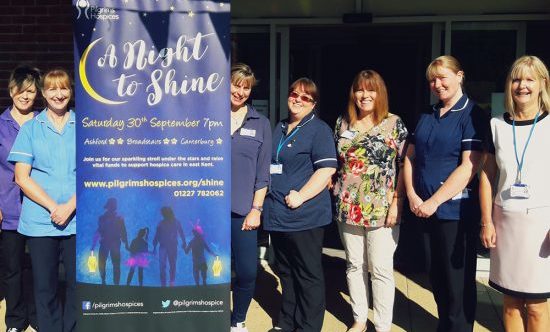 Pilgrims Hospices nurses and staff will join together as a team to lead the way for the charity's brand new sponsored walk, A Night to Shine.
Workmates from Pilgrims Hospice Ashford will step out together for the twilight charity walk. It's the first time Pilgrims will hold a sponsored walk simultaneously, on the same night, near its hometowns of Ashford, Canterbury and Thanet.
We hope it will encourage our fabulous community to join us on the night.
Alison Wiltshire, a Pilgrims Community Nurse, said: "Our supporters and volunteers work so hard to raise the funds we need to enable us to continue offering our services to those who need them. Taking part in A Night to Shine is a way for us to say thank you and show our appreciation. We hope it will encourage our fabulous local community to join us on the night. Together, we could make this Kent's biggest charity walk."
Whichever venue they choose, supporters can come together with friends, family and colleagues for a fun-packed evening. You can walk as a group or just join in; either way, you'll receive a warm welcome and have fun whilst raising vital funds for hospice care.
In each town there'll be music, a friendly party atmosphere, an energetic warm up and lots more. At 7pm, supporters will set off together into the evening amid a sea of lantern light. Glowing merchandise will be on sale to help make your experience truly shine!
There will also be a quiet pause, during which supporters can remember loved ones. Everyone who takes part will receive a memory lantern with their registration pack. Whether you walk in memory of someone special or simply to show your support, lanterns can be personalised to bring along on the evening.
Alison added: "Working at Pilgrims can be emotional at times, but this event is a nice chance for us to see families who we have supported over the years and catch up with them for a fun event. We're really looking forward to it."
There's always something for everyone and a friendly party atmosphere.
Richard Davis, Chairman of the Board of Trustees for Pilgrims, will also be there on the night: "As a Pilgrims Trustee I have been to many of our wonderful fundraising walks; there's always something for everyone and a friendly party atmosphere.
"We hope this special night will bring the community together to raise vital funds and awareness for hospice care in east Kent."
Simply find your nearest A Night to Shine walk and sign up today:
For more information, email shine@pilgrimshospices.org.
Every day in east Kent 19 people receive the news that they have an incurable illness and have less than a year to live; a number that is set to rise. We believe each one of them deserves quality care so that they, and their family, can live each and every moment they have well.
If you or your family are experiencing Pilgrims care, find out about the support we can offer through our Wellbeing and Social Programme.