Jocelyn will welcome A Night to Shine to Canterbury Cathedral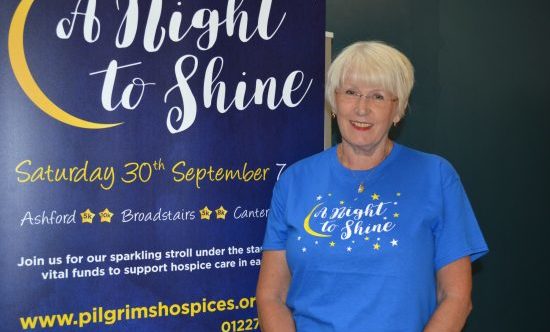 Canterbury Cathedral staff will join hundreds of supporters for Pilgrims Hospices brand new sponsored walk, A Night to Shine, in memory of their colleague Jocelyn Prebble's husband Richard who was cared for by Pilgrims Hospices early in the year. The charity says it hopes to make this Kent's biggest sponsored walk yet.
Jocelyn's colleagues were so inspired by Richard's strength and courage as he fought against cancer. They will continue to celebrate his life by taking part in Pilgrims new night time 5K fundraising walk around Canterbury.
The Cathedral has long supported Pilgrims night time walks.
Jocelyn told us: "The Cathedral has long supported Pilgrims night time walks, and to continue with this exciting new event is a pleasure for us all. The route takes walkers through the atmospheric Cathedral grounds and cloisters where there will be the chance for a quiet pause to remember loved ones and place beautiful memory lanterns on the ground.
"Both my lovely husband Richard and my mum were cared for by Pilgrims. Having first-hand experience of their exceptional care spurs me on to fundraise and support the amazing work that helps so many people who are living with life limiting illnesses in east Kent."
Jocelyn and Richard were publicans for more than 36 years before moving to Wingham after they sold The Rose and Crown pub in Perry Wood. Jocelyn is part of the reception team at Canterbury Cathedral and has loved being involved with Pilgrims night time walks for a number of years.
Jocelyn continued to say: "To involve people who may not usually participate in a this type of event or indeed feel involved enough to walk through the Canterbury Christ Church Gate – and the idea that young and old, able and not so able can shine and come into the Cathedral grounds and be welcomed – is brilliant. I'm going to be there to welcome the wonderful walkers again as the Cathedral will be part of the A Night to Shine route this year."
We are so pleased to have the support of Jocelyn and her colleagues from Canterbury Cathedral.
Deborah Kellond, Community Fundraising Manager for Pilgrims Hospice Canterbury, said: "We are so pleased to have the support of Jocelyn and her colleagues from Canterbury Cathedral again this year. She has really been the welcoming face of the Cathedral team for many years and has really embraced her role by dressing up in our flashing merchandise, which is a sight not usually associated with such a revered setting. We have a special treat this year with one of the Canons in Residence also welcoming our walkers."
She added: "Every day in east Kent 19 people receive the news that they have a terminal illness and have less than a year to live; a number that is set to rise. We believe each one of them deserves quality care so they and their family can live each and every moment they have well."
A Night to Shine will take place simultaneously in Ashford, Broadstairs and Canterbury, bringing together people from across the east Kent community for one very special night on Saturday 30 September 2017.
In each town there'll be music, a friendly atmosphere, an energetic warm up and lots more. Walkers will set off together into the evening at 7pm amid a sea of lantern light.
The Canterbury stroll under the stars will depart from: Canterbury Christchurch University Sport Hall, Pilgrims Way, Canterbury CT1 1PH.
To find out more about this family-friendly event, click here or email shine@pilgrimshospices.org.
Each year Pilgrims supports hundreds of local people living with a life limiting illness and their families. The charity offers a range of services: from end of life care given on its wards, to its new Wellbeing and Social Programme supporting people after they are diagnosed to live well and stay independent.