Kennington pupils look forward to A Night to Shine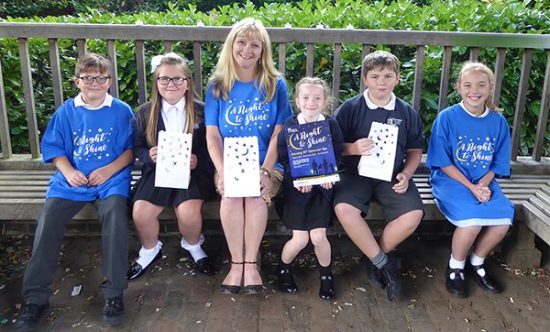 The head teacher of Kennington CE Academy, Mrs Katie Wratten, was pleased to show her support for A Night to Shine, Pilgrims Hospices new night time walk. This week she showed some of her pupils where the walkers will be laying their lanterns in memory of loved ones in the Kennington Memorial Garden, right outside the school.
Mrs Wratten will take part in the walk, as will some of the pupils at her school. She explained why: "Last year a colleague of mine was cared for by Pilgrims Hospice Ashford after a very short illness. The support and care they gave to her and her family was absolutely fantastic.
"I want the children to understand the importance of supporting charities like Pilgrims, and hope to set an example by doing so myself.
"I am delighted that Olivia, Daisy and Lilly are taking part in the walk. We hope to encourage others to take part in the new 5k family walk that Pilgrims have introduced this year."
Deirdre Mewse, Community Fundraising Officer said: "It was lovely to meet some of the pupils and talk briefly about the work of Pilgrims. For some, the walk will be the first time they have participated in something like this; although for Olivia this will be the third time she has taken part in a hospice walk!
"To have the support of the school has been fantastic, and we look forward to more families signing up to take part. It is really exciting to be introducing a family route alongside our traditional longer one. This year, the route is through an entirely different part of Ashford. We hope to see lots of people coming to remember their loved ones as they show support for Pilgrims."
Standard entry is £15 (£12 under 18s) and includes a t-shirt, lantern, medal and more. Pre-event registration will close at midnight on 26 September. After that, you can register in person on the night for £20 for Adults and £15 under 18s. Under 3s go free no matter when you sign up. Register now, call 01227 782 062 or email shine@pilgrimshospices.org to find out more.
Pictured above – Connor, Daisy, Katie Wratten, Lily, Daniel and Olivia.
This year alone, Pilgrims has to raise £11 million through voluntary donations in order to run our full range of services. Sponsorship raised through events like these helps us to continue caring for local people at the end of their lives. 
If you or your family are experiencing Pilgrims care, find out about the support Pilgrims can offer through our Wellbeing and Social Programme.