"Spiritual care is at the heart of palliative care" – Spiritual Care Awareness Month 2022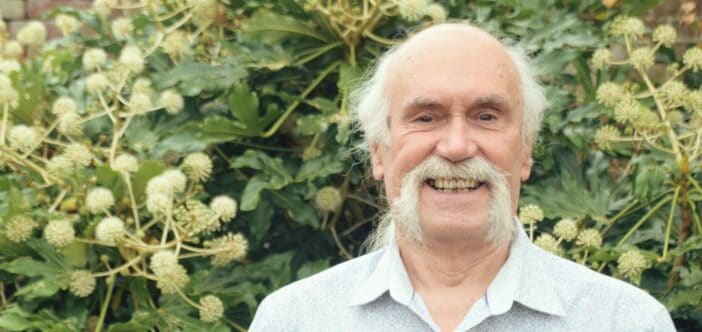 Martyn Yates is a former Spiritual Care Lead and Complementary Therapist at Pilgrims Hospices; he was based at the Canterbury hospice.
Whilst still in post, he shared how he came to his spiritual care role, what spirituality means to him in practice and why he believes it plays such a vital part in hospice care.
---
My average day working in palliative care at Pilgrims is spent looking after our patients, families and staff in as holistic a way as possible, which I find tremendously rewarding.
I've been working at Pilgrims Hospices for 33 years, initially as the Complementary Therapy Lead. When our chaplain left eight years ago, I was asked if I would be interested in "looking after the spiritual care of patients" from a "non-religious" point of view. I considered the request and agreed to it.
I've always had an interest in the spiritual aspects of life. In the 60s and 70s, I pursued many aspects of spiritual development whilst teaching in different denominational schools in South London; from this, I formed my own ideas of spirituality. Then, coming back down to Minnis Bay in Thanet with my wife to have a family and moving into the Alternative Therapy world – later to become the Complementary Therapy world – I continued to pursue other personal aspects of spiritual development and my life's path became a spiritual one.
In everyday life, my daily spiritual practices give a foundation for me to have the best day I possibly can. Working at Pilgrims Hospices, I believe spiritual care is at the heart of palliative care; it is personal and can successfully cater for people of a particular religious faith or none.
As I also work as a complementary therapist, I treat my patients holistically – which means looking after their mind, body and spirit – and this fits in perfectly with my spiritual care role. It allows me to meet and get to know not only the patients but also their families, and I do my best to help them through this part of their journey.
---
Pilgrims Hospices celebrated Spiritual Care Awareness Month throughout January 2022, showcasing the many ways that spiritual care can make a positive difference to patients, their families, carers and loved ones.
---
There's much more to death than we think; what if it isn't just an ending, but an event we can plan for? Thinking beyond the four walls of hospices and hospitals, we have the chance to approach it with confidence and plan a good death. After Wards is a collection of insights and ideas from people who can help us all to re-imagine this essential part of life, and to live well until we die.
Continue the conversation at our Time to Talk events with film screenings, poetry readings, Death Cafes and much more.