Pilgrims Hospices Christmas Fair enjoyed by visitors from across east Kent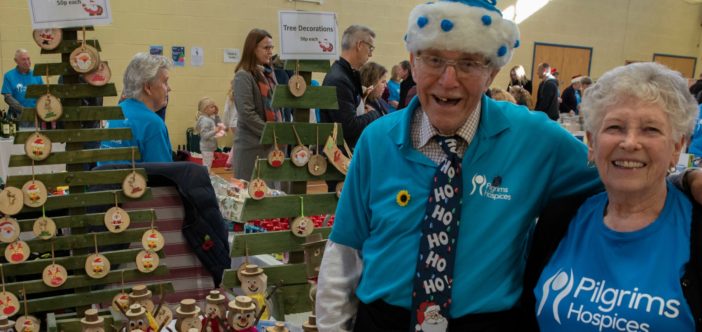 Pilgrims Hospices Ashford Christmas Fair & Craft Market was another resounding success on Saturday 9 November with over £17,000 raised towards the work of the hospice.
---
Once again, the hospice brought new ideas to the day with the introduction of a very popular children's activity area. Happy children could be seen decorating plates or glasses to leave out for Santa, decorating gingerbread men or taking part in some explosive Christmas science experiments courtesy of Rebecca Holness, Science Lady. And of course, many children were delighted that Father Christmas was able to spend time with them in his wonderful new grotto.
The food market made a popular return with further choices including speciality Christmas puddings.
As well as popular favourites in the trader's craft hall, new stalls were welcomed featuring the work of a blacksmith, paper science craft kits, goods from East of India, Styled by Sage, a range of handmade children's clothing, handmade soaps and delightful chocolate treats. There was something for everyone.
Volunteers again came out in force to create a wonderful array of goods for the "hospice hall", with fabulous wooden snowmen, homemade jams, a beautiful variety of knitted items, needlecraft, table decorations and much more.
This year, to encourage people to think and talk about what is important to them, Pilgrims Hospices Education team brought its "Before I die" chalkboard to the fair. We were amazed at the variety of comments chalked up – it was an excellent conversation starter and helped raise awareness of the work of Pilgrims Hospices, the reason so many people were there, and the importance of talking more openly about death and dying.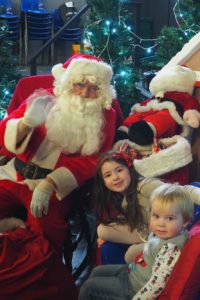 Helz Wait, who visited the fair, said: "I loved the fete and Father Christmas was absolutely amazing."
This was just one of many compliments about Father Christmas. The parking team were also given a special thanks by a senior police officer for their fantastic organisation.
Lou Newman, Pilgrims Hospices Community Fundraising Manager, said: "This was my first fair since becoming manager and I have been bowled over by the amount of support the fair has received and the generosity of the public in donating so many items to raffle, use in tombolas or sell. We could not have put on such a wonderful day without their kindness.
"I would also like to say a huge thank you to all the staff and volunteers who made the day happen.
"Pilgrims Hospices needs to raise £11 million per year to offer care free of charge to the people of east Kent. A massive thank you goes to everyone who came and contributed to this fantastic total."
Click here to see more photos from the day.
Christmas continues for Pilgrims with the introduction of Santas on the Harbour!, its newest 3km or 5km run in Folkestone on Sunday 8 December 2019. There is still time to sign up, simply visit www.pilgrimshospices.org/santa.
If you live in the Ashford Borough Council area and want to support Pilgrims fundraising further, in return for a donation you can register your real Christmas tree to be collected by the Pilgrims team and taken to the recycling centre after Christmas. Sign up at www.pilgrimshospices.org/treerecycling.
---
If you or someone you know is coping with a life limiting illness and you think you may benefit from Pilgrims support, talk to your GP or Healthcare Professional about the options or click here to read about our Wellbeing Programme.