Collaboration is key: How Pilgrims Hospices support and empower healthcare professionals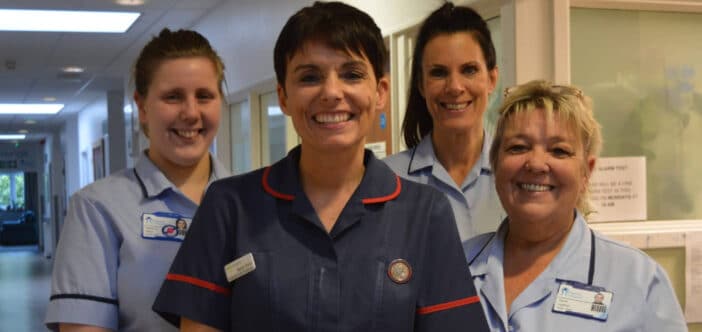 The start of the COVID-19 pandemic highlighted a gap in service provision around palliative care, and demonstrated an urgent need for end-of-life care training in care homes, hospitals and in the community.
---
Hospices in Kent and Medway, together with Kent Community Health Foundation Trust, worked together to create and deliver simple virtual, bite-sized training sessions throughout the pandemic, from April 2020.
From an initial crisis, an opportunity grew. Having proven the success of delivering education remotely, through Pilgrims' skills, experience and knowledge, we found that there were high attendance figures and excellent feedback. From this, the idea of working together to both plan and deliver end-of-life care education developed. The Kent and Medway Education Collaborative (KMEC) was then formally established as a multi-provider forum that identifies and agrees the education and training needs for all health and social care professionals in relation to end-of-life care.
We aim to realise the objectives set out in Ambitions for Palliative and End of Life Care: A national framework for local action 2021-2026.
In the opening paragraph of this national framework, it states:
Death and dying are inevitable. Palliative and end-of-life care must be a priority. The quality and accessibility of this care will affect all of us, and it must be made consistently better for all of us. The needs of people of all ages who are living with dying, death and bereavement, their families, carers and communities must be addressed, taking into account their priorities, preference and wishes.
The KMEC has accomplished this between April 2020 and March 2021 by ensuring all staff across health and social care bring empathy, skills and expertise and give competent, confident and compassionate care.
The collaborative started building on the work carried out during the pandemic and ensuring core end-of-life care skills are thoroughly embedded in the Kent and Medway health and social care sector and staff. To do this, we have developed the Kent and Medway End-of-Life Care Education Certificate Accreditation System.
After completing the healthcare training, professionals will be equipped to manage patients and their end-of-life needs wherever they want to be, and is considered a cost-saving opportunity due to its recontinuation across east Kent by all care providers.
By helping to shape and develop individual training needs, Pilgrims is proud to offer care professionals improved care skills and empower others to provide great care.
What can we do for you?
Click here for course information and booking facilities.
---
Each year, Pilgrims Hospices give care and comfort to thousands of people in east Kent who are coming to terms with an illness that sadly cannot be cured. The charity support patients to live life as well as possible until the very end, free from pain and distress.