Rowing, Riding and Running Fundraiser for local hospice care in lockdown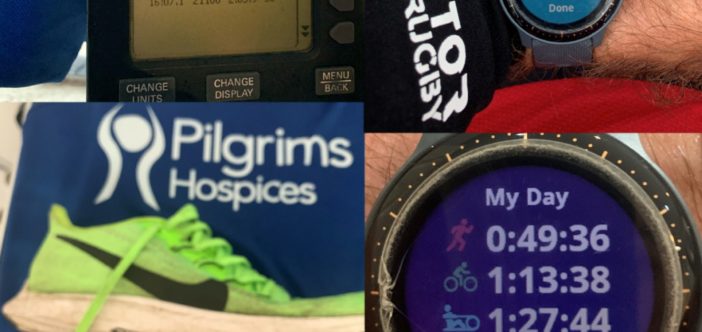 Rob Playford from Ashford set out to complete a charity challenge to raise vital funds for Pilgrims Hospices. Rob originally planned to a 50k run in May between the Ashford and Canterbury Pilgrims Hospices and then back again, in memory of his late Mother in Law Joan Capell, who was cared for at the Ashford Hospice.
But circumstances being as they are, Rob had to soon adapt his fundraising efforts with an interim event while he patiently waited to run his original goal. Rob decided to row, ride and run for the local hospice care.
It is amazing the drive you can find when you remind yourself why you are doing something

Rob Playford
Rob's new idea, now called 'Rob-athon', began with a 1/2 marathon (21.1k) row in his garage, followed by a 30k bike ride and then to top it off, he then completed a 10k run, all back-to-back! Rob was spurred on in the final 3k by one of his team mates from Ashford Hockey Club.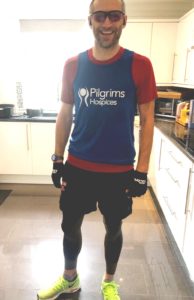 Rob told us: "If someone had said to me 6 months ago you'll be doing a 60K+ row, ride and run all in one go I would have fallen over laughing.
"But it is amazing the drive you can find when you remind yourself why you are doing something.
"It wasn't easy but I just focused on the amazing support Pilgrims Hospices had given Joan, Sarah (my wife) and the family last year.  The hospices do such an amazing job and I just wanted to show our appreciation."
Louise Newman, Ashford Community Fundraising Manager said: "We would like to thank Rob for his ingenious Rob-athlon – row, ride, race idea and all those who have supported him to raise £1,750 and counting for end of life care in east Kent.
"The amount raised for hospice care is so valuable and will allow us to provide the best possible support to families who need us. Every £25 could pay for one hour of nursing care, either on our wards or in a patient's own home, the funds raised through our communities own events during this challenging time, such as these, are vital to the work Pilgrims Hospices does across east Kent."
Rob is still planning for his 50k run, but in the meantime he has managed to raise an incredible £1,750 so far and is well on his way to achieving his target. If you would still like to support him please donate here http://www.justgiving.com/Rob-Playford.
Pilgrims Hospices are still delivering compassionate end of life care to over 2,500 people in our community during this current health crisis, we are StillHere, StillCaring for people who need us in these challenging times.
There are so many ways that you can continue to support Pilgrims. Click here for some virtual fundraising ideas. If you would like to take on a challenge in support of Pilgrims we would love to hear from you. Please contact our fundraising team here.
We need you more than ever; our local community means everything to us.
---
This year alone, Pilgrims Hospices has to raise £11 million through voluntary donations in order to run our full range of services. Sponsorship raised through events like these helps us to continue caring for local people at the end of their lives.