Sunflower Memories: Christina's story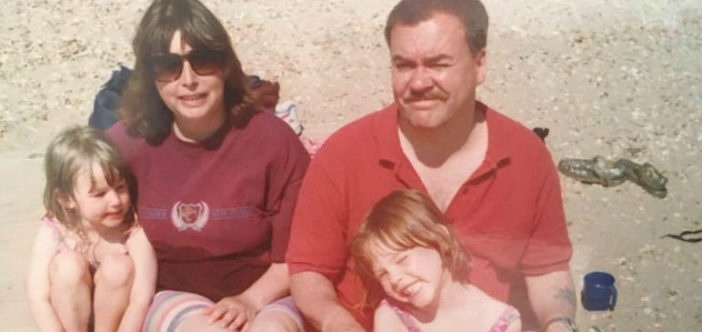 After Christina Johnson's mum, Julie, was cared for at Pilgrims Hospice Ashford in 2016, the family decided to dedicate a sunflower in her memory as part of the charity's Sunflower Memories campaign. Here, Christina shares how this helps them to remember Julie and take comfort with others who have experienced Pilgrims' care.
---
Mother's Day was always important to us as a family and an opportunity to show Mum how very loved she was. During her time at the Ashford hospice, this was no different. Incredibly, the nurses helped us decorate Mum's room with banners and flowers, and we brought in doughnuts to enjoy together. It was such a special day and so amazing that we were still able to do this for Mum at such a difficult time.
Mum was very family orientated and was just the best mum to myself and my sister, Sarah, as well as a loving wife to my dad. She was so caring and always thought of others first, loved meeting up with friends, listening to music, and absolutely doted on her pride and joy; her cat, Billy.
It's so lovely to be able to dedicate a sunflower marker in Mum's memory and comforting for us to return to the hospice and be amongst other families we got to know whilst Mum was being cared for.

Christina
Mum was cared for by Pilgrims at the end of 2015 and again in February 2016 until she passed away on 26 March 2016, aged 58. The team at Ashford gave my wonderful mum the very best care and treatment and provided us all with the support we needed throughout the whole awful experience, for which we will be forever grateful.
Pilgrims was such a peaceful space for us all to be in, and Mum felt completely safe. She always said it was more like a luxury hotel than what she'd imagined a hospice to be. The staff were completely flexible with us all staying over and visiting; at one point we had 10 visitors in Mum's room! Mum couldn't believe that she was even offered a glass of wine in the evening; it's all the little touches that make a difference and really lift people's moods at such a difficult time.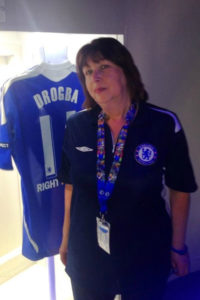 The special Pilgrims staff made my mum feel comfortable and took a genuine interest in her life; one nurse called her 'Chelsea' after learning what a big Chelsea football supporter she was. Mum was even treated to hand and foot massages and pedicures by a complementary therapist; this was a brilliant way for her to relax, but also to ensure she had dignity and respect during her time at the hospice as she always liked to look her best.
It's so touching how the hospice continues to be there for you even after your loved one is gone. My dad found it hard to talk about his feelings and Pilgrims offered him counselling and therapeutic painting, which made a huge difference. It's this ongoing care that is so special and makes you feel like you're part of a big Pilgrims family.
It's very special for all of us to be part of the tranquil Sunflower Memories days. We will always feel a connection to the hospice, which has truly become part of our family over the last couple of years. It's so lovely to be able to dedicate a sunflower marker in Mum's memory and comforting for us to return to the hospice and be amongst other families we got to know whilst Mum was being cared for.
Pilgrims is an outstanding charity and we feel so lucky that our lovely mum was able to spend her last months in such a wonderful and caring environment. It will forever be a special place to us all.
We will be remembering Mum this Mother's Day and look forward to dedicating our marker for Sunflower Memories once again this June.
---
Sunflower Memories events will take place at our hospices in July 2019:
If you'd like to dedicate a sunflower in memory of a loved one please visit pilgrimshospices.org/sunflowers or contact Sara on 01227 782 066.
---
If you or someone you know is coping with a life limiting illness and you think you may benefit from Pilgrims free services, talk to your GP or Healthcare Professional about your options or click here to read about our Wellbeing and Social Programme.