Sunflower Memories 2021

Thank you so much to everyone that celebrated treasured memories by dedicating a beautiful sunflower to their loved ones. Whether you joined us in our hospice gardens, or remembered at home, we are so grateful for your support.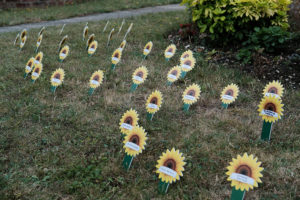 This summer over 700 of our supporters dedicated a sunflower memory marker to their loved one, as part of Sunflower Memories 2021.
Over 300 families joined us throughout our Sunflower Day on Saturday 24 July, to share their memories and spend time remembering their loved ones in the sunshine. Some also brought along picnic blankets and refreshments, to enjoy in the beautiful garden surroundings.
So far this year, we have raised over £55,000 through the Sunflower Memories appeal, which is enough to cover 3 whole months of 24-hour specialist palliative nursing care at our inpatient units! This is such an incredible amount, and it really would not be possible without the generosity and kindness of our wonderful local community.
If you haven't yet had a chance to take part, it's not too late! Simply click the link below, or call our Supporter Relations Team on 01227 782062 to dedicate a sunflower memory marker which can be sent to you to keep at home.
Sunflowers were such a big part of our lives during my mum, Jan's last year, that I knew 'Sunflower Memories' was the perfect way to remember her. We're looking forward to returning to the hospice, to share in our memories where Mum spent her final week and her special year.

Claire Wells
Share your most cherished memories on the online Memory Wall
The Sunflower Memories online Memory Wall is now closed, but you can still remember your loved one with an AlwaysLoved Tribute Fund.
£25
could pay for an hour of specialist nursing
care in one of our inpatient units
£35
would allow someone to attend our Facing Loss support group via Zoom, to share experiences and thoughts
with
others about bereavement
£50
would help someone explore their creativity at
our Time to Create arts and crafts sessions, over 3 months
£100
would cover a patient's care from our community
team, in their own home over a 24 hour period
---
Thank you so much for your support
Every generous donation from our amazing community of supporters helps to make sure we can be there for the next family who needs us. For more information on how you can support us from home, please go to our donation page.
If you or someone you love has been diagnosed with a life limiting illness, find out about the full range of services Pilgrims can offer.