Sunflowers bring two local charities together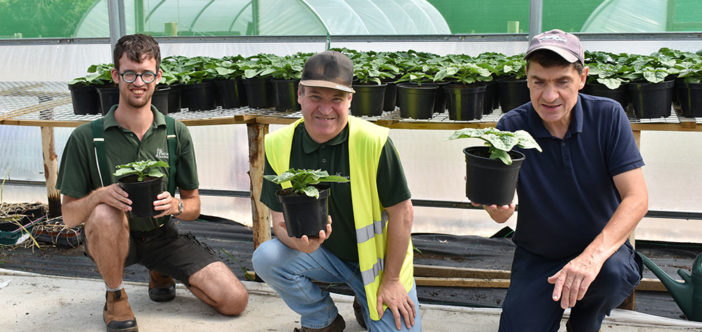 The Fifth Trust at Elham Valley Vineyard is supporting a fellow local charity by growing beautiful sunflower plants for Pilgrims Hospices Sunflower Memories remembrance, on Saturday 27 July.
---
The annual event takes place in the Canterbury hospice gardens, offering people an opportunity to celebrate the lives of loved ones and to dedicate a sunflower in their memory. The informal garden party with music and refreshments helps to raise more than £30,000 for local hospice care each year.
Sara Scriven from Pilgrims Hospices met Peter Buscall, Horticulture Manager for The Fifth Trust at Elham Valley Garden Centre with some of his students to find out how the young plants are developing.
Peter said: "All of the students are adults with a variety of learning disabilities, those who are involved with our horticulture training programme are enjoying watching the sunflowers develop from seeds to strong plants now.
"They have been involved from the point of planting and are continuing to nurture the sunflowers in the greenhouses here at Elham Valley so that they are ready just at the right time for the Pilgrims event on Saturday 27th July."
Sara Scriven said: "I would like to say a huge thank you to the students along with Peter and his team for supporting us with this project. Also, for so kindly donating all the compost and pots!
"The students were amazing and so welcoming, it's truly a very special place for those who need some additional support in their adult years."
The Sunflower Memories appeal from Pilgrims offers people an opportunity to dedicate a sunflower to a loved one in return for a donation. Pilgrims write the dedications on striking sunflower memory markers and plant them in the gardens of the chosen hospice. The sunflowers grown by the students at The Fifth Trust will be available to purchase on the day of the event.
Pilgrims Sunflower Memories remembrance events take place at all three hospices sites:
If you would like to take part or to find out more please visit Sunflower Memories or call 01227 782 062 or email supporter.relations@pilgrimshospices.org.
The Fifth Trust offers a wide range of work-based and therapeutic activities for adults with learning difficulties, you can find out more by visiting www.fifthtrust.co.uk.
---
If you or someone you know is coping with a life-limiting illness and you think you may benefit from Pilgrims support, talk to your GP or Healthcare Professional about the options or visit Pilgrims Wellbeing Programme for more information.