High Sheriff, Remony remembers her father at Pilgrims Trees of Love remembrance service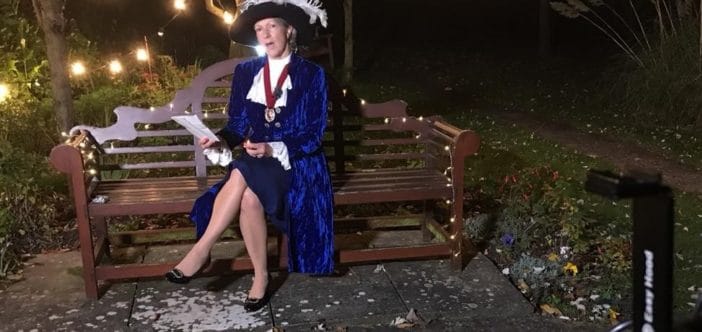 Remony Millwater holds the special position of High Sheriff of Kent for 2020/21; here she shares warm messages with the community, especially those who have been supported and care for by Pilgrims Hospices.
She will be part of the annual Trees of Love remembrance in December saying: "My father, Edward Brice received care from Pilgrims Hospices Home Care team, we were very grateful for their special care and comfort provided for Dad and our family during and after he passed away in the summer of 2011.
Both of my parents were strong Pilgrims Hospices supporters and I wish to continue to be an important part of Pilgrims too

Remony Millwater – High Sheriff of Kent
"Dad died very suddenly, his quick deterioration of about 3 weeks came after a diagnosis of pancreatic cancer    I remember it well; he was attending the Golf Open on 10th July then became unwell extremely quickly."
Remony explained: "Both of my parents were strong Pilgrims Hospices supporters and I wish to continue to be an important part of Pilgrims too.
"I became part of the Sandwich fundraising group in 2012 and was secretary with them for two years."
My father held the position of High Sheriff 40 years ago, I'm very proud to also have the role that has been an important part of our family history, as my Grandfather held the position in 1965, my Father in 1980 and now myself in 2020.
The High Sheriff is nominated for a five year term and it's a wonderful opportunity to engage with the local community and raise awareness for important charities such a Pilgrims Hospices.
The role is voluntary with no subsidies and appointed by The Queen as her representative for law and order.
"I will be placing a message on my Trees of Love dove and perhaps placing it on the olive tree where I had planted Dad's sunflower marker earlier this year. Although we will not all be together in December for our annual Trees of Love remembrance services, we can share our love and some special thoughts of those we have lost when we watch the special film the Pilgrims team are putting together, which I am privileged to feature in.
"Although as High Sheriff of Kent this year has been a different and challenging time, my role will still allow me raise awareness of end-of-life care along with many other charities to our Judges and police force and official organisations  who continue to provide a large network of support across the county of Kent for those who need care and support.
Trees of Love, east Kent's largest remembrance services, will this year be transformed into a remembrance you enjoy from the comfort and safety of home.
Instead of our usual remembrance events with carols, those taking part will be sent a beautiful dove to dedicate and hang on your Christmas tree, or in a special place at home.
Then on Saturday 5th December 2020 at 5pm we will release a Trees of Love 2020 remembrance service for you to watch on the Pilgrims Hospices YouTube channel and website.
To take part click here to complete the online donation form, or contact Supporter Relations on 01227 782062.
---
Pilgrims Hospices cares for more than 2,500 local people each year, free of charge, during the most challenging time in their lives. They offer care and support in people's own homes, in the community and in their inpatient units as well as running a 24-hour advice line.