Tony and Sharon renew wedding vows with the help of Pilgrims Hospices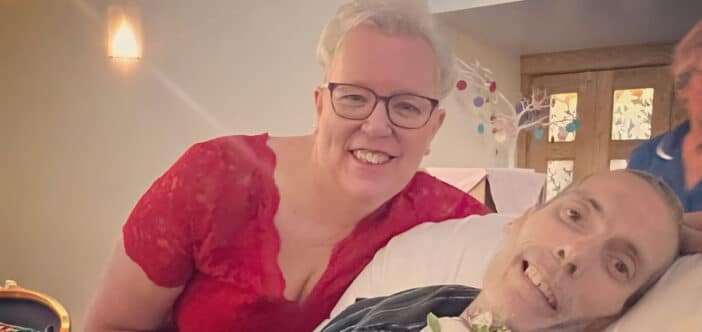 Tony and Sharon Reed from Ashford were married for 23 years; they had wanted to renew their wedding vows for a long time, but as Sharon says: "Life gets in the way, so we kept putting it on hold."
When Tony became unwell with cancer and was referred to Pilgrims Hospices in November 2022, he wanted to prioritise the vow renewal to make special, lasting memories with Sharon and their wider family. Thanks to a team effort by Pilgrims' staff and volunteers, Tony and Sharon's wishes were fulfilled; they renewed their vows at the Ashford hospice on 16 November 2022.
---
Sharon first mentioned the vow renewal to Les Rood, a Reception Volunteer, who passed the message to Cat Darkins, Spiritual Care Lead, to get the ball rolling.
Cat said: "'It is a privilege to be able to facilitate important life events at the hospice. We aim to keep what is important to the patient at the centre of what we do. We want to be able to help people make special memories and live life as well as possible for as long as possible. Tony and Sharon had been considering a vow renewal for some time, so for the whole of the hospice to help make it happen made it even more special."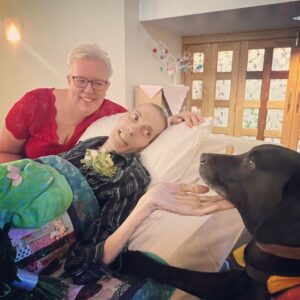 Cat officiated the ceremony, which was attended by the couple's family and friends, with Tony's sister and brother-in-law joining via video link from France. The hospice chapel was decorated by volunteers as a surprise for Tony and Sharon, and the catering team provided sandwiches and light refreshments. Volunteer Ginny Taylor arranged flower donations from a local Tesco store. Rodney the PAT dog made a very special guest appearance, and was a great support to Tony as he was saying his vows.
Sharon said: "We were so excited; we chose our outfits and our bouquets were made by friends. Another friend, Hayley, took photos for us. Tony loved having Rodney there; he was patting away and didn't stop smiling all day. It was amazing, really beautiful."
Hannah Sanders, Ward Sister, worked closely with Tony and Sharon and played a vital role in helping to organise their special day. She said: "Providing this opportunity to both Tony and Sharon to renew their vows was a privilege; I saw the love they had for each other and wanted to pull out all the stops to make their wish come true. All the staff were brilliant, and I feel very proud to be a part of such a caring and supportive team."
Tony had his own room at the hospice complete with a Cuddle Bed, an extra wide and adaptable hospital bed that enables patients to lie next to their loved one. This allowed Sharon to stay over and be close to Tony. They also enjoyed visits from family and friends, including their daughter, Chloe, and grandson, Ethan.
Tony and Sharon in the Cuddle Bed alongside Sarah Martins, Senior Ward Sister, Hannah Sanders, Ward Sister and Cat Darkins, Spiritual Care Lead
Sharon continued: "After the ceremony, so many people came to Tony's room for a chat, to ask how we were and see the photos. All the hospice staff and volunteers are amazing, they're like one big family."
Tony added: "The whole day made me really, really happy. Other patients and their families saw our ceremony going on and it brought them so much joy, too.
"Everyone at Pilgrims is wonderful. They're so helpful and just want to do what's best for you; they listen to your wants and needs and give amazing care. I would tell anyone being offered hospice care to jump at the chance."
---
Pilgrims Hospices cares for thousands of local people each year, free of charge, during the most challenging time in their lives. They offer care and support in people's own homes, in the community and in their inpatient units as well as running a 24-hour advice line.