Local crematoriums support Trees of Love with £20,000 donation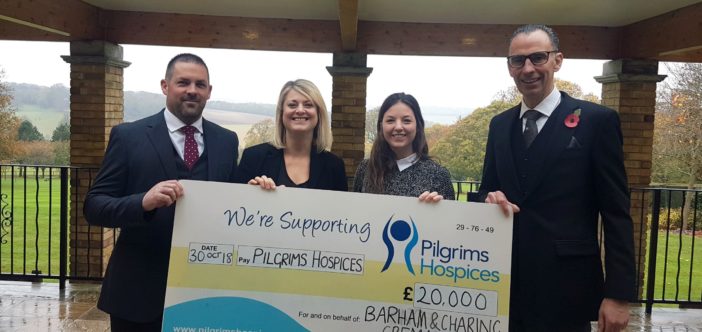 Pilgrims Hospices' Individual Giving team, Sara Scriven and Sophie Douch, were delighted to receive a cheque from Darren Daughters and Darren Caldicott at

Barham

and

Charing

 crematoriums recently for this year's

Trees of Love

services.
---
The local crematoriums have donated an amazing £20,000 to this year's Trees of Love remembrance services.
Sophie said: "A huge thank you to Barham and Charing crematoriums for their incredibly generous donation of £20,000 to this year's Trees of Love remembrance services. The crematoriums have kindly supported Pilgrims Hospices for five years and donated an amazing £28,000 in total. Every penny will go such a long way in helping us to keep providing vital, compassionate care to local families when they need us most.
"In addition to our hospice Trees of Love remembrance services, we hold a number of services out in the community. For the past four years Barham and Charing crematoriums have held beautiful Trees of Love services at their sites for visitors to attend. These provide a special and personal way to remember those dear to us who we aren't able to spend time with at Christmas. Personal dove dedications are placed onto the beautiful Trees of Love at each location and illuminated throughout the festive season.
"A big thank you once again for such wonderful generosity."
Trees of Love outdoor services will take place at our hospices in Ashford, Canterbury and Thanet at 5pm on Saturday 8 December 2018.
We also offer indoor services with seating across our east Kent community, including at Barham and Charing crematoriums:
Barham Crematorium, Barham, 4.30pm on Friday 14 December
Charing Crematorium, Charing, 4.30pm on Friday 14 December
Join our Facebook events for the Barham and Charing services to let your friends know you're coming and help spread the word.
To dedicate a dove in memory of a loved one please visit pilgrimshospices.org/treesoflove or contact Sophie or Sara:
---
If you or someone you know is coping with a life limiting illness and you think you may benefit from Pilgrims free services, talk to your GP or Healthcare Professional about your options or click here to read about our Wellbeing and Social Programme.