Maria: "Volunteering gave me a new community and sense of purpose"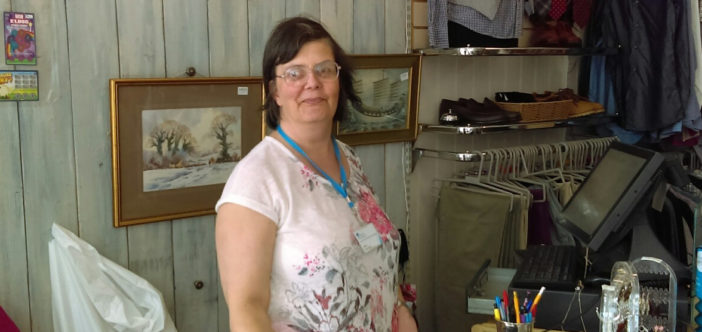 When 52-year-old Maria Golds had to move from her lifelong home in Minster, Kent she worried about what the future held. It wasn't until she started volunteering in Pilgrims' shop in Broadstairs that a whole new world opened up, changing her life for the better.
Pilgrims volunteer Maria Golds was just 14-years-old when she had her first life-threatening stroke. The following year she had two more. Unbeknown to her at the time, Maria's parents had been told she would continue to have strokes until the day it proved fatal.
Told there was little that could be done to help, Maria's future looked uncertain. It wasn't until a consultant surgeon at the local hospital said there was a small chance he could save her life that there was a ray of hope.
In her mid-teens, Maria underwent high-risk surgery to remove a clump of blood vessels from her brain. Against all odds, the operation went well and Maria survived without brain damage. From that point on, the only obvious signs of her condition were the drugs she needed to take daily and the brain scans that were needed to monitor her condition.
Fast forward nearly 35 years and Maria was faced with another life-changing event. Maria explains: "After living in Minster all my life, I had to leave because of circumstances out of my control. I was worried about moving to a place where I didn't know anyone.
"At the same time, I was told I could no longer claim disability allowance and had to sign on to look for a job. I thought 'How am I going to find a job? I don't know anyone and don't even know what I'm capable of.'"
After a change in medication which meant her seizures were under control, Maria got some work experience with Marks & Spencer and it was there that she got her first taste of retail.
"I realised how good it was to have a reason to get out of bed in the mornings and interact with people," says Maria. "But unfortunately, the work experience soon came to an end. I knew I still wanted to do something to occupy my mind and didn't want to sit at home all day watching TV. I'd done that and it was depressing."
Maria got in touch with Thanet Volunteer Bureau and noticed that Pilgrims Hospices needed people. She didn't hesitate.
"Both my parents passed away at Pilgrims' Thanet hospice; my mum in 1995 and my father in 2008. The care they gave my parents was amazing and the respect they showed after they passed was fantastic.
"When I was offered the voluntary position in Pilgrims' shop in Broadstairs I was very happy – it was good to give back to the hospice."
Maria has now been volunteering in Broadstairs for a year. She was nervous about learning new things initially, but now "can't get enough of it". There's never a dull day and Maria has many tales to tell.
She says that volunteering for Pilgrims has given her a new lease of life and a feeling that she's now part of the community.
"I've got to know quite a few people in Broadstairs, including the other volunteers, our regular customers and those who come in to donate items. It's lovely because it has given me a new community and sense of purpose.
"It also makes me feel good that I'm doing something that will help other people. That's a really positive thing and I absolutely love it. I'd definitely recommend it to others!"
It's #VolunteersWeek 1-7 June 2018 and during the next seven days, we'll be celebrating the incredible things our volunteers do by sharing their stories.
A special 'thank you' to Maria and all those who volunteer to help others. If you're interested in becoming a Pilgrims' Volunteer, visit our Volunteers' page to find out more.