Firewalk
Friday 29 October 2021 - Saturday 6 November 2021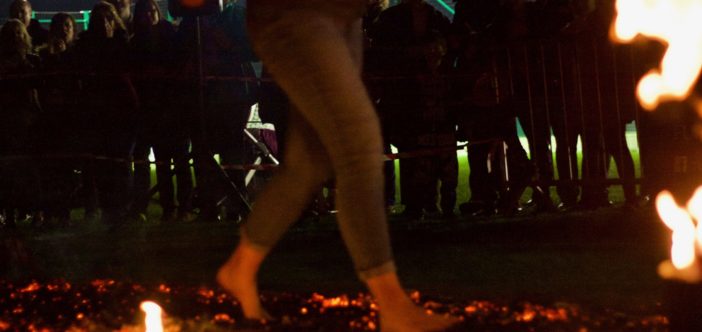 Face the flames in Ashford, Canterbury or Thanet!
Online entry for the Pilgrims Firewalk in Ashford (29th Oct), Canterbury (30th Oct) or Thanet (6th Nov) have now closed. If you have an enquiry, you can contact the fundraising events team on 07710 854029 or at robert.grew@pilgrimshospices.org. 
It's time to turn up the heat for the Pilgrims Hospices Firewalk; back for its 6th year! Dubbed 'the hottest, shortest sponsored walk in the world', the Pilgrims firewalk is a barefoot walk over red-hot wood embers measuring up to 800 degrees! No tricks, no special effects. Just you and the fire. It's the ultimate test of courage and the perfect challenge for any fitness level.
"A totally fantastic night out, it was laughter from the moment I stepped in the door to the moment I left it, just brilliant" – Firewalker
No previous training required. You'll receive a series of informative videos in the days before your challenge, as well as a lighthearted, interactive training seminar with our firewalking expert, Cliff Mann, at the event leaving you feeling all fired up and ready to face the flames. Cliff has guided 1,000s of people across the fire, over a 30-year career, so you can rest assured you're in safe hands.
A firewalk is a truly life-affirming experience. Not only will you conquer the most primal of fears, you'll raise vital funds to support hospice care too. And after all, if you can walk on fire, you can find the confidence to do anything!
Please note: Images were taken at pre-COVID events. The format has been revised for 2021 to make the event COVID-safe.
"Today I feel I can achieve anything and I'm walking with a real spring in my step. Thank you!" – Firewalker
Spaces for this bucket list experience are limited per event, and sold out in 2020, so early registration is recommended to avoid disappointment.
Entry
You must be at least 16 years of age to participate in the firewalk and those under the age of 18 must be accompanied by a participating adult.
Advanced entry: £20 (closed)
Less than 100 places remaining!
Entry includes firewalk training videos, live training seminar, firewalking experience and certificate. It is asked that firewalkers pledge to raise at least £100 in sponsorship for Pilgrims Hospices.
Event information
Firewalks are taking place in Ashford, Canterbury and Thanet at the following locations:
Friday 29 October 2021 – Firewalk Ashford: Pilgrims Hospice, Hythe Road, Willesborough, Ashford, Kent, TN24 0NE
Ashford event timings:
Sign in from 6pm-6.15pm
Training seminar by Cliff Mann begins 6.20pm
Firewalk 7pm
Saturday 30 October 2021 – Firewalk Canterbury: The Pavilion, University of Kent, Canterbury, Kent CT2 7SR
Canterbury event timings:
Sign in from 7pm-7.15pm
Training seminar by Cliff Mann begins 7.20pm
Firewalk 8pm
Saturday 6 November 2021 – Firewalk Thanet: Thanet Wanderers Rugby Club, Callis Court Road, Broadstairs, Kent, CT10 3AE
Thanet event timings:
Sign in from 7pm-7.15pm
Training seminar by Cliff Mann begins 7.20pm
Firewalk 8pm
COVID-Safe Event
We have introduced a number of measures to the 2021 firewalks to ensure that the events are COVID-safe. These include:
Fully touch-free, electronic check-in process
Firewalk training videos to watch at home before the event
Reduced participant capacity to enable live training seminar to be socially distanced, with face coverings encouraged
A maximum of 3 guests per firewalker (2 at Ashford Hospice event) will be able to spectate with simple QR code Track and Trace 'walk-in' registry. Guests will NOT be allowed access to buildings.
Face coverings encouraged to be worn at all times while at event venue
Portable toilet facilities with ample hand sanitiser provided

Participants and guests are encouraged to take a lateral flow test before attending the event
Spectators:
Participants who wish to have spectators attend the firewalk are allowed to nominate three guests each (or two at Ashford Hospice event). Guests MUST register their details using the simple QR code Track and Trace system upon arrival and remain outside at all times. Only participants will be allowed to enter the seminar space. Outside refreshment and toilet facilities will be available.
You will be asked to log your arrival via a simple QR code 'walk-in' registry for Track and Trace purposes. Simply scan the QR code using your phone's camera and open the internet link that pops up. Then, fill in the quick details form and hit submit. Pilgrims Hospices will hold Track and Trace details from spectators for 21 days before deletion.
Please remember that this is an open-air event and the British weather can be very changeable so please wear suitable clothing for the evening.
---
Resources