Letters from Santa
Monday 11 October 2021 - Sunday 12 December 2021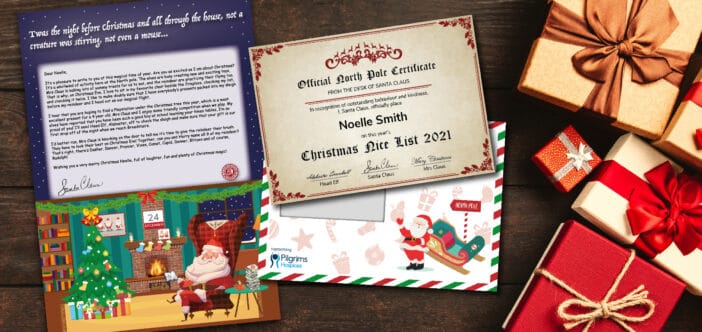 Bring the magic of Christmas to life with a personalised letter from Santa!
Our Letters from Santa mail room has now closed. Thank you to everyone who has requested a personalised Letter from Santa for the children or loved ones in their life this year. Our elves will ensure that all letters are posted out in good time for Christmas Eve.
Pilgrims Hospices are inviting you to submit your requests for personalised letters to be sent to children, or big kids alike, in the lead up to Christmas.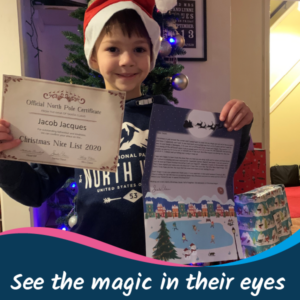 Our letters from Santa are specially personalised for each individual by our team of elves, based on the information you provide, and come printed on one of five beautifully illustrated Christmas-themed papers, together with a certificate for being on Santa's Nice List.
Add something truly special to the excitement of Christmas by requesting a personalised letter, written by Santa Claus himself!
As easy as 1,2,3…
Step 1
Complete our online form to request a personalised Letter from Santa for your loved one. The information you provide will be used to create a unique and personalised letter, written by Santa himself!
(The deadline to register for a Letter from Santa is midnight on Sunday 12th December 2021).
Step 2
Donate to Pilgrims Hospices and help us to provide care and support for hundreds of people across east Kent who are living with an incurable illness this festive season.
Step 3
Your loved one's letter will be personalised by our team of elves on behalf of Santa and arrive, addressed to them, throughout December. The letter will arrive in a special envelope via 'North Pole Air Mail'* and inside they'll find a beautifully-illustrated letter written just for them, along with a certificate of achievement stating that they are officially on Santa's Nice List.
All letters will be posted between 1st – 14th December to ensure they arrive before Christmas Eve!
*Letters are sent via Royal Mail postal service to any UK address in England, Scotland, Wales or Northern Ireland. If you would like to send a Letter from Santa abroad, please email fundraising@pilgrimshospices.org and we will liaise with you regarding the costs for Santas international mail and your donation gift to Pilgrims. 
---
Five illustrated letters to choose from
We have five exclusive, illustrated letter designs for you to choose from. Simply select which style you'd prefer for your loved one when submitting your request. Requesting letters for more than one person? Why not choose a different design for eac?
The five letter designs are:
The personal touch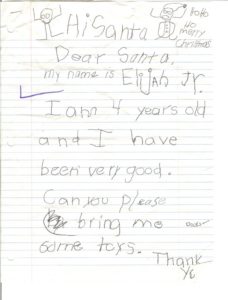 When requesting your letter, we'll ask questions such as your loved one's name, what present they are hoping for, and why they have been especially good this year.
There is even the option to upload a photo of your loved one's Christmas drawing or letter to Santa that he will comment on in his reply! Each letter is individually personalised by a hand-selected team of elves here at Pilgrims Hospices so you can be assured that your loved one receives something entirely unique for them.
He's making a list, he's checking it twice…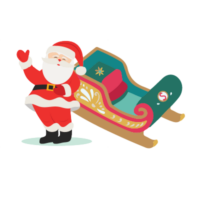 Every letter comes enclosed with an official North Pole certificate stating that your loved one is on Santa's Nice List, issued by the Head Elf in charge of the Naughty and Nice List, Alabaster Snowball.
Interest is expected to be very high, so don't delay and request your Letter from Santa today and support Pilgrims Hospices this Christmas.
Giving the gift of care this Christmas
Through requesting a letter from Santa, please consider making a generous donation to Pilgrims Hospices to show your support. Your kindness will be giving the gift of care to patients and families living with a life-limiting illness this Christmas.
By donating to Pilgrims Hospices, you'll truly be making a difference to the lives of our patients. Here's how:
£12 could pay for a patient's Christmas dinner
£20 could pay for a physiotherapy session to help patients stay active and enjoy festive games with their family on Christmas day
£30 could pay for our Community Team to hold a video consultation with a patient who is choosing to spend Christmas with their loved ones
£45 could help Pilgrims Hospices offer a one-to-one counselling session by phone or video call for someone struggling with their first Christmas alone
£100 could allow our community nurses to continue making home visits, ensuring that patients can spend Christmas at home with family and friends
More festive fun
❅
❅
❅
❅
❅
❅
❅
❅
❅
❅