London to Paris Bike Ride
Wednesday 19 July 2023 - Sunday 23 July 2023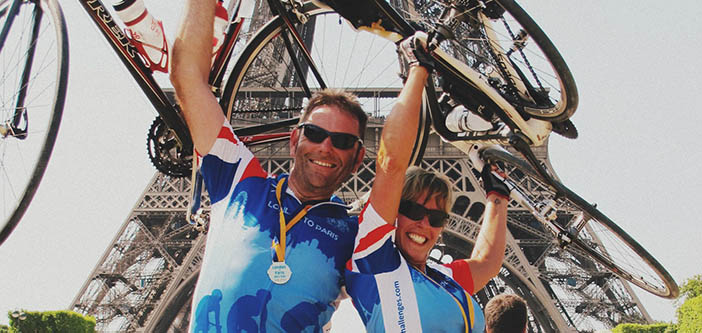 Pedal from London to Paris in aid of Pilgrims 19-23 July 2023.
Are you ready for the ride of your life? Take on the iconic journey and ride all the way from London to the home of the Tour de France in time to watch the pros battle it out on the Champs Élysées.
Register now for the London to Paris Bike Ride 2023
---
What's on offer?
You'll spend 4 days in the saddle, cycling 309 miles from capital to capital. Our journey begins in London with the route taking us through glorious English countryside as we cycle from Kent to Dover, before crossing the Channel to Calais. Once across the water, you'll start cycling 'French style', remembering to keep to the right, and cycle along quiet French country lanes, through traditional market towns with views of the rolling green hills of Northern France, passing the war memorials and cemeteries of the Somme.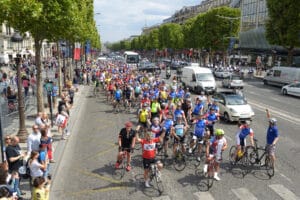 A spectacular finish awaits as you reach the home stretch around the Arc de Triomphe and along the Champs Élysées, before reaching the pièce de résistance, the Eiffel Tower, which marks your finish line. The days in the saddle may be long but with the sense of achievement you'll feel crossing the finish line, and the euphoric atmosphere as you celebrate your achievements in this magnificent capital, the saddle soreness will soon wear off!
You'll join a 200-strong group of riders of all abilities, each taking on this classic route with the same thing in common: a great sense of adventure and the desire to help their favourite charity.
This very unique edition of the London to Paris Bike Ride has been specially designed to allow riders to revel in the triumph of making it to Paris themselves whilst watching the professionals battle it out in the finale of the greatest race in the world – le Tour de France!
Download the full challenge brochure including itinerary and FAQs.
What's included?
All accommodations except for the evening before the start of the challenge
Ferry crossing from Dover to Calais
Eurostar ticket from Paris to London
Most meals (see brochure for exceptions)
Water/snack stops
Support vehicles
Route markers
English-speaking guides
Mechanic and medical support
Challenge medal
What do I need to do?
You'll need a deposit of just £125 to secure your place on this once-in-a-lifetime adventure. How you fund the rest is up to you!
Option A Deposit £125 + minimum sponsorship £1,790
Option B Deposit £125 + self-funding £895 (no minimum sponsorship)
Register now for the London to Paris Bike Ride 2023
Resources