Winter Wonderland Walk
Friday 20 November 2020 - Thursday 24 December 2020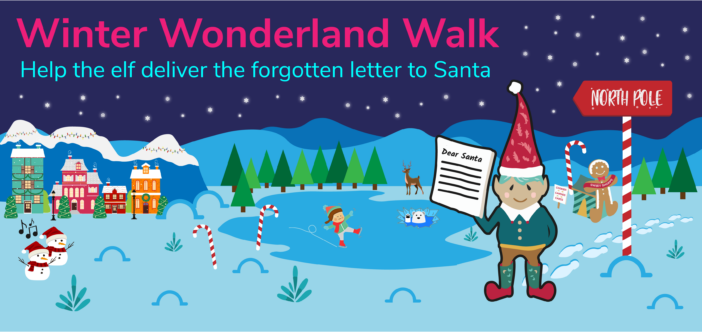 Help the elf deliver the forgotten letter to Santa by walking 10k… virtually this festive season!
A Christmas Tale…
Christmas is nearly here and Santa is busy reading all of the letters he's been sent from boys and girls around the world.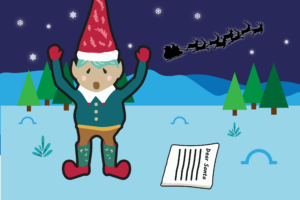 But, wait a minute, one of Santa's elves has found a letter that must have fallen out of Santa's mail sack on the way to the North Pole!
The letter is from a child dreaming of what they'll find under their tree when they wake up on Christmas morning. The elf knows that if the letter doesn't reach Santa before Christmas Eve, he won't know which present the child is really hoping for. It's very important to get back to the North Pole and deliver the letter to Santa before it's too late…
Without delay, the elf hops onto the Polar Express for the journey North. But the train tracks don't go all the way to Santa's house. The elf will have to walk the final 10 kilometres to the North Pole, and they'll need YOUR help to do it!

Bringing you a brand new festive activity for even the smallest of legs to enjoy this Christmas.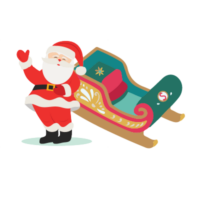 Pilgrims Hospices Winter Wonderland Walk is the perfect way to embrace the magic of Christmas and help spread joy this festive season. It's a family-friendly, virtual walk in which you help the elf deliver the forgotten letter to Santa Claus, at his home in the North Pole, by walking 10 kilometres from, or near to, your own home before Christmas Eve.
You can complete the 10km in as many separate walks as you need and, after each outing, you'll see the elf's progress match your own along the beautifully illustrated virtual route map. You'll pass landmarks such as the Candy Cane Fields, the Nutcracker's Castle and Tinsel Town, on your journey to reach Santa, and many more!
---
Entry
This magical Christmas adventure is just £5 per person or family group using one account. Each person who wishes to take part and move the elf using their own app will need to enter separately. However, families with younger children, or those wishing to take part together in moving just one elf, need only enter once for their group leader.
Virtual event tracking requires a free MapMyTracks account.
How it works
To take part in the Winter Wonderland Walk, simply ask an adult to enter via the 'Register Now' button at the top of this page. Once signed up, you'll receive instructions on how to record your walking activities and track your progress along the beautifully illustrated, Winter Wonderland route map using the award-winning Pilgrims Event App for iOS and Android devices.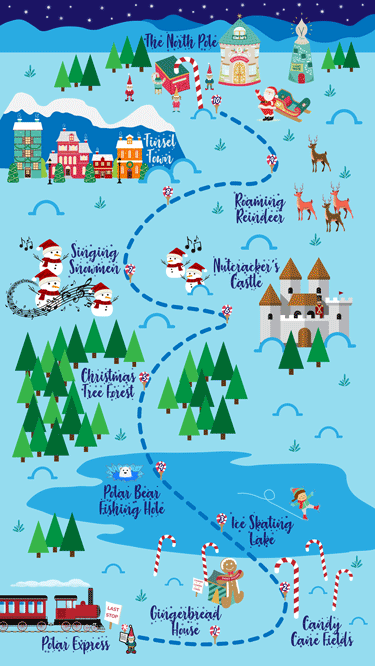 It's free to download from the App Store and Google Play and, along with the free companion app MapMyTracks, will track your walking activities and update your elf's position along his journey to the North Pole; so you can see exactly how far you've come and how far you have left until you reach Santa. You can also easily add any distance you do manually to the Pilgrims app.
The Winter Wonderland Walk runs from Friday 20th November – 24th December and all of your walking activities recorded via the Pilgrims Event App during this time will count towards your elf's progress along the illustrated route to the North Pole.
You can use any route you like in order to reach your 10km distance goal. Under the current conditions, we strongly suggest you follow government advice and walk a route that starts and finishes at your home to avoid any unnecessary travel. Or, count your walks to school or outings as a family.
Why not complete the walk with others from your household or 'bubble' to make the festive journey even more magical.
For families with smaller children, you can break the distance down into as many days as you need to before Christmas Eve. All that matters is you cover the distance and help the elf deliver the forgotten letter to Santa in time for Christmas.
Once you've helped the elf to complete his journey to Santa's house, you'll receive an exclusive email, containing a special thank you from Santa and everyone at Pilgrims Hospices for helping to spread Christmas cheer this year.
For many, this Christmas will be like no other. During this extraordinary time it is more important than ever to stay active and feel connected to one another. Walking is good for us, both for our physical fitness and mental well-being, and you can join our friendly community of Pilgrims Hospice walkers in our active Pilgrims Hospices Walking and Hiking Facebook group.
Consider donating or children raising sponsorship
If you enjoy the Winter Wonderland Walk, please consider making a donation to Pilgrims Hospices to show your support. Your generosity will be giving the gift of care to patients and families living with a life-limiting illness this Christmas.
By donating to Pilgrims Hospices, you'll truly be making a difference to the lives of our patients. Here's how:
£10 could pay for a patient's Christmas dinner
£20 could pay for a physiotherapy session to help patients stay active and enjoy festive games with their family on Christmas day
£30 could pay for our Community Team to hold a video consultation with a patient who is choosing to spend Christmas with their loved ones
£45 could help Pilgrims Hospices offer a one-to-one counselling session by phone or video call for someone struggling with their first Christmas alone
£100 could allow our community nurses to continue making home visits, ensuring that patients can spend Christmas at home with family and friends
Or, perhaps your child would like to raise sponsorship to complete their 10k Winter Wonderland Walk. They could ask relatives to give £1 per kilometre and see how much they can raise to help others this Christmas.
Start your child's online fundraising page today!
Alternatively, you can download a sponsorship form or request to be sent some by contacting fundraising@pilgrimshospices.org.
While for many of us 'doing our part' during the current health crisis means staying at home, Pilgrims Hospices nurses and support staff are Still Here; Still Caring and are continuing to provide skilled and compassionate end-of-life care for people living with life-limiting illness across east Kent.
Resources
❅
❅
❅
❅
❅
❅
❅
❅
❅
❅