A big challenge on three legs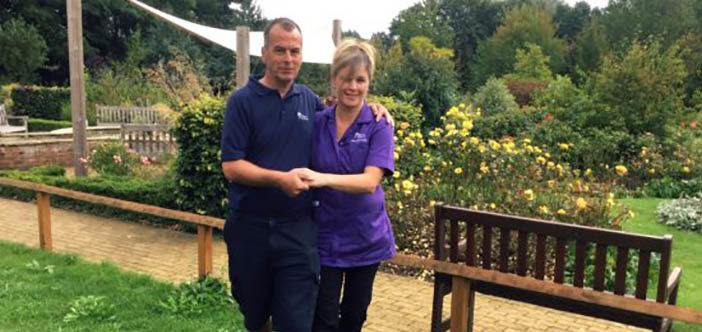 Husband and wife duo Marilyn (Maz) and Gary Kirton will be walking and running on three legs around Ashford for Pilgrims Hospices, at the A Night to Shine family-friendly walk on the evening of Saturday 30 September.
The brand new Pilgrims event will take place simultaneously in Ashford, Broadstairs and Canterbury. In each town there will be music, a friendly atmosphere, an energetic warm up and lots more. The Ashford 5K or 10K walk sets off at 7pm from Julie Rose Stadium, Willesborough Road, Ashford amid a sea of lantern light.
Both Maz and Gary are staff at the Ashford hospice and are dedicated to raising money for Pilgrims whenever they can. So far this year they have raised more than £2,000 between them. They both ran the Canterbury Half Marathon, and Maz surpassed herself by taking part in a Pilgrims Firewalk in March and a parachute jump on 2 September.
We both felt compelled to start fundraising.
Gary explained: "After joining Maz working at Pilgrims back in 2011, we both felt compelled to start fundraising ourselves. Every day we meet so many people who are supported, both as patients and as families, and know how important the work done here is."
At A Night to Shine there will be a chance to pause and place lanterns in the Kennington Memorial Gardens, creating a moving and magical sea of lantern light.
Sandie Gillett, Community Fundraising Officer at Pilgrims Hospice Ashford, said: "I am thrilled that Maz and Gary are supporting A Night to Shine. They are an amazing couple and are always working hard for us in fundraising.
We are really looking forward to welcoming as many supporters as possible.
"We are really looking forward to welcoming as many supporters as possible to our fantastic new event. Whether you wish to walk in memory of someone special or just be part of our amazing experience taking place across all three Pilgrims areas, your registration and sponsorship money will be helping patients and families who need our help the most.
"You can purchase glowing merchandise on the evening if you wish to make your experience an even brighter night to shine!
"We need to raise £11 million each year to keep providing end-of-life care free of charge to the people of east Kent. The support of people like Maz and Gary makes this possible."
To register or find out more about this family-friendly event, click here, email shine@pilgrimshospices.org or call the Fundraising team on 01227 782 062.
Each year Pilgrims supports hundreds of local people living with a life limiting illness and their families. The charity offers a range of services: from end of life care given on its wards, to its new Wellbeing and Social Programme supporting people after they are diagnosed to live well and stay independent.