Trees of Love: Penny's story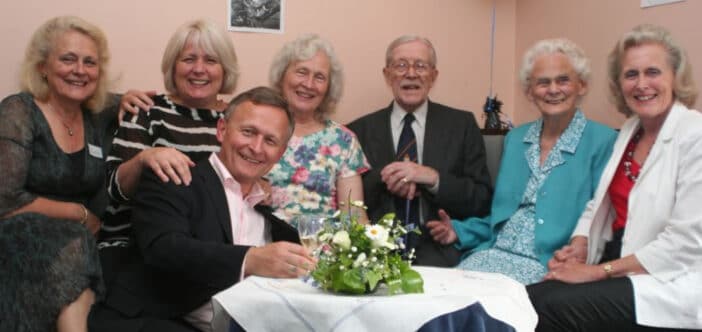 Penny Uhlendorf supports Trees of Love in memory of her parents, Dick and Ethné.
Here, she explains how Pilgrims Hospices helps her family to remember and give back.
---
My three sisters, Mary, Susie and Carol, my brother Andrew and I grew up near Canterbury with our parents, Dick and Ethné Thrush. Our father worked in Canterbury, and our mother was a homemaker: raising the five of us, breeding various dogs, tending chickens, and growing the most beautiful vegetable and flower gardens. Most of us have moved away, but two of my siblings still live in Kent, helping us keep our strong connection to the area.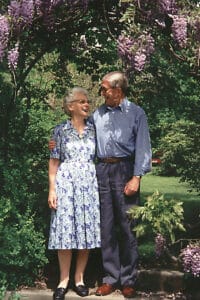 Despite our geographical distances, we all remained very close with our parents over the years. Our father died in June 2008, just a few weeks after celebrating our mother's 90th birthday together. She then moved from their Canterbury flat to Littlebourne House, bravely soldiering on without her beloved husband of 69 years. When her health declined to the point where she needed hospitalisation, she was transferred to Pilgrims Hospices in June 2009, where she was given the very best of care.
From the skilled and compassionate staff, to the comfort-filled rooms, with handmade quilts on each bed; to the caring, thoughtful volunteers, my siblings and I could not have asked for a more peaceful and perfect place for our mother to spend her final ten days. On 30th June 2009, our mother joined our father exactly one year to the day that he passed, just as she had hoped and planned.
Trees of Love is one of several ways at Pilgrims Hospices in which I can tangibly memorialise my parents while supporting such a vital institution. Last year, it was very special to be able to participate in the Trees of Love online event by sharing a photo of our parents, and watching the video. I live in the United States, so although I took part remotely, participating in the Trees of Love and Sunflower Memories remembrances in memory of both of our parents is so important to me, and I greatly appreciate the opportunity to support such a very worthy cause. My parents are always in my heart, but these events bring them that much closer, and that means the world to me.
---
Trees of Love events will take place at our hospices in Ashford, Canterbury and Thanet at between 4-6pm on Saturday 4 December 2021.
There will be no live service at our hospices this year. There will be a filmed service released on the Pilgrims Hospices YouTube channel at midday on Saturday 4 December, for you to enjoy before dropping in to find your dove.
We also offer indoor services with seating across our east Kent community:
Firmager, St Nicholas Church, New Romney, 3pm on Saturday 4 December 2021
All Souls Church, Cheriton, Folkestone, 5pm on Sunday 5 December 2021
St Peter and St Paul Church, River, Dover, 4pm on Sunday 12 December 2021
Barham Crematorium, Barham, 4.30pm on Tuesday 14 December 2021
Charing Crematorium, Charing, 4.30pm on Wednesday 15 December 2021
To dedicate a dove in memory of a loved one please visit pilgrimshospices.org/treesoflove or contact our Supporter Relations team:
You can also post a message and a photo in memory of your loved one on our online Trees of Love memory wall.
---
If you or someone you know is coping with a life limiting illness and you think you may benefit from Pilgrims free services, talk to your GP or Healthcare Professional about your options or click here to read about our Wellbeing Programme.