Fire & Ice Walk – Canterbury
Friday 2 March 2018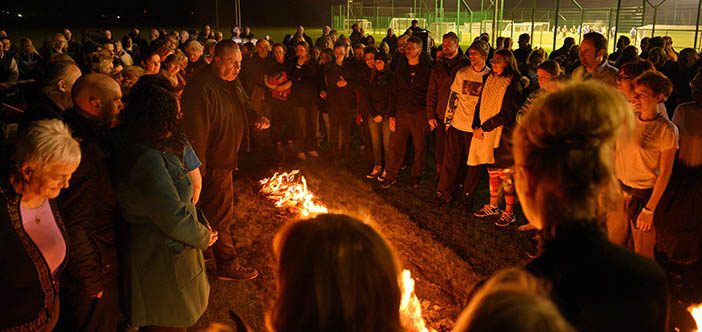 The 'hottest, shortest sponsored walk in the world' will return in March 2018 with a cool new twist!
Get fired up for a Firewalk, one of the most inspirational journeys you'll ever undertake; a barefoot walk over red-hot wood embers measuring around 800 degrees! No tricks, no special effects. Just you and the fire. You'll conquer the most primal of fears and raise vital funds for our hospices, too. With every single step you'll make an incredible difference to our patients and their families.
Cooler customers can opt for our brand new Icewalk. Put mind over matter and achieve the impossible by walking barefoot across a bed of sterile broken glass.
It's important to bear in mind that there's no illusion involved. No special materials are used, nor are you hypnotised or put into an altered state of consciousness!
No previous training is required. With interactive training seminars by renowned motivational speaker and fire and glass walking expert Cliff Mann from Time4Change before the daring dash, we know you'll feel fantastic once you've completed your challenge. After all, if you can achieve this you can find the confidence to do anything.
Spaces are limited, so please register online now to secure your place.
---
Event information
Early Bird entry (closes 4/2/18)
Firewalk: £20
Icewalk: £30
Both: £45
Standard entry (closes 5pm on 26/2/18 or earlier if we reach capacity)
Firewalk: £23
Icewalk: £35
Both: £50
We ask you to pledge to raise at least £100 in sponsorship if you're doing one challenge, or £150 if you're doing both.
Due to the nature of this event we're unable to accept sign ups on the night.
What happens on the night?
5.30pm-6pm: Icewalk participants arrive to sign in
6pm: Interactive Icewalk training seminar with Cliff Mann begins
6.45pm: Expected time of Icewalk
6.45pm-7.15pm: Firewalk participants arrive to sign in
7.15pm: Interactive Firewalk training seminar with Cliff Mann begins
8.50pm: Fire performance by renowned entertainer Paul Incredible
9pm: Head outside to face the flames!
We recommend that friends and family coming to support should arrive from 6.30pm for the Icewalk or 8.45pm to see the Firewalk, as they won't be allowed inside the seminar hall during the training.
Resources
Address information
Venue:
Sports Pavilion
University of Kent
City: Canterbury
Postcode: CT2 7SR
How to find us
From the central campus, follow signs for the Park Wood student village to arrive at the Sports Pavilion car park.
Contact information
Email: robert.grew@pilgrimshospices.org
Contact name: Robert Grew
Phone: 01227 812 609