Virtual Hike: West Highland Way
Saturday 1 August 2020 - Monday 31 August 2020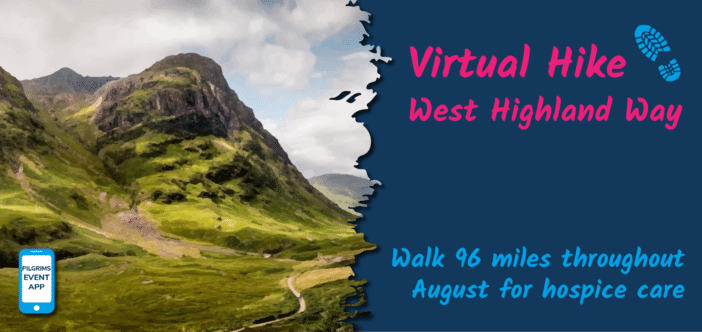 Hike the length of Scotland's oldest and most popular long distance walking trail… virtually this August!
Bringing you the third and final event in our popular Virtual Hike series; and we've saved the best until last. Decided by our supporters, the West Highland Way is our biggest challenge yet… to walk the equivalent distance of this iconic hiking trail (96 miles) from, or near to, your own home throughout August.
Hiking the West Highland Way showcases the breath-taking variety of Scotland's dramatic, untouched landscapes. Renowned for its spectacular scenery and wildlife, the trail is the oldest and most popular long distance walking route in Scotland. Along the way, you'll take in the shores of Loch Lomond, traverse ancient glens and vast, awe-inspiring moors before reaching journey's end beneath the gaze of Britain's highest mountain, Ben Nevis. It's a truly memorable experience and we're giving you the chance, wherever you are, to take on this virtual version of the challenge to help raise vital funds for Pilgrims specialist end-of-life care.
During this extraordinary time it is more important than ever to make sure to stay active, exercise and feel connected to one another. Walking is good for us, both for our physical fitness and mental well-being, and you can join our friendly community of Pilgrims Hospice Hikers in our active Pilgrims Hospices Walking and Hiking Facebook group.
It's tough but achievable; with some training and determination anyone can conquer the Virtual Hike: West Highland Way. Why not complete the hike with others from your household or 'bubble' to make the journey even more enjoyable.
The interactive route map
How it works
To take part in the Virtual Hike: West Highland Way, simply enter via the 'Register Now' button at the top of this page. Once signed up, you'll receive instructions on how to record your walking activities and track your progress along the virtual West Highland Way using the award-winning Pilgrims Event App for iOS and Android devices.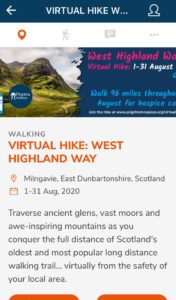 It's free to download from the App Store and Google Play and, along with the free companion app MapMyTracks, will track your walking activities throughout August and update your position along the interactive route map below; so you can see exactly how far you've come and how far you have left until you reach Fort William. You can also like and comment on your teammates activities, receive up to date event information, view a detailed route map, and link your JustGiving page to see how your fundraising is going, all in one place.
The challenge runs from 1st – 31st August and all of your walking activities recorded via the Pilgrims Event App during this time will count towards your overall progress along the Virtual Hike route.
You can use any route you like in order to reach your mileage goal. Under the current conditions, we strongly suggest you follow government advice and walk a route that starts and finishes at your home to avoid any unnecessary travel. We would also ask that you do not use the virtual hike to stop at any of our hospice sites, even if you are passing by. The safety of patients and staff is paramount, and your participation in the virtual hike is the best means of showing your support.
So if you have some favourite routes around your local area, then please use those to do your virtual hike. You can break the mileage down into as many days as you need to throughout August. All that matters is you cover the distance. We're not even going to ask you to verify your mileage, so if you're a bit over, or under, then that's fine by us.
Every participant will receive exclusive digital 'badges' that they can share as they complete milestones in their journey on social media and elsewhere to show your support for Pilgrims Hospices.
Please note: Only activities recorded using the Pilgrims Event App (MapMyTracks) AND with the activity type of 'Walking' and set as 'Public' will be included in your progress along the virtual map below. If you wish your runs to count towards your goal, that's fine, but remember to save them as 'walking' activities in MapMyTracks.
Fun facts about the West Highland Way
Along the 'Bonnie, Bonnie banks' of Loch Lomond you'll find the hideout of Rob Roy, the Scottish outlaw, turned folk hero, who became a legend in his own lifetime after the publication of 'The Highland Rogue', a fictionalised account of his life; leading to a royal pardon. Read more.
The trail was first conceived by a Glaswegian, Tom Hunter, who secured approval for development in 1974. After 6 years of hard work, the route was officially opened on 6th October 1980 by Lord Mansfield.
The highest point along the West Highland Way is at the summit of the Devil's Staircase, which elevates you to a height of 548m above sea level. If you walk the whole 96-mile route, you'll gain over 3,000 metres in elevation, that's just over 10,000 ft!
The trail passes under the shadow of Ben Nevis (1,345m), one of the UK 3 peaks and Britain's highest mountain. The summit, which is the collapsed dome of an ancient volcano, is the highest land in any direction for 459 miles. Read more.
---
Event information
Virtual event tracking requires a free MapMyTracks account.
We would encourage you to raise as much sponsorship as you can for your West Highland Way challenge! If you raise:
£50 – you will receive a Pilgrims Hospices wristband
£100 – you will receive a Pilgrims Hospices keyring or pin badge to wear with pride
£250 – you will receive a Pilgrims Hospices neck buff, the perfect accessory for keeping you warm on cold or windy days and providing shade from the sun on hot days
£500 – you will receive a Pilgrims Hospices technical t-shirt
£750 – you will receive free entry into a Pilgrims Hospices organised event in 2021*
While for many of us 'doing our part' during the current health crisis means staying at home, Pilgrims Hospices nurses and support staff are Still Here; Still Caring and are continuing to provide skilled and compassionate end-of-life care for people living with life-limiting illness across east Kent.
By doing your part for Pilgrims Hospices, you'll truly be making a difference to the lives of our patients. Here's how:
£10 could pay for a patient's meals for the day
£25 could pay for an hour of specialist nursing care
£30 could pay for our Community Team to hold a video consultation with a patient in their own home
£45 could pay for a virtual counselling session for an individual coping with the loss of a loved one
£90 could pay for all the medicine needed at one of our inpatient units over 24 hours
Resources
*See our Terms and Conditions for a full list of qualifying 2021 Pilgrims events.