Cyclists turn up the heat for Pilgrims Hospices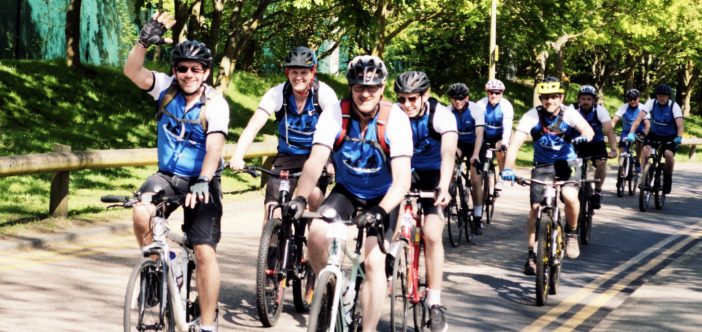 More than 1,200 cyclists took to the east Kent countryside on Spring bank holiday Sunday for Pilgrims Hospices annual Cycle Challenge. Early indications show this year's event will raise more than £100,000 for vital hospice care.
The challenge is a firm favourite with regular cyclists and Pilgrims supporters. Teams of families, friends, cycle clubs, local businesses and services throughout Kent rode 45, 75 or 100-miles on the hottest early May bank holiday since the holiday was introduced in 1978.
All routes started from, and finished at, the Pilgrims event village at the University of Kent near Canterbury. Cyclists enjoyed browsing a variety of stalls; bike mechanics, sports massage, local cycling interest groups and refreshments were all on offer.
This year Lanmax brought along a truck for people to climb inside and get a bird's-eye view of what a truck driver can see around them when on the road.
Simon Smith, a driver from Lanmx, said: "This is a great opportunity to share awareness with cyclists at all levels.
"As drivers, we all take awareness training to ensure we have cyclists' safety in mind at all times. I'm here today with Sarah Brown from Hot Chilli Cycles who provide our awareness training and cycling instructor Chris Byrne, to share information with cyclists and supporters.
The first rider back was Giuseppe Chivilo from Ramsgate; he crossed the finish line at 10:46am with a ride time of 2 hours 54 minutes.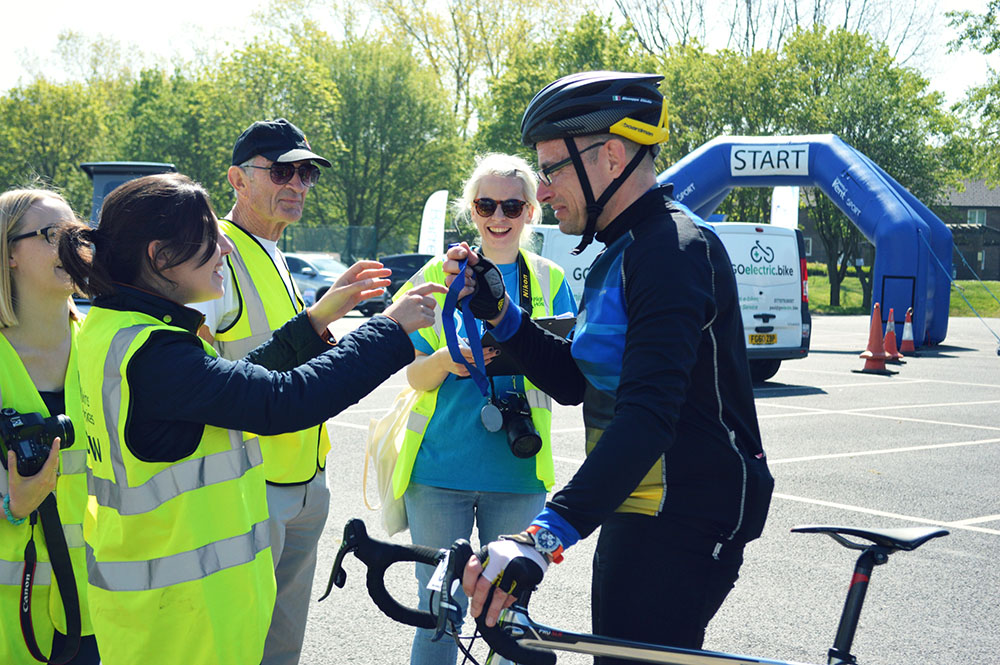 Bidfood generously donated much of the food that cyclists enjoyed on the day. Bidfood representative, Tony Osborne, said: "We're absolutely delighted to be able to show our support in this way.
"Although Bidfood operate all over the UK, we're very people oriented and like to give back to the community in any way we can by supporting local causes. Pilgrims makes a difference to so many people's lives here in east Kent. We're only too happy to be involved with the Cycle Challenge and enable even more of the money that's raised to go directly towards the care of patients."
Regular cyclist Ian Ashton, Pilgrims Hospices Catering Services Manager, said: "What a lovely day it was for a very good cause.
"I cycle with the Canterbury Bicycle Club and it was great to see such a large turnout from our club. This event grows year on year with such well-planned routes; it's so well organised, which is why the club keeps coming back. It's a must do in our club calendar."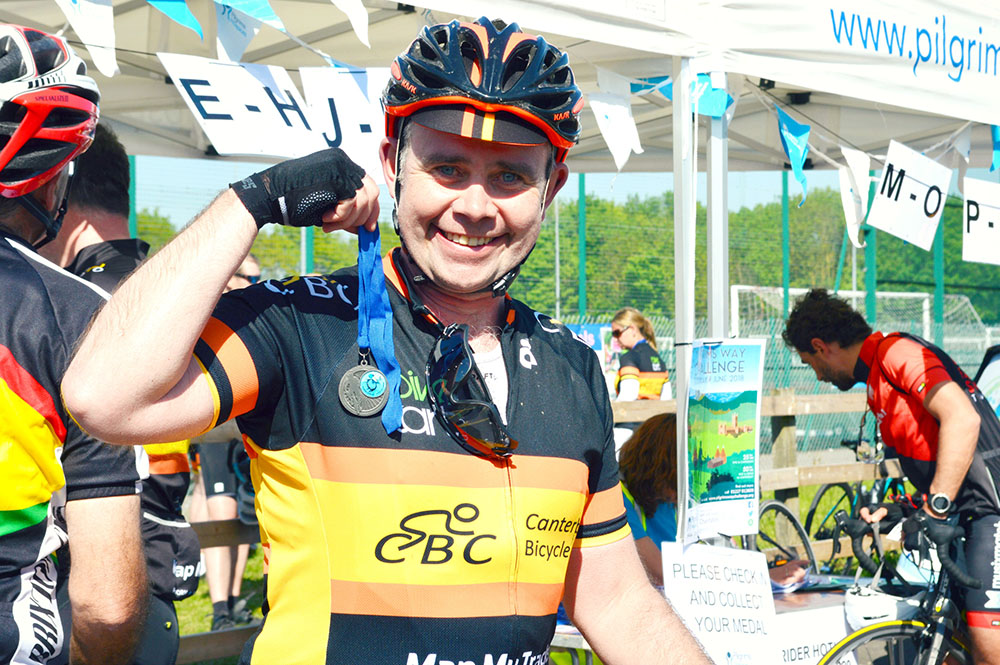 Each year, many people take part because they have a personal connection to Pilgrims.
Sean Purcell and daughter Jemma, from Whitstable, chose to ride the 45-mile route in appreciation of the care that Pilgrims is currently giving their family. Sean said, "It's a great cause; Pilgrims is taking great care of my wife, Deborah, who is accessing Pilgrims services at the moment."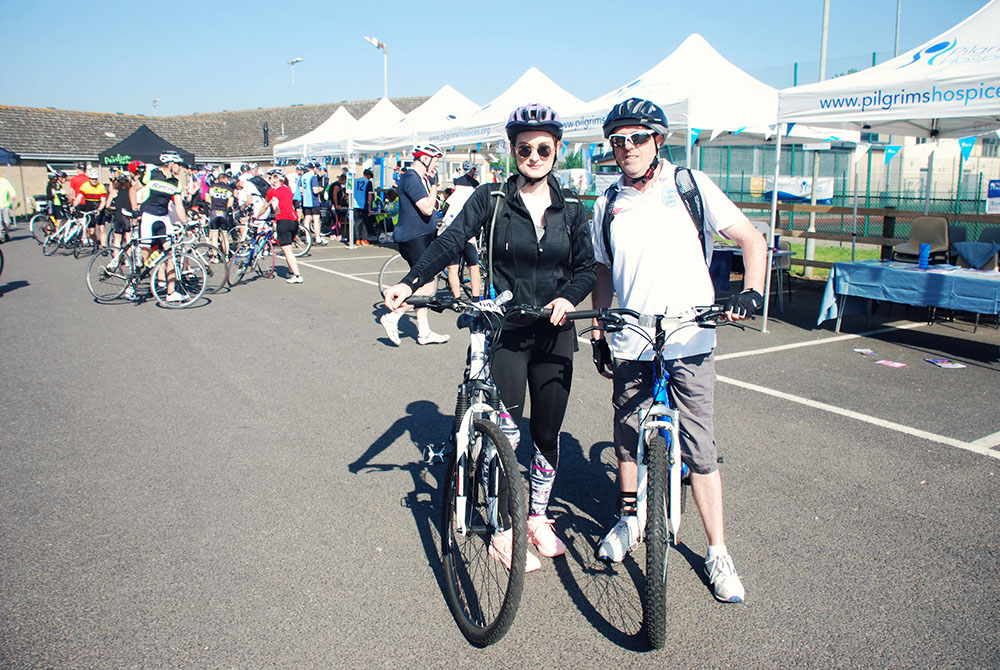 Sisters Chloe Stroud, Gemma Ledger and Hazel Newport, from Dover, also tackled the 45-mile route for the second year running. Their team – the Newport Flyers – rode in memory of their dad, George Newport, who was cared for at Pilgrims Hospice Canterbury in 2017. Chloe said, "Doing Cycle Challenge together is a way for us to give back to Pilgrims for what they did for Dad; riding with family and friends makes me realise how much Dad was loved."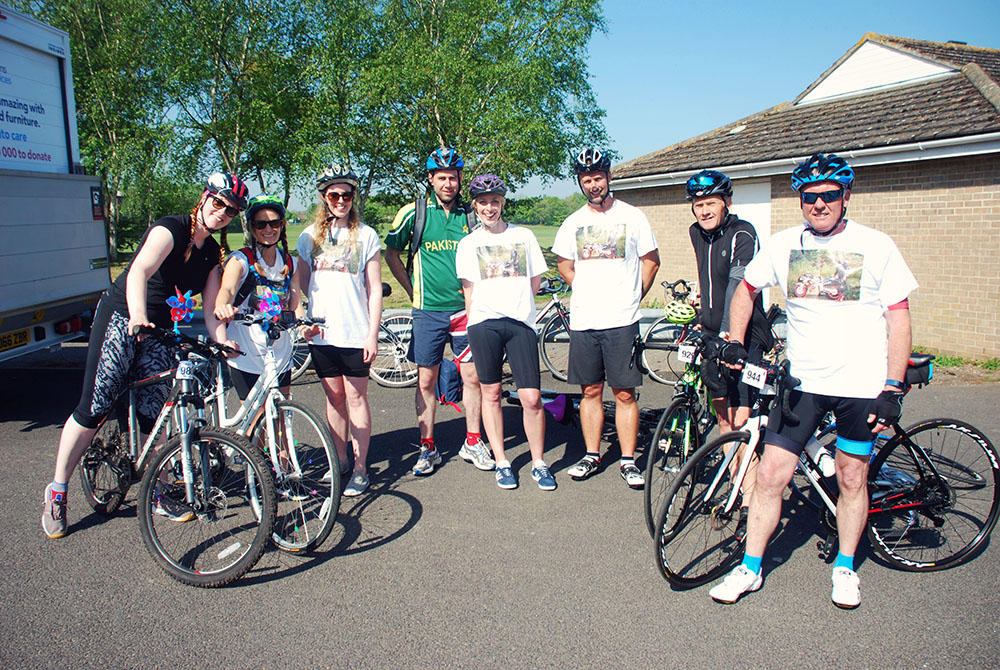 Team Red Lion, Bridge Lejog is a cycling team headed up by Rene Renault, the publican at the Red Lion Inn in Bridge near Canterbury. Rene was joined on the day by fellow team members Chris Pidcock and James Jackson, who all rode the 100-mile route in preparation for their main challenge in September – an epic cycle ride from Land's End to John O'Groats in aid of Pilgrims Hospices. Chris's wife, Tara Pidcock, will be be their support as a driver out on the route. The team have already raised £7.3k of their £10k target; their sponsors are Quinn Estates, MySuperfoods and Manor Wines. All team members have experienced family members cared for by Pilgrims.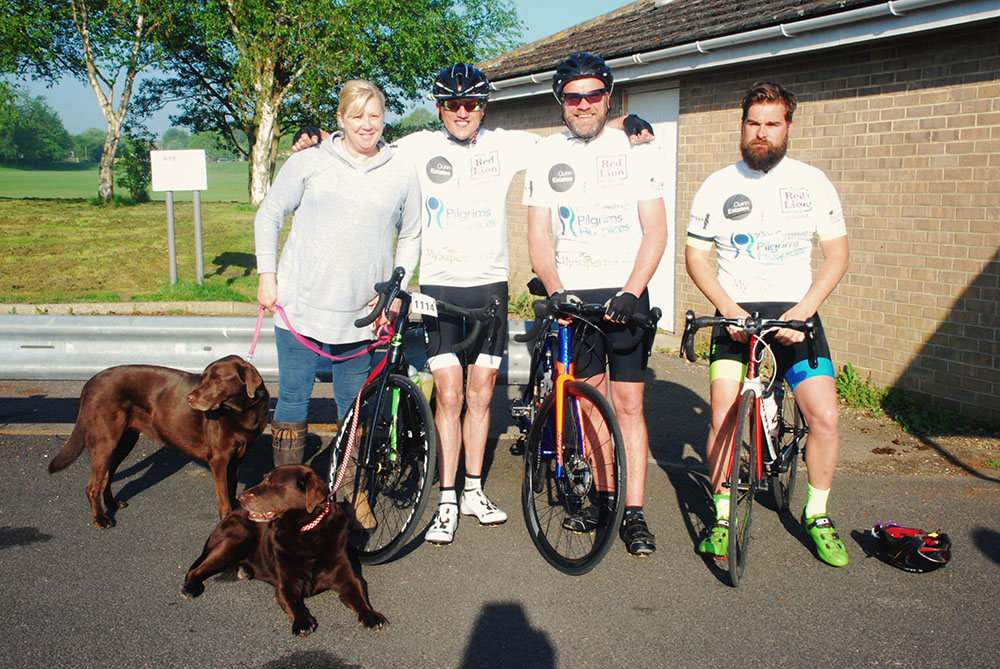 Robert Grew, Events Fundraiser at Pilgrims Hospices, told us: "It was unbelievable to see such a strong show of support for Pilgrims! 1,238 people joined us in the beautiful sunshine to take on this year's Cycle Challenge. It's a privilege to organise the event and, seeing it year after year, I'm always reminded how much of a team effort it is. Our band of volunteers are just outstanding, giving up their bank holiday weekend to help make the whole experience safe and enjoyable for our riders. I can't thank them enough, nor the waves of cyclists who puff their way around the course in support each year – fingers crossed most of you conquered Stowting Hill! And lastly, a huge thank you to our business supporters who help the event to raise as much as possible towards our compassionate end-of-life care."
Missed out on Cycle Challenge?
Divas on Wheels returns on Sunday 24 June 2018. Enjoy the picturesque Kent countryside, great fun and a supportive atmosphere, and be part of this ladies' bike ride to help us be there for the next family who needs us.
Setting out from The Independent Pedaler in Bridge near Canterbury, you can choose to ride either a 25-mile or 50-mile route through the countryside on quiet roads. If you're new to cycling have no fear, dozens of our special Bike Heroes will join you, leading small groups or offering roadside repairs to anyone who needs it. You can also visit The Independent Pedaler for a pre-ride safety check.
Together, you can make a difference as you take part in the county's only ladies bike ride for charity.
---
If you or someone you know is coping with a life limiting illness and you think you may benefit from Pilgrims free services, talk to your GP or Healthcare Professional about your options or click here to read about our Wellbeing and Social Programme.