Donations make up a huge proportion our annual income – we simply couldn't be there for the families that need us without you. Your donations, no matter how big or small, will help us to care for even more people living with a terminal illness.
Whether the donation is from you personally, or is some money you've raised through an event or collected from others, we're delighted to receive it.
There are a number of ways you can get the money to us. By text, over the telephone, by post or paying directly into our bank account.
Find out more below and however you choose to donate, remember if you Gift Aid your donation you will add an extra 25% more to Pilgrims Hospices at no extra cost to you!
Donate over the phone
To make a donation over the phone, or by online transfer, you can talk to our friendly Supporter Relations team on 01227 782062 Monday to Friday, 9am-5pm
Text your donation
It's quick and easy to donate to Pilgrims Hospices via text message and we receive 100% of the donation as there are no admin charges. 
Text PILGRIMS to 70085 to donate £5 to Pilgrims Hospices instantly. Texts cost £5 plus one standard rate message.
Alternatively, add a preferred donation amount after the text code, such as PILGRIMS 10 to donate £10.
Post your donation
Please send us a letter with your full name and address. If your donation is in memory, please also tell us the full name of the person your donation is in memory of and your relationship to them.
It's also useful to mention whether you would like an acknowledgement of the donation (we automatically acknowledge every donation otherwise).
You can make cheques or postal orders payable to Pilgrims Hospices and post to: Supporter Relations, Pilgrims Hospices, 56 London Road, Canterbury CT2 8JA
Make a Gift Aid Declaration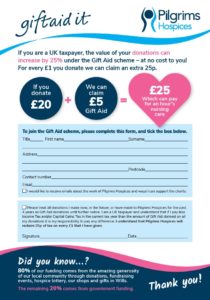 Did you know that the Gift Aid scheme enables Pilgrims Hospices to reclaim 25p of income tax for every £1 you donate?
For example, a donation of £10 could become £12.50 with Gift Aid; at no extra cost to you.
As long as you have paid the equivalent amount in Income Tax or Capital Gains Tax within the same financial year, you are eligible to add Gift Aid to all of your donations.
Simply complete this Gift Aid Declaration form to instruct us to claim Gift Aid on your donations through the scheme.
Set up a Direct Debit to give regularly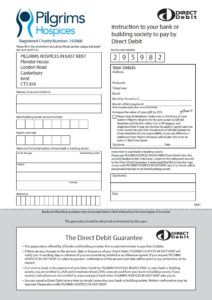 If you would like to donate to Pilgrims Hospices on a regular basis, you can download this Direct Debit form and return it to the address shown to set up your regular gift.
If you have any queries while completing the form, please contact the Supporter Relations team on 01227 782062.