Cycling is an amazing way to get fit, socialise and support Pilgrims at the same time.
Pilgrims Hospices is very closely monitoring the situation concerning the Covid-19 virus. The ongoing health crisis is at the forefront of many of our minds, and here at Pilgrims Hospices, we've been continually monitoring the guidance from authorities to inform how best we can do our part to protect our patients, staff, volunteers, and of couse, our wider community that we serve. You can read the latest advice and hospice information here.
What's on offer?
Get on the right track this Spring by joining Pilgrims Hospices unique, new Ride the Underground Virtual Cycle. The challenge... to pedal the equivalent distance of all eleven of London's famous underground tube lines, that's 250 miles throughout March and April. Starting from, or near to, your own home, you'll be able to track your progress, and everyone else's, along a virtual tube line tracker, using the award-winning Pilgrims Event App. Ride when and how often you can and see if you can complete the full 250 miles ride before the end of April, you can even include the miles you do on an indoor training bike. All aboard!
Our Pilgrims Hospices Cycle Challenge, which was postponed in 2020, is a firm favourite and will return in a new, COVID-secure format in August 2021. There is a maximum of 1,000 participants able to take part in the Cycle Challenge 2021, which includes those who deferred their place from the 2020 edition, so early registration is advised. You can choose to ride a range of routes through the picturesque Kent countryside, from 30 miles up to 125 miles.
My mum died of cancer so it means a lot to me to support others coping with a terminal illness. I rode alone today; I was worried at first that I'd have trouble finding my way, but it was so well supported. I feel amazing now I've done it!


Anne-Marie, Cycle Challenge participant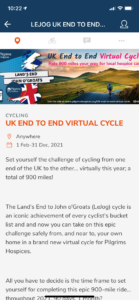 The UK End to End Virtual Cycle is an alternative, virtual cycling challenge taking place throughout the entirety of 2021.  Jump in the saddle and rack up some miles in this epic challenge. Ride the length of the UK (900 miles) safely during the pandemic by tracking your regular rides throughout the year and see how quickly you can complete the distance.
Whether setting yourself the challenge of finishing within the year, 3 months or even 1 month, you'll find encouragement and motivation aplenty with in-app achievements and digital milestone badges to earn as well as our active community of virtual cyclists over in the Pilgrims Hospices Cycling Facebook group.
You'll be able to track your progress along the interactive route map using the award-winning Pilgrims Event App. Simply ride when and how often you can throughout 2021 to see if you can reach the John o-Groats before the year is up.
Introducing the Pilgrims Hospices Event App
We're proud to offer the award-winning Pilgrims Hospices Event App, available for iOS and Android devices. It's free to download from the App Store and Google Play and is the perfect companion to enhance your Pilgrims event experience and enjoy our virtual events too. Keep your training on track by recording your activities and liking and commenting on your teammates. Receive up to date event information, view detailed route maps so you can see if you go off route, and link your JustGiving page to see how your fundraising is going, all in one place.
Sociable cycle rides
Pedal for Pilgrims (group rides suspended until further notice).
Run by volunteers, Pedal for Pilgrims (P4P) is a 100+ strong group that rides regularly. They traverse Kent, including places as far as Rye and Bromley, and even cross the Channel into France. P4P organise social rides for beginners, plus plenty of faster rides for experienced cyclists. Join their Facebook group for information and updates about future rides.
---
We encourage sponsorship for all of our events, and work hard to keep our costs down to guarantee that your registration fee will go directly into supporting patients and families.