Sunflower Memories 2022

We are delighted to welcome you back to our hospice gardens for Sunflower Memories 2022! Dedicate a beautiful sunflower to your loved one and join us on Saturday 30th July to celebrate your  treasured memories.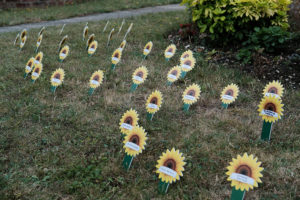 This July, we invite you to dedicate a sunflower memory marker to your loved one, for us to plant in our hospice gardens at Canterbury, Thanet and Ashford. Then join us for a garden party, with refreshments and live music on Saturday 30th July, between 10am-2pm.
For those that wish to remember at home, your sunflower can be sent to you, and a special Sunflower Memories film will be released on our YouTube Channel and website for you to watch on the day.
To take part, simply click the link below, or call our Supporter Relations Team on 01227 782062 to dedicate a sunflower memory marker by Monday 25th July.
Many of our supporters like to take part in Sunflower Memories every year, so with this in mind we have simplified things by offering the option of setting up an annual direct debit. If you choose to donate in this way you can be assured knowing each year we will automatically dedicate a sunflower to your loved one and include it within the display. We will write to you with your invitation to the event, and to thank you for your gift. If you would like to set up an annual direct debit, simply click the button below.
Sunflowers were such a big part of our lives during my mum, Jan's last year, that I knew 'Sunflower Memories' was the perfect way to remember her. We're looking forward to returning to the hospice, to share in our memories where Mum spent her final week and her special year.

Claire Wells
Share your most cherished memories on the online Memory Wall
Click here to visit the Sunflower Memories online Memory Wall to share photos and memories of your loved one.
£25
could pay for an hour of specialist nursing
care in one of our inpatient units
£35
would allow someone to attend our Facing Loss support group via Zoom, to share experiences and thoughts
with
others about bereavement
£50
would help someone explore their creativity at
our Time to Create arts and crafts sessions, over 3 months
£100
would cover a patient's care from our community
team, in their own home over a 24 hour period
---
Thank you so much for your support
Every generous donation from our amazing community of supporters helps to make sure we can be there for the next family who needs us. For more information on how you can support us from home, please go to our donation page.
If you or someone you love has been diagnosed with a life limiting illness, find out about the full range of services Pilgrims can offer.