Sunflower Memories 2023

Thank you to everyone who joined us in our hospice gardens to celebrate the life of your loved one, and to those who supported the appeal.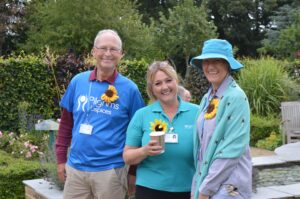 On Saturday 22 July, we welcomed over 660 people into our hospice gardens to celebrate and enjoy tea, cake and strawberries in their tranquil surroundings.
This year is particularly special as it marks 10 years of the remembrance hosted across all three hospice sites. To celebrate, we were joined by members of our Wellbeing Team, who displayed some beautiful sunflower-themed artworks made by patients and their carers in the Therapy Centres.
Over 730 beautiful sunflower memory markers decorated the gardens, to celebrate the shining memory of lost loved ones. It was wonderful to see so many sharing their stories with our Wellbeing and Spiritual Care Teams, along with the incredible Pilgrims volunteers who help run the events.
This year, our Sunflower Memories Appeal has raised over £36,000, with donations still coming in. This amazing amount is enough to fund a Pilgrims nurse at one of our hospices for a year, providing expert care to the patients we support.
You can still dedicate a sunflower to a loved one to keep in a special place at home, simply click the button below, or call Supporter Relations on 01227 782066, to let us know who you would like to remember with a sunflower. They will write the name of your loved one on a beautiful sunflower memory marker and send it out to you.
Want to remember your special person with a sunflower every year?
If you would like to donate a sunflower every year to your loved one, you can sign up for an annual Direct Debit. Each year you will automatically receive your invite to the Sunflower Day, where your sunflower will be waiting for you.
Each year, David remembers his wife, Sue, who worked for Pilgrims before receiving our care. He and his family come along to our Sunflower Days to remember her.
Read their full story here.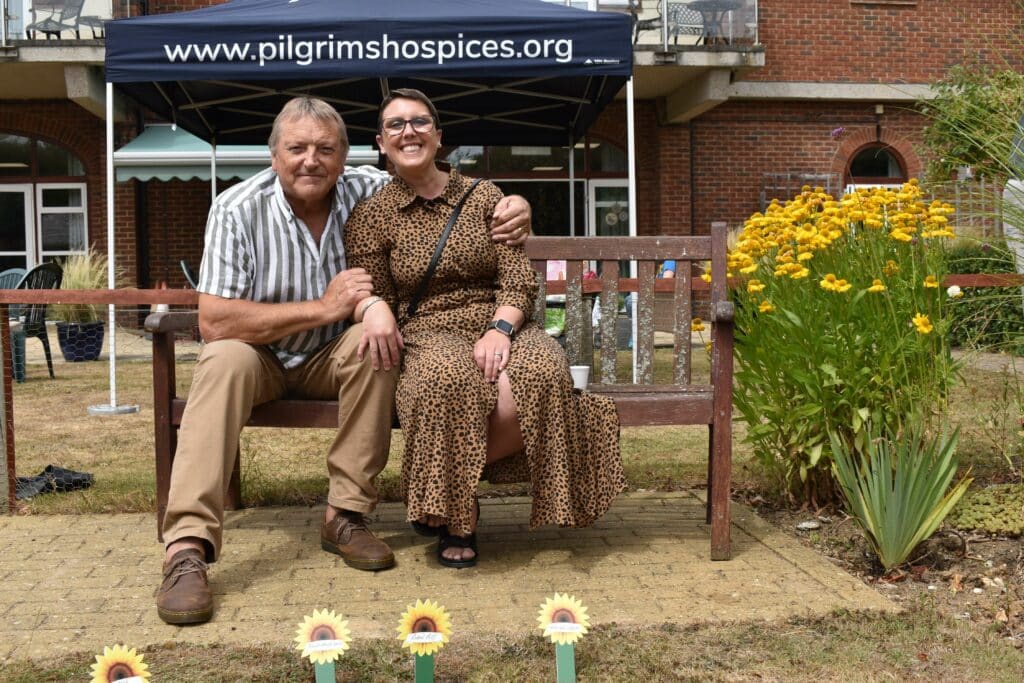 Sunflower Memories gives me the time to reflect and remember Sue at a place she loved so very much, while supporting the incredible work carried out at Pilgrims Hospices. Pilgrims meant so much to Sue and this is why I continue to support whenever I can.
---
Thank you so much for your support
Every generous donation from our amazing community of supporters helps to make sure we can be there for the next family who needs us. For more information on how you can support us from home, please go to our donation page.
If you or someone you love has been diagnosed with a life limiting illness, find out about the full range of services Pilgrims can offer.