Sunflower Memories 2023

Join us on Saturday 22 July in our hospice gardens to celebrate the life of your loved one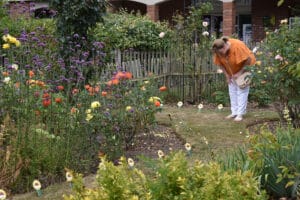 This July, we invite all those across east Kent who have lost a loved one to join us for our sunflower Days in our hospice gardens.
For ten years, Pilgrims has offered people across east Kent the opportunity to dedicate a sunflower memory marker to someone special, to be planted in our hospice gardens. We then invite them to our Sunflower Days, garden tea parties with music and refreshments, hosted in the grounds of each hospice at Canterbury, Thanet and Ashford.
This year, our Sunflower Days are taking place on Saturday 22 July from 10am-2pm, where we welcome you to share your memories with us and each other, and celebrate in the sunshine. And, to celebrate this special anniversary, we will be joined by our Wellbeing Team, who will be displaying some of the beautiful sunflower-themed artworks created by our patients in our Therapy Centres.
To take part in Sunflower Memories 2023, simply click the button below, or call Supporter Relations on 01227 782066, to let us know who you would like to remember with a sunflower. We will then write the name of your loved one on a beautiful sunflower memory marker, to be planted in the hospice garden of your choice, creating a vibrant display for you to visit at our Sunflower Days.
Want to remember your special person with a sunflower every year?
If you would like to donate a sunflower every year to your loved one, you can sign up for an annual Direct Debit. Each year you will automatically receive your invite to the Sunflower Day, where your sunflower will be waiting for you.
This year, David remembers his wife, Sue, who worked for Pilgrims before receiving our care. Now he and his family come along to our Sunflower Days each year to remember her.
Read their full story here.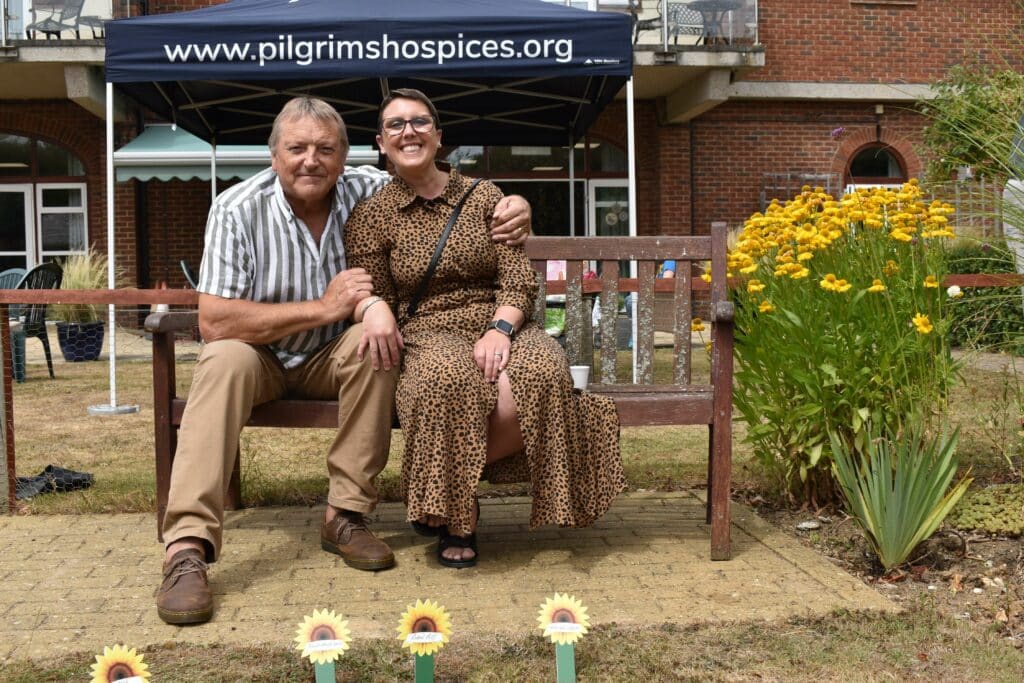 Sunflower Memories gives me the time to reflect and remember Sue at a place she loved so very much, while supporting the incredible work carried out at Pilgrims Hospices. Pilgrims meant so much to Sue and this is why I continue to support whenever I can.
Share who you are remembering on our Sunflower Memories online Memory Wall
Share your photos and memories on our online Memory Wall here, then join us at our events to celebrate their life with tea, cake and music.
---
Thank you so much for your support
Every generous donation from our amazing community of supporters helps to make sure we can be there for the next family who needs us. For more information on how you can support us from home, please go to our donation page.
If you or someone you love has been diagnosed with a life limiting illness, find out about the full range of services Pilgrims can offer.