This February solicitor firms from across east Kent are kindly donating their time and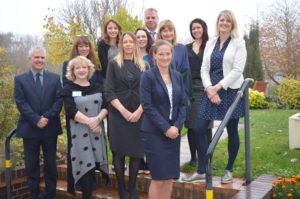 expertise to write Wills completely free of charge, in return for a donation to Pilgrims Hospices.
The firms taking part are listed below and taking appointments now, so book today to ensure you have your solicitor of choice. 
All money raised through the scheme will be donated to Pilgrims Hospices so we can continue to be here for the families who need our care.
I had been putting it off, but life changes meant that my husband and I definitelyneeded to update our Wills to ensure the money and possessions we will leave go where we want them to. I was therefore delighted to be able to update my Will and give a donation to Pilgrims Hospices at the same time. What's not to like?

Angie, Pilgrims supporter
Suggested donations are £150 for a straightforward single Will, or £250 for an uncomplicated mirror Will. You are also welcome to donate more.Please agree a fee with your solicitor for more complex wills (see below for more information).
All money kindly donated will directly support Pilgrims to help people facing a terminal diagnosis, and their families, to live well in every moment. Last year our Make a Will Month raised an incredible £21,500 for Pilgrims, enough to fund over five months of nursing care to our patients. 
Participating firms for 2019
To book please call your preferred solicitor below directly.
Appointments are limited and are filling up fast so book today to avoid disappointment.
What is a complex Will?
The donations recommended for Wills written as part of this campaign are for straightforward Wills. If your Will is more complex, it may be necessary to agree a fee with your solicitor.
A complex Will is one which involves a trust, or an arrangement which prevents or delays an outright inheritance of assets, making them available to people to benefit. Typically, this might mean that:
There are children from previous relationships

There is a member of the family with disabilities or illness which might make it advisable that money is held on their behalf, possibly even for the long-term.
Leave a lasting legacy
There is no obligation to include Pilgrims in your will. If you choose to, however, you'll be doing something inspirational. It will cost you nothing now, but will help to secure the future of our services for more than 2,300 people each year.
Almost everyone in our local community knows someone who has, or could have, benefited from the excellent work of our specialist medical staff.
For more information about how you can leave a gift to Pilgrims in your Will, please call Sara Scriven on 01227 782 066 or email sara.scriven@pilgrimshospices.org.
Thank you to participating solicitor firms