Go above par for Pilgrims Hospices this year with a bogey, a mulligan or a shotgun start.
We're proud to announce not only new Golf Days taking place in North Foreland, Boughton and Tenterden this year but also, our Golfers Marathon Challenge and Pilgrims Golf Champions.
With our Golfers Marathon Challenge you can gather your friends, family or colleagues and cover 72 holes and 26 miles.
Or, choose the Golfers Half Marathon Challenge with 36 holes over a distance of 13 miles.
You can also become a Pilgrims Golf Champion by hosting a golf day or activity in aid of Pilgrims, whether it's at your favourite club with friends, colleagues or as a local community group in aid of Pilgrims.
Please scroll down for more information on Golfers Marathon Challenge and PIlgrims Golf Champions.
Golf Day Series
We invite you, with your friends, family and colleagues to join the Pilgrims Golf Series taking place at three locations across east Kent. You can join with the knowledge that whilst you are playing your round, you and over 300 others, will be raising vital funds for your local hospice; helping us to continue providing skilled and compassionate end-of-life care for people facing an incurable illness in our community, now and in the future.
Our Golf Day Series will be operated in a COVID-secure format, following the government guidance at the time of the event.
Each golf day will have a slightly different format, so please find the information relevant to you by clicking on the green buttons below.
I would like more information for...
North Foreland Golf Day
Enjoy an afternoon at this spectacular seaside golf course, situated on the picturesque Kent coast. Taking place in the afternoon on Friday 2 July 2021 with a shot gun start, bacon roll and sit down two-course meal at the end of your game.
North Foreland Golf Course, Broadstairs CT10 3PU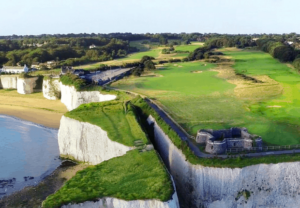 Cave Hotel and Golf Resort, Boughton Golf Day
Enjoy tee time at this recently redeveloped golf club, on Friday 17 September 2021, which now features the elegant Cave Hotel. The course is set within Kentish farmland and benefits from some marvellous views of the surrounding countryside. Enjoy a shotgun morning start, bacon roll and a delicious lunch.
Cave Hotel and Golf Resort, Boughton-under-Blean ME13 9AJ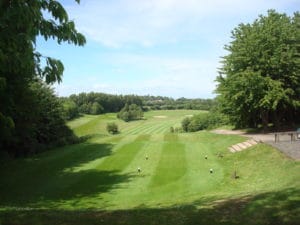 Tenterden Golf Day
Taking place on Friday 22 October 2021 at this beautiful tree lined and challenging golf course where you can enjoy the autumnal colours with a bacon roll prior to teeing off and a buffet at the end of your round.
Tenterden Golf Club, Tenterden TN30 7DR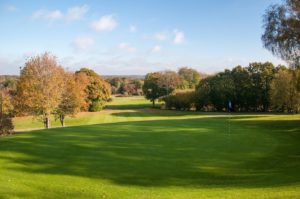 Sponsor a hole
We hope that our Pilgrims Golf Day Series will raise vital funds to help us care for the many individuals, and families, that need us now and in the future. We are pleased to be offering local businesses the opportunity to sponsor a hole at each of our golf days.
By sponsoring a hole, your business will receive:
Your branding showcased at the tee of your chosen hole
Your branding showcased on our website as a 'sponsor a hole' supporter
You will receive a thank you in the literature and on the day of the event
If you would like to sponsor a hole at one of our Pilgrim Golf Day's, please contact the relevant fundraising office:
North Foreland Golf Club - Thanet Fundraising Office on 01843 233934
Boughton Golf Club - Canterbury Fundraising Office on 01227 812621
Tenterden Golf Club - Ashford Fundraising Office on 01233 504111
Alternatively, you can email fundraising@pilgrimshospcies.org
Golfers Marathon Challenge
Are you up for a challenge combined with your favourite sporting hobby? If so, take on Pilgrims Golfers Marathon Challenge and raise much needed funds for local hospice care.
Gather your golfing friends and take on the full marathon, by completing 72 holes, 4 rounds covering 26 miles, or the half marathon option of 36 holes, 2 rounds covering 13 miles. The format is easy, but the challenge is certainly, just that, a challenge!
Once you've assembled your team of 4, select your course; either your regular or a new one for your big game, book your rounds, ask your friends and family to sponsor your team and complete your Golfers Marathon Challenge. It's a long day, with an early bird sunrise start and a sunset finish, but you and your team's dedication will be helping to raise vital funds for end-of-life care in east Kent.
Tell us about your Golfers Marathon Challenge
Golf Champions
Each year, golfers combine their love for the sport with their support of Pilgrims Hospices. In 2019/20 nearly £60,000 was raised from Captain tenures, and after a difficult 2020 due to the Covid-19 pandemic, the support of your captain or club would be greatly appreciated.
Together, the golf community makes a big difference to patients, and their families, living with a terminal illness in east Kent. Your club can join others in raising vital funds, and awareness, by choosing Pilgrims Hospices of the Charity of Choice for your annual golf days and events.
Here at Pilgrims, we are so grateful to all of the clubs, captains and individuals who hold golf days in aid of Pilgrims Hospices. If you've chosen to support Pilgrims this year through a golf day, we'd love to here from you using the form below:
We want to celebrate the clubs, captains and individuals who host golf days or activities in aid of Pilgrims by making you one of our Golf Champions. To help promote your event or activities we can add you to the Golf Champions section of our website (below). When you tell us about your event or activity, your local fundraising team will be in touch to offer you support in the run up to your event, and gather the necessary information to add you to our list of Golf Champions below.
Pilgrims Golf Champions
Below is a list of some of our Pilgrims Golf Champions for 2021: