Walking or running is a fantastic way to support Pilgrims, whether doing it with friends or chasing a personal best.
Pilgrims Hospices is very closely monitoring the situation concerning the Covid-19 virus. The ongoing health crisis is at the forefront of many of our minds, and here at Pilgrims Hospices, we've been continually monitoring the guidance from authorities to inform how best we can do our part to protect our patients, staff, volunteers, and of couse, our wider community that we serve. You can read the latest advice and hospice information here.
What's on offer?
Our sponsored walks and runs take place throughout the year and there's something for everyone.
One of the best events I've taken part in, I literally laugh my way round! Support and organisation were amazing. Looking forward to doing it again.


Carol, Pilgrims Way Challenge participant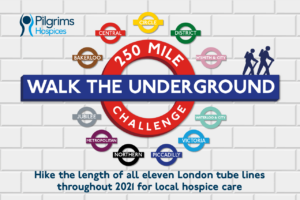 The Virtual Hike Series has been introduced to help our community to stay active, exercise and enjoy the outdoors during these extraordinary times. Pilgrims are delighted to bring you the newest challenge in our popular Virtual Hike series; Walk the Underground. This epic challenge is open throughout 2021 and challenges you to walk the equivalent distance of all eleven of London's famous underground tube lines, that's a total of 250 miles! Starting from, or near your home, you can record your walking activities and track your progress as you virtually ride the underground using the award-winning Pilgrims Event App.
---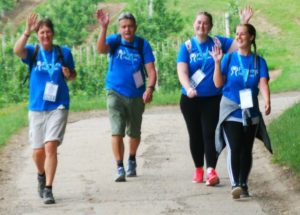 Our award-winning Pilgrims Way Challenge is a great way to spend time outdoors this Summer. Lace up your walking boots or running shoes and enjoy the rural beauty of one of England's oldest and least-trodden national trails.
Starting from the picturesque village of Wye, nestled in the Kent Downs Area of Outstanding Natural Beauty, follow the Pilgrims Way, through the scenic Stour Valley, to the historic cathedral city of Canterbury. Along the way you'll pass through ancient woodland, rolling fields and charming villages, as well as a few challenging climbs through the undulating geography of the Garden of England.
Rolling hillside views, quiet country lanes, historic buildings and ancient woodland all await you along your choice of 25, 35 or 55km challenge.
---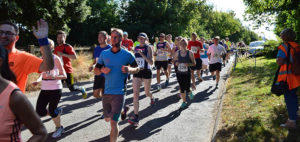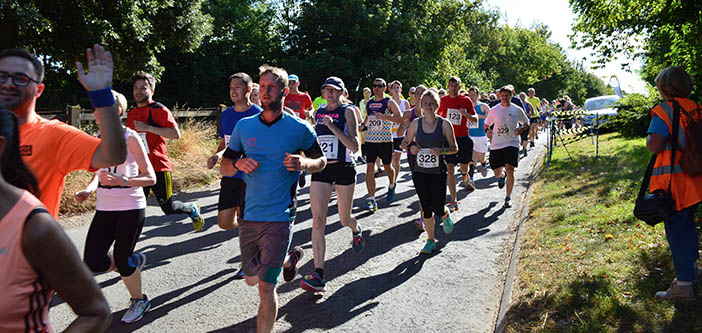 For those chasing a challenge this summer, you can test your legs in the Canterbury 10 Mile Run, Lydd Half Marathon or the Canterbury Half Marathon; a tough but beautiful run through the picturesque Kent countryside. Push yourself even further by taking on Brighton Marathon, The world-renowned Virgin Money London Marathon is back on Sunday 3 October 2021, and this year, the Virtual Virgin Money London Marathon is giving you the chance to join 100,000 runners, around the world, as you complete the 26.2 mile challenge on a route of your choice in your home-town. Every step you take, and mile you run, will be supporting local hospice care.
---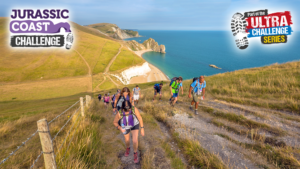 Looking for the ultimate test of endurance in 2021? Then check out the Ultra Challenge Series, a collection of fantastic ultra walking and running events held across the country. Choose between a 25, 50 or 100km distance. Popular events in the series include:
---

Interested in taking your hike for Pilgrims further afield? From the rugged beauty of Glen Nevis Valley to the forests and estuaries of the stunning Snowdonia National Park, join us for one almighty trekking challenge as you take on the UK's giants on this classic 3 Peaks Challenge! During your challenge you'll climb around 3,050 meters and walk approx. 40km in aid of local hospice care. It's no wonder this challenge is the most highly regarded trekking challenge in the UK!
Whatever walk or run you choose, you'll have great time raising vital funds for hospice care across east Kent. Whether you come with family and friends, colleagues or by yourself, it's sure to be a fun, uplifting experience.
Show your support with the official Pilgrims Hospices technical t-shirt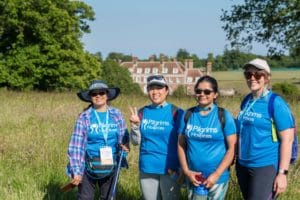 The Pilgrims Hospices technical t-shirt is made of lightweight, breathable, sweat-wicking material that makes them comfortable to wear during walks, runs or to show your support at a Pilgrims event or your own fundraising activity.
What's more, you'll be letting everyone know that you're supporting Pilgrims Hospices whilst wearing your t-shirt.
T-shirts are just £7 and available in sizes S, M, L, XL, XXL and XXXL.
---
We encourage you to raise as much as possible for your event, whether that's reaching a personal target or setting your sites on raising enough to pay for 10 hours of nursing care. Every £25 you raise could pay for an hour of dedicated nursing care at Pilgrims Hospices. Your fundraising will help Pilgrims to continue supporting over 2,500 patients and families, each year, in east Kent.