28th August 2018
Famous photo to raise funds for Pilgrims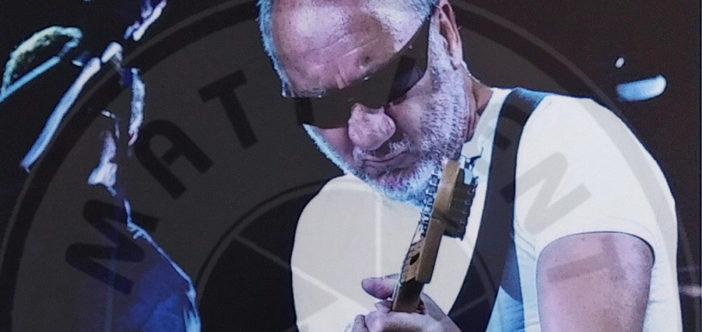 Professional photographer and author, Matt Kent, has plans to auction his stunning photograph of musician Pete Townshend from The Who for Pilgrims Hospices.
---
Matt has been a professional photographer since 2006, capturing many of the world's leading artists; mainly musicians but also comedians, dancers and actors.
He said: "I took this photograph of Pete Townshend of The Who in Osaka, Japan in 2004 during the band's first ever visit to the country. I was working for Pete at the time and was lucky enough to travel to many countries with the band, spending time photographing, videoing and writing about their legendary live shows.
"This was one of my favourite shots from the tour and I know that Pete likes it too as he uses a black and white version as one of his promo shots, which is sent out to fans. Pete signed four copies of the photo for me and I have sold them over the years for various charities.
This was one of my favourite shots from the tour and I know that Pete likes it too.

Matt Kent, photographer
"This is the last one to be sold and I'm really glad that it is being sold to raise money for such a great charity as Pilgrims Hospices.
"It forms part of an exhibition I have coming up in Herne Bay. The framed photo will be on display and available to buy at the exhibition, which takes place at Beach Creative, Beach Street, Herne Bay from 27 August until 2 September. The image is framed and the framed size is 50 x 40 cm."
Matt's main photographic interest is live music: "I love the challenge of capturing the artist in the midst of performance, often with difficult and changeable lighting. I do also really enjoy shooting other areas of entertainment, particularly ballet, theatre and TV / radio specials. I'm always looking for new ideas that spark my imagination and I love working with new talent", he added.
Visit Matt's exhibition at Beach Creative or view some of his amazing work at www.mattkent.photography.
Thank you to Matt for thinking of Pilgrims Hospices; we are sure the photograph will generate lots of interest.
---
Each year Pilgrims supports hundreds of local people coping with a life limiting illness and their families. The charity offers a range of services: from end of life care given on its wards, to its Wellbeing and Social Programme supporting people after they are diagnosed to live well and stay independent.