29th May 2020
Pilgrims marks Volunteers' Week with "WE MISS YOU!" message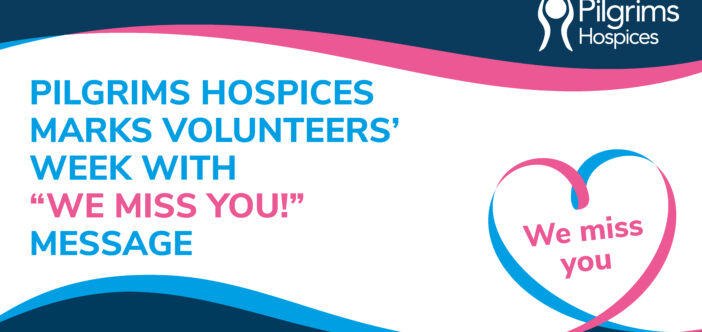 Staff and trustees at Pilgrims Hospices are counting down the days to Volunteers' Week 2020. Now in its 36th year, Volunteers' Week is held annually to celebrate the incredible contributions of millions of volunteers across the UK.
In east Kent, more than 1600 people volunteer for Pilgrims' and all work varying hours in a wide range of roles. From receptionist to retailer, fundraiser to therapist, gardener to caterer, the skills and experiences volunteers bring to the charity are vast.
The COVID-19 pandemic has put on pause many voluntary activities, but Pilgrims' is determined to celebrate and recognise the enormous difference volunteers make.
Jeff Southon, Pilgrims' Volunteer Services & HR Manager, comments: "Since late March this year, almost all of our volunteers have only been able to support us from home but they have been doing it in a variety of new ways. Our message to them is – we miss you!
"We are very much looking forward to the day we can welcome back our volunteers. This week is all about saying thank you all for your unstinting support."
Volunteers are the backbone of our organisation
Helen Bennett – Pilgrims Hospices Acting CEO
During lockdown, volunteers have donated to Pilgrims' Still here, Still Caring fundraising appeal, and supported the charity's new care initiatives Matching Hearts and #stayathomehospicehero. They have also been volunteering in other roles to help others during the COVID-19 pandemic.
Pilgrims' Acting CEO, Helen Bennett, says: "It has been said many times, but it remains the case, that volunteers are the backbone of our organisation, and now more than ever they are the backbone of our communities.
"We are currently working on how we can safely restore some of our voluntary activities and will keep our volunteers up-to-date on developments. We want to send a heartfelt 'thank you' to all our volunteers during Volunteers' Week 2020."
Volunteers' Week takes place 1-7 June every year. It's a chance to celebrate and say thank you for the contribution millions of volunteers make across the UK. As well as helping others, volunteering has been shown to improve volunteers' wellbeing. The estimated value of volunteers helping charities in the UK is £22.6 billion.
Please note that many of our volunteer roles are currently paused to help prevent the spread of COVID-19.
We look forward to welcoming our volunteers back on board once the current situation improves.
For current information about all Pilgrims Hospices services, including for volunteers, during the COVID-19 (Coronavirus) pandemic, please visit pilgrimshospices.org/covid-19.
---
Pilgrims Hospices has been caring for the people of east Kent for more than 37 years, having opened its first hospice in Canterbury in 1982. Its two other locations were opened at Thanet in 1992 and at Ashford in 2001. The charity provides palliative care for adults with a range of incurable illnesses including cancer, heart failure, respiratory conditions and neurological diseases. Care is provided from the three sites, in patients' homes and via community programmes.