31st May 2017
#PilgrimsLife: "Volunteering is a chance to give something back"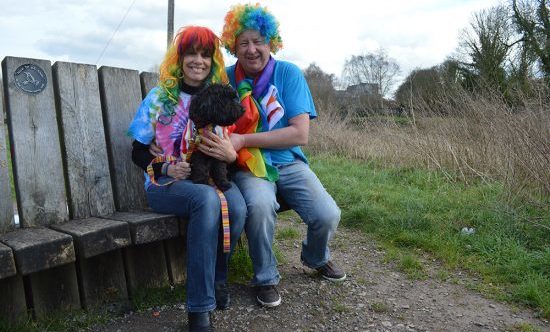 Meet Sandra and Martin Cook, who started volunteering after Sandra's mum received Pilgrims care. Their first fundraising feat was climbing Kilimanjaro, and after completing that they decided to become fundraising volunteers.
Martin and Sandra are two of thousands of Pilgrims volunteers who support every aspect of the charity's work to make a difference for local families.
Here, Sandra shares their volunteering story.
What first got you involved in volunteering for Pilgrims?
The hospice cared for my Mum in 2013. We were so overwhelmed by the kindness and support of the nurses. They helped not only my Mum, but also my Dad and the whole family too. Mum was only in the hospice for about 12 hours. Prior to that, she'd been in hospital for many weeks. Although the nurses there were lovely, the fact she was able to write a note when she woke up in the hospice to say she'd had the best night's sleep in months showed how relaxed she was feeling. We wanted to do something to say 'thank you', so we decided to trek Kilimanjaro. We met up with Deborah from the fundraising team who had lots of ideas to help us maximise our fundraising goals. After we completed the trek, it just seemed natural to continue to help with fundraising so we started volunteering at supermarket collections and hospice fundraising events.
What's the most enjoyable thing about your volunteering work?
Meeting so many different people, we've made new friends amongst the other volunteers. It's also very emotional but lovely to meet members of the public who come and tell you about their experiences of family and friends being cared for by Pilgrims. I'm not sure 'enjoyable' is the right adjective for that, but it's certainly the thing that touches us the most.
It certainly gives you a sense of belonging and a real sense of pride when you put on a Pilgrims tshirt.
What difference does volunteering make to you personally?
For both of us it's a chance to give something back. It certainly gives you a sense of belonging and a real sense of pride when you put on a Pilgrims tshirt. I think it's helped us cope with losing Mum too, as we feel we're volunteering in her memory. It's also a great confidence builder because you find yourself doing things that you wouldn't normally do. Martin marshalling bikes and cars at the Cycle Challenge, for instance, is something he's really proud to do. For me, volunteering has given me the chance to develop my baking skills. Part of my original fundraising was baking cakes to sell, and that has grown into baking for some Pilgrims events. I hadn't realised I enjoyed baking as much as I do, and it feels the right thing to do as my mum always made lovely cakes.
What positive things have you learned about Pilgrims that other people might not know?
It's certainly not just a place people go to to die, which is what I had always thought it was. The range of services and support Pilgrims gives to patients and families makes living at a difficult time so much better. It is such a positive thing.
Every hour and every minute of volunteering for Pilgrims Hospices is hugely valued and goes a long way for the people needing our care.
Our volunteers play a part in every aspect of life in our hospices. They offer support, skills, kindness and care. They raise money, and can be a friendly face helping in our shops or working on our receptions. By generously giving their time, volunteers support our staff as they work to provide the outstanding levels of care for which we are well known.
If reading about Pilgrims huge community of volunteers has inspired, find out more about our current volunteering opportunities. You can also download our fundraising pack here.
If you're already volunteering for Pilgrims, share your story with us on Twitter using the hashtag #PilgrimsLife.
Together we can make a difference for the thousands of people who depend on Pilgrims services across east Kent every day of the year.
Volunteers' Week is an annual celebration of the fantastic contribution of the millions of people who volunteer in their communities across the UK. This year it's taking place from 1-7 June.